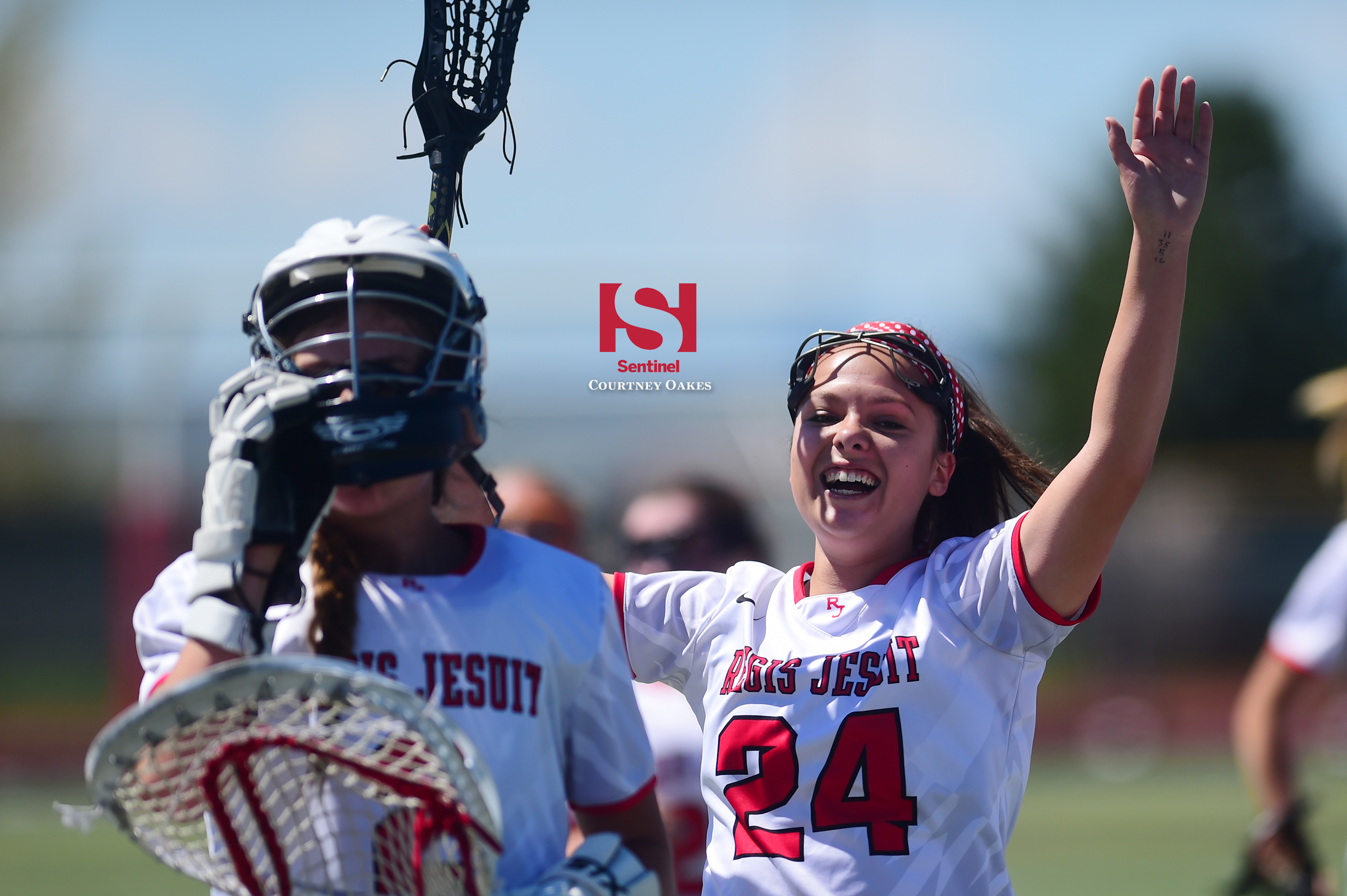 AURORA | With a full week between the regular season and their first game in the state playoffs, the Regis Jesuit girls lacrosse team had to change things up.
Whatever coach Kathryn Ames did to keep her team sharp during the break — which included a first-round bye as one of the top 10 seeds — proved spot on when the sixth-seeded Raiders took the field Saturday for a second round contest against No. 11 Chaparral.
A week after it closed out the regular season with a seven-goal win over Chaparral on the same field, Regis Jesuit ran on all cylinders in a 21-3 victory at Lou Kellogg Stadium. Senior Sidney Weigand racked up seven goals and dished out four assists, sophomore Krissy Rael recorded five goals and three other players had multiple goals for the Raiders.
"Since I've been coaching, I guess I'm used to the first round bye, but it is challenging," Ames said. "There's a bit of that lull and you have to keep your energy, momentum and fire. We watched film and tried to do different things. We had a different strategy for the week and you really have to do that."
Regis Jesuit (13-3) advanced to the state quarterfinals and will pay a 4 p.m. visit to third-seeded Pine Creek (15-1) on May 14.
Besides the desire to keep playing in the postseason, the Raiders had extra the motivation of avenging a heart-breaking 12-11 overtime loss to Chaparral in the same round of last season's playoffs.
Regis Jesuit channeled that aggression into a 12-goal explosion in the first half, matching its full game total in a 12-5 win over the Wolverines May 4.
"When the brackets came out and we found out we would be playing them in the first game, we were happy," Sidney Weigand said. "We wanted redemption. The way they took us out in overtime last year was so sad and we knew we could do more. I think it was so obvious that we wanted this game from the beginning."
Ames said she never felt comfortable even with a 10-goal lead, but the Raiders eased things up on their coach with nine more goals in the second half to invoke the running clock mercy rule
Offensively, senior Maddie Ferguson, sophomore Grace Weigand and freshman Elsa Pater had two goals apiece and the Raiders shared the ball with 11 total assists, while the defense (with junior Antonia Batuello making four saves) held Chaparral to its lowest offensive output of the season.
"It was definitely one of the best games I've ever seen our team play," Ferguson said. "For the seniors, this is a really exciting opportunity we have to keep playing. We're playing every game like it's our last."
Ames knew a lot about Chaparral, but not as much about its next opponent, Pine Creek, a 15-12 winner over Kent Denver in the second round.
"We haven't faced them, so we'll be doing some research and just going to play our game," Ames said. "You can overanalyze things and overprepare and get out of your element. Of course we want to be prepared, but we want to focus on our team and what we do."
Courtney Oakes is Sentinel Colorado Sports Editor. Reach him at 303-750-7555 or [email protected] Twitter: @aurorasports. IG: Sentinel Prep Sports
(6) REGIS JESUIT 21, (11) CHAPARRAL 3
Score by halves:
Chaparral       2  1 —  3
Regis Jesuit  12  9 — 21
Regis Jesuit goals: Sidney Weigand 7, Krissy Rael 5, Maddie Ferguson 2, Elsa Pater 2, Grace Weigand 2, Cate Lord. Regis Jesuit assists: Sidney Weigandn 4, Lord 2, Rael 2, Grace Weigand 2, Pater. Regis Jesuit saves: Antonia Batuello (7 shots on goal-4 saves)