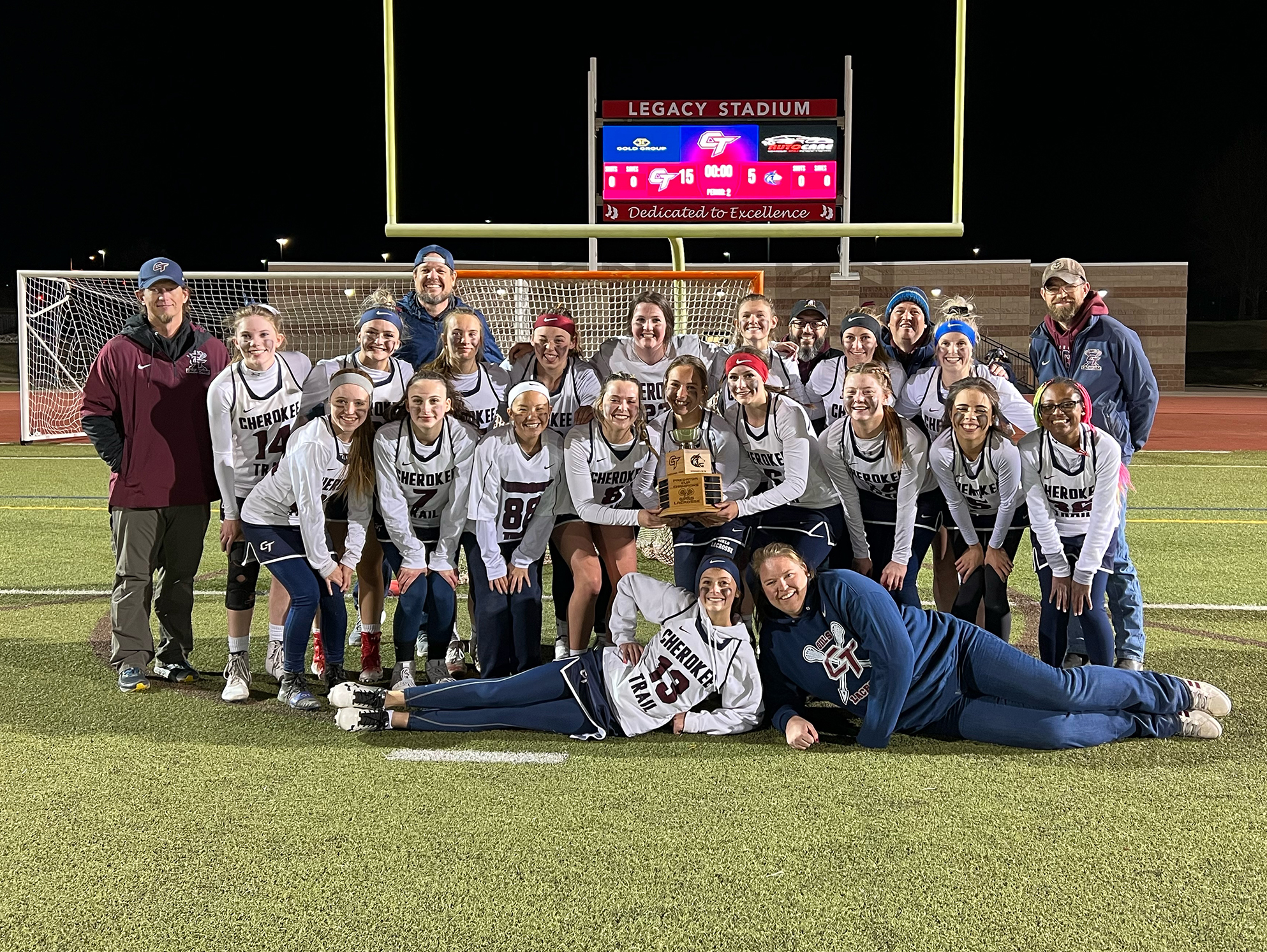 AURORA | A Predators Cup has found its way to Cherokee Trail, after the girls won the traveling trophy that has been recent to its rivalry with Grandview late Monday night.
While the Grandview boys have found a way to keep its version of the Predators Cup away from talented Cherokee Trail every year since its debut in 2014 — including a 20-12 victory Friday night (story, here) — Cherokee Trail was able to snap the Grandview girls' two-year hold on their trophy with a 15-5 victory at Legacy Stadium.
In quite a reversal from last season's 18-6 win for the Wolves, the Cougars built a 6-3 lead by halftime and kept their foot on the gas pedal in the second half with nine more goals to earn their first win in the series since 2013.
Senior Kaley Bruning and sophomore Aubrey Benton scored four goals apiece to lead the way for Cherokee Trail, which improved to 4-5 on the season. Senior Lana Howell added two goals and two assists as coach Blake Macklin's Cougars matched their season-high in goals scored that was first achieved in their opener against Northfield.
Simultaneously, Cherokee Trail matched its season-low for goals allowed as the goalie tandem of seniors Lexi Roybal and Annalise Whitaker combined to save nine of the 14 shots on goal.
Grandview, which had some momentum after picking up its first win of the season with a 12-9 win over Arapahoe April 8, is now 1-7. Laurel Johnson and Ashley Weiss scored two goals apiece to pace the Wolves.
Courtney Oakes is Sentinel Colorado Sports Editor. Reach him at [email protected] Twitter: @aurorasports. IG: Sentinel Prep Sports
CHEROKEE TRAIL 15, GRANDVIEW 5
Score by halves:
Grandview  3  2 —  5
Cher. Trail   6  9 — 15
Cherokee Trail goals: Aubrey Benton 4, Kaley Bruning 4, Loralei Gearity 2, Makenzie Hatch 2, Lana Howell 2, Kyla Bieker. Grandview goals: Laurel Johnson 2, Ashley Weiss 2, Peyton Dodd. Cherokee Trail assists: Howell 2, Bieker, Bruning, Kayla Gill, Sage Sorrells, Abigail Vanzant. Grandview assists: Johnson, Weiss. Cherokee Trail saves: Lexi Roybal (9 shots on goal-6 saves), Annalise Whitaker (5 shots on goal-3 saves). Grandview saves: Avery May (23 shots on goal-8 saves)