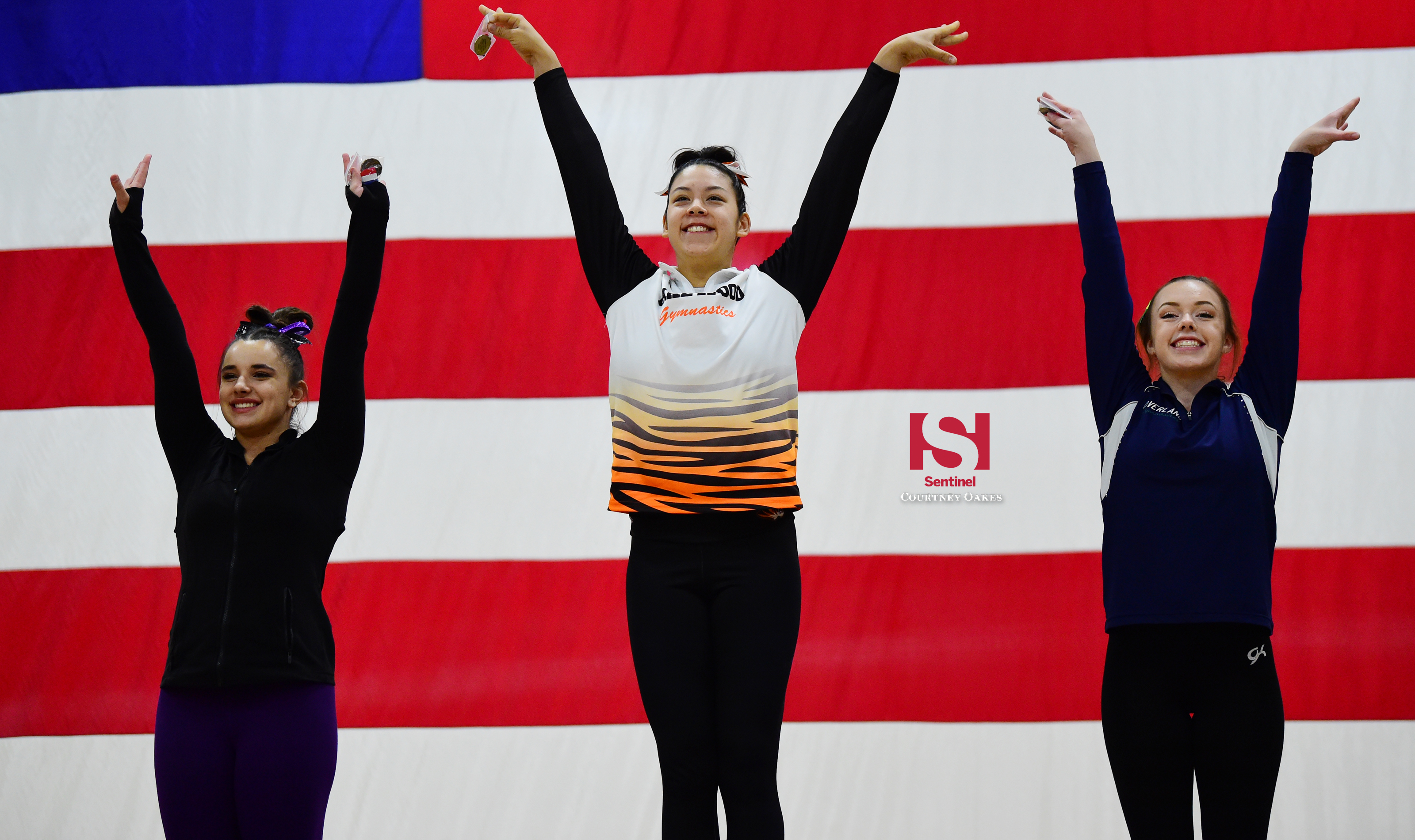 THORNTON | While a runner-up finish might have disappointing to some gymnasts, Elena Reiffin had a different view of her second place in the floor exercise in the individual event finals of the Class 5A state gymnastics meet Saturday.
Reiffin, a Cherokee Trail senior who competes for the Overland co-op gymnastics team, didn't mind the second-highest spot on the medal podium at Thornton High School given who she stood next to in record-setting Amber Boll of Lakewood.
Boll dazzled on the final day of the two-day state meet by scoring a perfect 10 on the vault — the first perfect score in 30 years at the event — and won all four individual events in addition to the all-around competition in one of the most dominating performances of all-time at the state meet.
Reiffin and junior Samantha DeMoss (Eaglecrest) each had second-place finishes to lead the way as coach Lisa Sparrow's Trailblazers — the 5A runner-up to Pomona for the third straight season — capped a successful meet with five different gymnasts earning a total of eight spots in the top eight in the four individual events and all-around competition.
Boll scored 9.850 in the floor exercise on her way to winning the floor exercise, but Reiffin came next with a 9.600 that represented a marked improvement from her showing two days earlier she tallied a 9.450 in the 5A team competition.
DeMoss moved up from eighth in the all-around competition in 2017 to third this season with a score of 37.425 points (Boll won with 39.125, followed by Pomona's Brooke Weins at 38.525) and she finished as the runner-up on the balance beam with a score of 9.550, which was the closest anybody got to Boll (who won with a 9.600).
Reiffin added a fourth-place showing on the beam (9.525), DeMoss ended up fifth on the uneven bars (9.275) and seniors Aaliyah Jamison (Smoky Hill) and Josie Claycamp (Early Colleges) added eighth-place results on the vault and and uneven bars, respectively.
Overland senior Delenn Steffes placed in the all-around competition for the first time in her career as she scored 37.150 to come in eighth. Jamison finished a spot off the medal podium with a ninth-place score of 36.575.
Reiffin, Steffes, Jamison, Claycamp and Natalie Wilson (Vista PEAK) — who qualified for the individual event finals in the vault and uneven bars — all graduate from the Trailblazers, who will be led next season by DeMoss and two sophomores in Bailey Rodriguez (Eaglecrest) and Mabry Robinson (Smoky Hill), who combined to appear in three individual events finals.
Courtney Oakes is Sentinel Sports Editor. Reach him at 303-750-7555 or [email protected] Twitter: @aurorasports. FB: Sentinel Prep Sports
2018 CLASS 5A STATE GYMNASTICS RESULTS
Nov. 1 & Nov. 3 at Thornton High School
Overland placers — All-Around: 3. Samantha DeMoss, 37.425 points; 6. Delenn Steffes, 37.150; Vault: 8. Aaliyah Jamison, 9.475; Uneven bars: 5. Samantha DeMoss, 9.275; 8. Josie Claycamp, 9.200; Balance beam: 2. Samantha DeMoss, 9.550; 4. Elena Reiffin, 9.525; Floor: 2. Elena Reiffin, 9.600
Full 5A individual event finals results, here