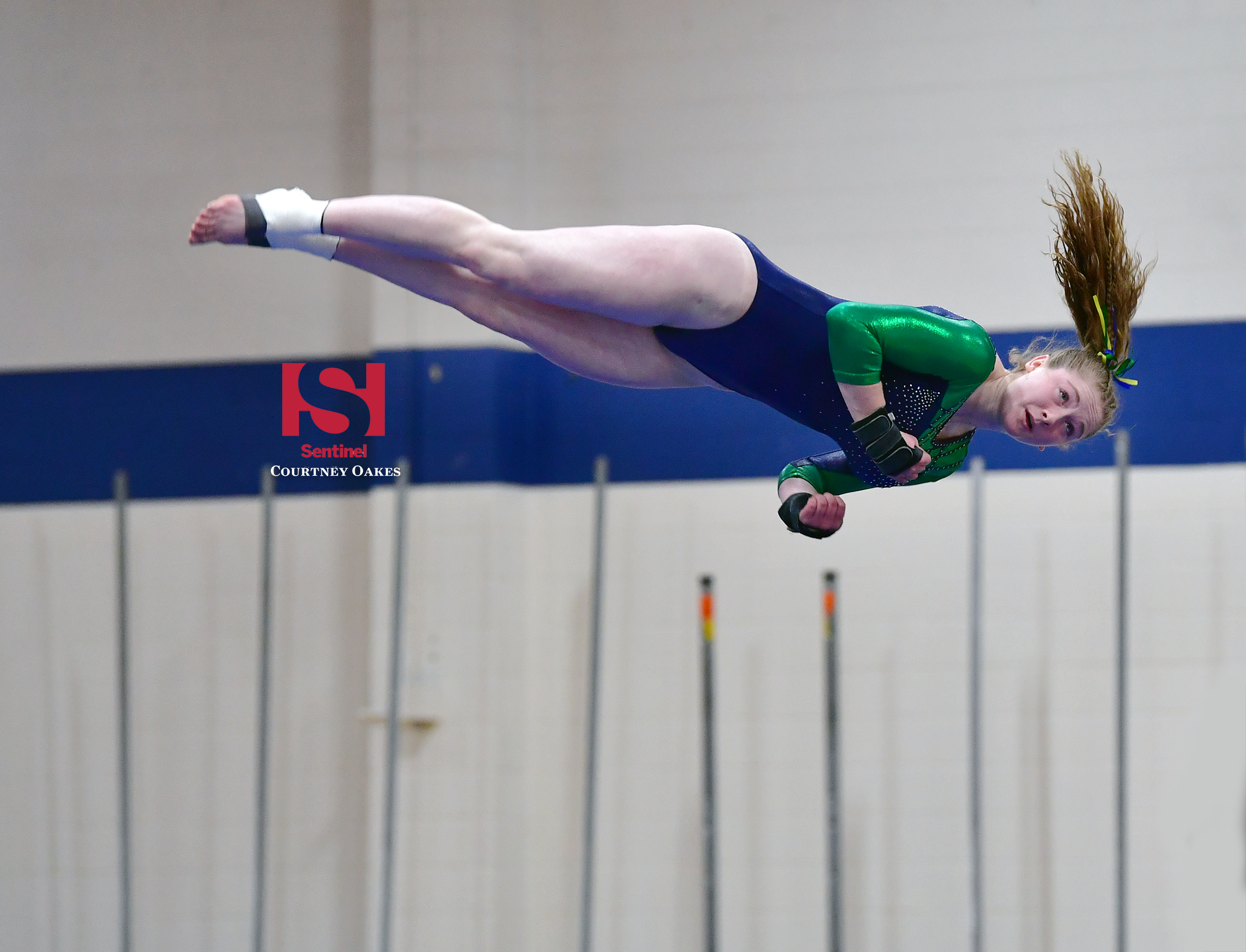 THORNTON | The Overland co-op gymnastics team had its storybook ending two days earlier, but the five gymnasts who competed in Saturday's Class 5A individual event finals at Thornton High School added one last incredible prologue.
Capping a phenomenal two days and cementing what has to be the longtime co-op program's best-ever result, four different gymnasts on coach Lisa Sparrow's team won state titles and five earned at least one place in the top five.
Sophomore Mattea Dolan (Grandview) won the all-around title for her performance during the team championship portion of the meet, while seniors Mabry Robinson (Smoky Hill), Bailey Rodriguez (Eaglecrest) and Autumn Ivester (Cherokee Trail) each won individual events in a final grand showing for Overland.
"Individual finals are really hard, especially for our girls because they put everything they have into the team competition," Sparrow said. "When they show up here on this day, they were a little drained and a little tired. We saw some of that today, but they are thrilled to be here and finish it off like this."
In just her second state meet, Dolan racked up an individual score of 37.88, which was just shy of the 37.90 she got in placing sixth last season, but it was enough to put her in front of teammate Robinson (37.8) for top honors.
On top of that, Dolan placed in the top eight of three events, with her best result coming with her runner-up finish in the vault, while she was also fourth on the balance beam and sixth on the uneven bars.
Robinson moved up a spot from her junior year in the all-around after she tied for third in 2019 and added her second individual state championship when she posted a 9.65 to win the vault. According to CHSAA records dating back to 1999, the Overland team had never had a state champion in the vault.
Also, Robinson hoped to defend the floor exercise crown — and was on track as she had the top score on the event during the team competition — but a late fall took her out of contention. The blemish didn't keep her off the medal podium, however, as she took eighth.
Rodriguez — who finished seventh in the all-around, two spots better than the previous season — made the individual event finals on the balance beam for the fourth time in four seasons and capped her career with a state championship with a winning score of 9.675. Rodriguez, last season's runner-up in the event, won Overland's first beam state crown since Stevie Umetani in 2002 according to CHSAA records.
Overland's prowess in the floor exercise has been much more regular as Ivester became the fourth Overland gymnast to win the floor title in the past eight seasons, following Robinson last season, Christie Yee in 2016 and Devin Bundas in 2013.
Ivester — who finished fifth in the all-around competition — won the event with a score of 9.625.
Senior Kate Decker (Cherokee Trail) made the individual event finals for the first time and took advantage when she placed fifth in the floor with a score of 9.425.
Courtney Oakes is Sentinel Colorado Sports Editor. Reach him at [email protected] Twitter: @aurorasports. IG: Sentinel Prep Sports
2021 CLASS 5A STATE GYMNASTICS INDIVIDUAL FINALS
All-Around: 1. MATTEA DOLAN (OVERLAND) 37.88; 2. MABRY ROBINSON (OVERLAND) 37.8; 3. Isabella Gee (Lakewood) 37.48; 4. Darcy Jew (Broomfield) 37.25; 5. AUTUMN IVESTER (OVERLAND) 37.13; 6. Sophia Pavlidis (Broomfield) 36.58; 7. BAILEY RODRIGUEZ (OVERLAND) 36.13; 8. Kenna Crookham (Mountain Range) 36.08; 9. Gabrielle Hornung (Chatfield) 36.03; 10. Kaedence Laughlin-Jensen (Cherry Creek) 34.93
Vault: 1. MABRY ROBINSON (OVERLAND) 9.65; 2. MATTEA DOLAN (OVERLAND) 9.575; 3. Laura Zipancic (Rocky Mountain) 9.525; 4. Darcy Jew (Broomfield) 9.45; 5. Gabrielle Hornung (Chatfield) 9.375; 6. Maren Irvin (Broomfield) 9.3; 7. Sophia Pavlidis (Broomfield) 9.3; 8. Mariah Schmeling (Heritage) 9.2; 9. Alyssa Willmarth (Broomfield) 9.1; 10. BAILEY RODRIGUEZ (OVERLAND) 8.825; 11. Bridget Gray (Mountain Range) 8.7
Uneven bars: 1. Haley Like (Thornton) 9.8; T2. Isabella Gee (Lakewood) 9.75; T2. Brenna Calvo (Broomfield) 9.75; 4. Lakoda Sherry (Lakewood) 9.7; 5. Darcy Jew (Broomfield) 9.6; 6. MATTEA DOLAN (OVERLAND) 9.45; 7. Alyssa Willmarth (Broomfield) 9.35; 8. Gabrielle Hornung (Chatfield) 9.325; 9. MABRY ROBINSON (OVERLAND) 9.275; 10. Gabrielle Miller (Pomona) 9.2; 11. Mariah Schmeling (Heritage) 8.775; 12. Bridget Gray (Mountain Range) 8.375
Balance beam: 1. BAILEY RODRIGUEZ (OVERLAND) 9.675; 2. Sophia Griffith (Broomfield) 9.575; 3. Haley Like (Thornton) 9.55; 4. MATTEA DOLAN (OVERLAND) 9.55; 5. Isabella Gee (Lakewood) 9.45; 6. Isabelle Benkowski (Broomfield) 9.35; 7. Kenna Crookham (Mountain Range) 9.2; 8. Melina Andretich (Mountain Range) 9.025; 9. AUTUMN IVESTER (OVERLAND) 9.025; 10. Callie Ostasz (Chatfield) 8.95; 11. MABRY ROBINSON (OVERLAND) 8.9; 12. Gabrielle Miller (Pomona) 8.675
Floor exercise: 1. AUTUMN IVESTER (OVERLAND) 9.625; 2. Isabella Gee (Lakewood) 9.625; 3. Darcy Jew (Broomfield) 9.55; 4. Brenna Calvo (Broomfield) 9.525; 5. KATE DECKER (OVERLAND) 9.425; 6. Kennedy Duff (Chatfield) 9.375; 7. Sophia Pavlidis (Broomfield) 9.35; 8. MABRY ROBINSON (OVERLAND) 9.325; 9. Alyssa Willmarth (Broomfield) 9.2; 10. MATTEA DOLAN (OVERLAND) 9.125; 11. McKayla Haymes (Chatfield) 8.65; 12. Sophia Griffith (Broomfield) 8.275