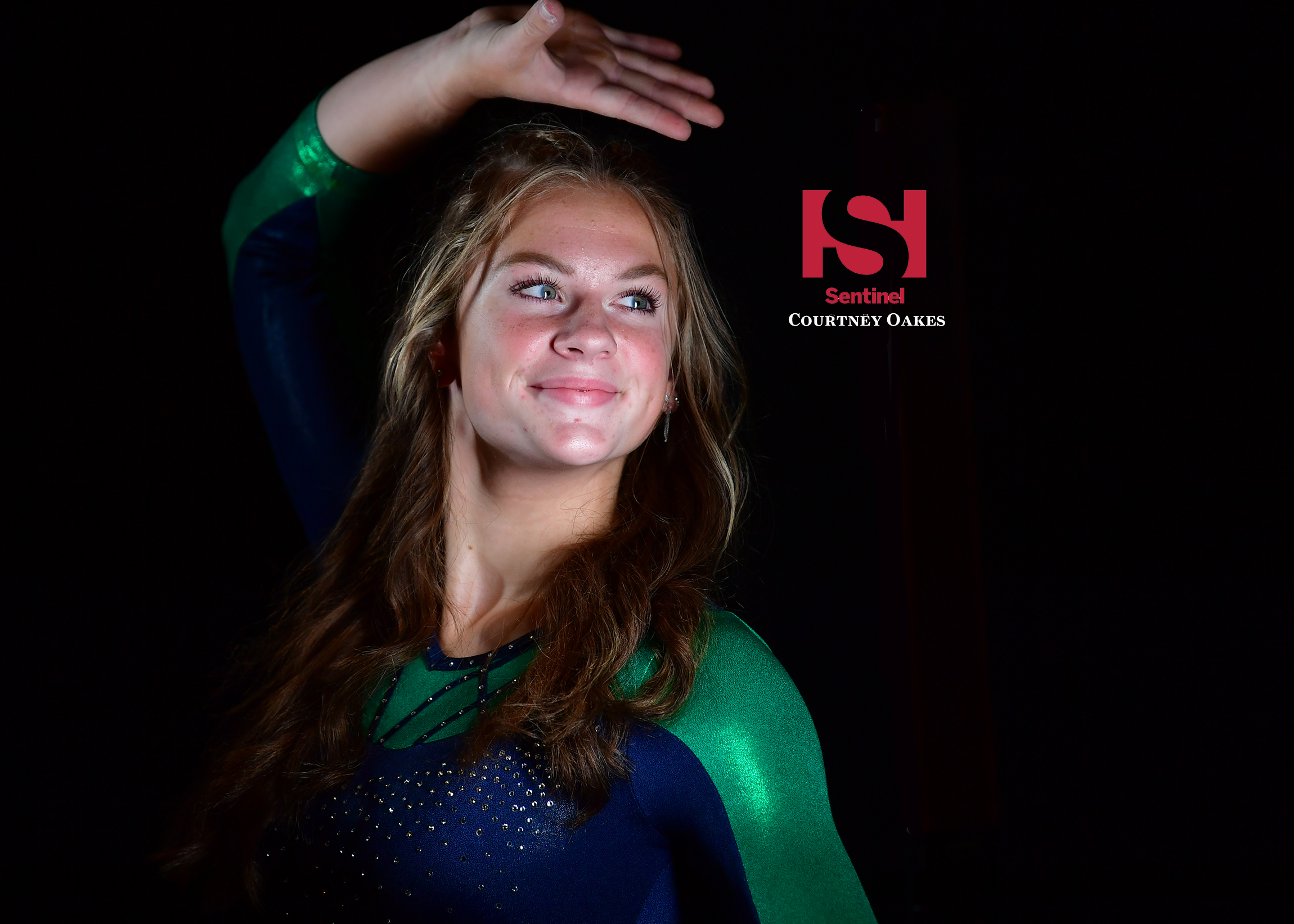 Winning the Class 5A state gymnastics championship was incredibly special for Mattea Dolan and the Overland co-go gymnastics program in April.
The junior and defending Class 5A all-around state championship only wishes her whole team could have been there to see it.
As Overland secured its first state championship since 2014 and sixth overall, the majority of the team could only watch on a stream from the home of an assistant coach due to the coronavirus pandemic.
"We totally felt their excitement even though they weren't there," Dolan told the Sentinel after her appearance at the annual Denver Broncos High School Media Day event Aug. 16 at Empower Field at Mile High.
"But I can't wait to be back together and have the energy back in the gym," she added. "I love all our bonding, our pasta parties and all that. The relationship between people on the team is really important. We want to get to know each other as people more than athletes, because that's what has a more long-lasting effect."
Coach Lisa Sparrow's Overland program has long thrived on tradition and closeness , so it had to overcome some seismic changes last season, as did all the other teams in Colorado.
Fewer meets, a different place on the athletic calendar (spring instead of fall), the need to split up the team for practices and the restrictions on attendance during the state championship meet were a challenge.
But through it all, Sparrow's team perservered and had a fantastic finish, as the Trailblazers snapped a string of second-place finishes to top Broomfield for the state title.
On top of that, Overland had individual state champions in Dolan in the all-around as well as Mabry Robinson (Smoky Hill) in the vault, Bailey Rodriguez (Eaglecrest) on the balance beam and Autumn Ivester (Cherokee Trail) on the floor.
Robinson, Rodriguez, Ivester and Kate Decker (who placed fifth on the floor) all graduated, leaving a definite void of experience on this Overland team in addition to the skills they added to the lineup.
"We have Mattea returning, but really for the most part this is a brand new team this year," Sparrow said. "They are very young, but they are dedicated and determined and we have a ton of potential."
Having Dolan back is no small thing, however.
She didn't expect to be a state champion in the all-around coming into the season, but she put things together at the right time. Dolan edged Robinson by just .08 of a point for the all-around title and earned her way into all four individual event finals, earning her way onto the medal podium in three of them.
"I'm using last year's success as a way to help motivate my teammates so they can continue to be the best they can be and I can lift them up if they need it," Dolan said.
"Whether we win state or not is not my priority this season, it's being with the team and helping us do our best at every meet we are at."
Sparrow appreciates Dolan's team-heavy mindset and realization that winning one season doesn't necessarily mean it will happen again.
This Overland group does have more state meet experience, however.
Senior Ella Baldensperger (Cherokee Trail) and sophomore Kyla Burke (Colorado Early Colleges) each competed on the uneven bars during the team competition, with Baldensperger also appearing in the floor and Burke in the vault.
Sparrow believes Baldensperger and Burke both have strong potential as all-around gymnasts, which should help bolster the Trailblazers' lineup, while a variety of newcomers to the program and young gymnasts should help fill in for Overland's losses.
Courtney Oakes is Sentinel Colorado Sports Editor. Reach him at [email protected] Twitter: @aurorasports. IG: Sentinel Prep Sports