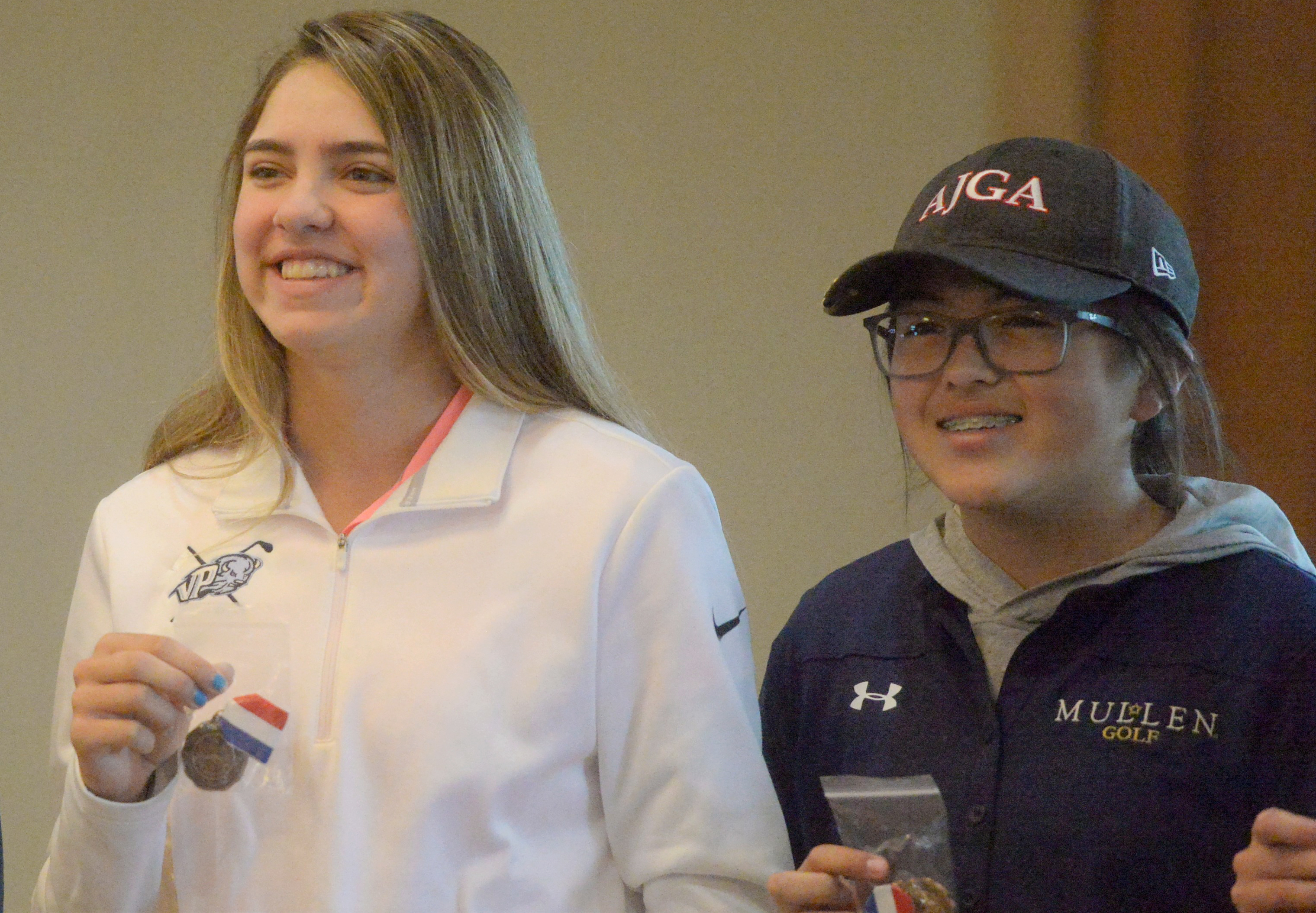 TIMNATH/WINDSOR | An extremely challenging spring for girls golfers — all prep sports — in Colorado ended Tuesday with the disappointing cancellation of the final rounds of the Class 5A and 4A girls state tournaments.
After slogging through wet conditions in Mondays opening round at Harmony Golf Club (5A) and Pelican Lakes Golf Club (4A), respectively, overnight snow made the Colorado High School Activities Association deem both locations unplayable for the completion of the state tournament.
That meant first round results would stand as final.
For Vista PEAK junior Kylie Severin, that meant a tie for second place in the 4A state tournament after she carded a 6-over-par 78 (as she shot plus-3 on both the front and back nines) in the opening round.
Severin — who established the young Vista PEAK program's best-ever individual state finish again after she was fifth last season — finished in a deadlock with Mullen sophomore Sofia Choi for runner-up honors behind Holy Family's Hailey Schalk, who shot even par in the first round.
The EMAC champion Bison finished in ninth place as a team as fellow juniors Melissa Cooke and Marin Head shot 98 and 120, respectively. Cooke finished tied for 36th, while Head tied for 76th in the state debuts for both golfers.
In 5A, Eaglecrest's Emma Bryant had her reign as individual state champion come to an end.
The sophomore standout and Centennial League champion navigated tough conditions to shoot a plus-6 78 in the opening round, which put her in a tie for 15th overall. Without a second round, Bryant never had a chance to make a run at Loveland's Lauren Lehigh, who won the title with a 70.
Regis Jesuit junior Katie Berrian shot a 1-over 73 in her opening round, which earned her third place for the second straight season.
Berrian — who won a handful of tournaments throughout the season — would have played in the final group for the second year in a row and might have made a run at topping Lehigh for medalist honors.
Grandview seniors Morgan Ryan and Amy Chitkoksoong had their standout careers cut a round short. The pair — which helped the Wolves win the 2016 5A state team championship — played in the state tournament together for a fourth time.
Ryan — who was 51st as a freshman, moved up to 32nd as a sophomore and all the way to the runner-up spot as a junior — needed the final round for a chance to win the individual title. The University of Wyoming signee shot a 75 that put her in a tie for fifth place, five shots off the lead.
Chitkoksoong, the 2017 5A state champion, shot a 78 in what turned out to be the Northern Colorado signee's final prep round. She ended up in a tie with Bryant and three others for 15th place, the first time she finished outside the top eight.
Coach Mary Danielson's Wolves — who also got an 85 from senior Sydney Szarka — finished an Aurora-best sixth with a team score of 238, but sat just one stroke behind fifth-place Rock Canyon and two behind fourth-place Arapahoe, while Centennial League champion had an eight-stroke edge in third.
Led by Berrian and fellow junior Skylar Cain, who shot 80, Regis Jesuit ended up seven strokes behind Grandview in seventh place. Emaan Adil's 92 provided the third score for the Raiders.
Cherokee Trail tied for 16th place with the trio of Gabby Ello, Brooke Kramer and Kiara Gill shooting 85, 89 and 92, respectively.
Kramer found difficulty on the back nine in particular and ended up in a tie for 53rd, a year after she was 11th. Ello, meanwhile, turned in her best career state round (she shot 87 and 88 last season) and ended up in a tie for 41st.
Overland senior Sasha Parker, Aurora's only other individual qualifier besides Bryant, shot a 91 for her best career state round as well. Parker ended up in 59th place, the same spot she finished last season after shooting 95 and 93.
Courtney Oakes is Sentinel Colorado Sports Editor. Reach him at 303-750-7555 or [email protected] Twitter: @auroarsports. IG: Sentinel Prep Sports
2019 CLASS 5A GIRLS STATE GOLF TOURNAMENT
May 20 at Harmony Golf Club
Team scores (par 216): 1. Fossil Ridge 225; 2. Loveland 226; 3. Cherry Creek 230; 4. Arapahoe 236; 5. Rock Canyon 237; 6. GRANDVIEW 238; 7. REGIS JESUIT 245; T8. Valor Christian 248; T8. Denver East 248; T8. Ralston Valley 248; 11. ThunderRidge 253; 12. Legend 255; 13. Highlands Ranch 259; 14. Chaparral 261; 15. Broomfield 262; T16. CHEROKEE TRAIL 266; T16. Castle View 266; 18. Rocky Mountain 275
Top 10 individuals (par 72): 1. Lauren Lehigh (Loveland) 70; 2. Meghan Vogt (Broomfield) 71; 3. KATIE BERRIAN (REGIS JESUIT) 73; 4. Olivia Steen (Fossil Ridge) 74; T5. MORGAN RYAN (GRANDVIEW) 75; T5. Leigha Devine (Fossil Ridge) 75; T5. Sydney Eye (Ralston Valley) 75; T8. Grace Dunkleberger (Rock Canyon) 76; T8. Kaylynn Xia (Cherry Creek) 76; T8. Gabi Werst (Fossil Ridge) 76; T8. Katelyn Lehigh (Loveland) 76; T8. Merielle Gojo (Cherry Creek) 76; T8. Courtney Packer (Arapahoe) 76
Other Aurora results: T15. Amy Chitkoksoong (Grandview) 78; T15. Emma Bryant (Eaglecrest) 78; T25. Skylar Cain (Regis Jesuit) 80; T41. Sydney Szarka (Grandview) 85; T41. Gabby Ello (Cherokee Trail) 85; T53. Brooke Kramer (Cherokee Trail) 89; 59. Sasha Parker (Overland) 91; T63. Emaan Adil (Regis Jesuit) 92; T63. Kiara Gill (Cherokee Trail) 92; 75. Eliannah Angel-Lucero (Regis Jesuit) 96; 83. Brinnli Stevens (Grandview) 108
2019 CLASS 4A GIRLS STATE GOLF TOURNAMENT
May 20 at Pelican Lakes G.C.
Team scores (par 216): 1. Windsor 254; 2. Niwot 274; 3. Durango 289; 4. Littleton 290; T5. Evergreen 292; T5. Coronado 292; T7. Palmer Ridge 294; T7. Golden 294; 9. VISTA PEAK 296; 10. Denver North 304; 11. Lewis-Palmer 307; 12. Pueblo West 310; 13. Palisade 313; 14. Cheyenne Mountain 314
Top 10 individuals (par 72): 1. Hailey Schalk (Holy Family) 72; T2. KYLIE SEVERIN (VISTA PEAK) 78; T2. Sofia Choi (Mullen) 78; 4. Jessica Zapf (Windsor) 80; 5. Jessica Mason (Holy Family) 82; 6. Kate Griffin (Coronado) 83; T7. Christina Cheng (Discovery Canyon) 85; T7. Kinsey Smith (Windsor) 85; T9. Timbre Shehee (Mead) 86; T9. Lisa Kelley (Glenwood Springs) 86
Other Vista PEAK results: T36. Melissa Cooke 98; T76. Marin Head 120