AURORA | The Vista PEAK girls golf team took a big step towards repeating as East Metro Athletic Conference champions with a 20-stroke victory in the first of two major tournaments held Thursday.
On a day that ran the gamut of weather at Aurora Hills G.C., senior Kyree Conaway carded a 5-over-par 72 to lead three Bison in the top seven as coach Amy Severin's team posted a team score of a plus-43 259 to finish comfortably in front of Northglenn (279) and Brighton (291).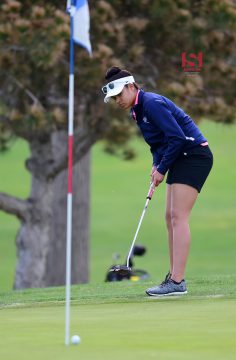 Vista PEAK sophomores Kylie Severin and Melissa Cooke shot 86 and 94 to finish second and seventh, respectively, to put their team in pole position going into the second EMAC Major, scheduled for April 24 at a course to be determined by host Westminster.
The Bison won last season's EMAC title by 28 strokes over Northglenn and are in line to win a fourth straight league title following back-to-back wins in their final two seasons in the Colorado 7 in 2015 and 2016.
In this season's opening major, Conaway recorded the lone birdie of her round on the par-5 Hole No. 8 to counter a bogey on the par-3 Hole No. 3 and she made the turn at even par before she ran into a bit of a trouble on the backside with bogeys — plus a double — on Holes Nos. 10-14.
Third a season ago in the final EMAC individual standings, Conaway has a seven-stroke lead over teammate Severin and a nine-stroke lead over Northglenn's Victoria Quintana.
Rangview got a plus-19 91 from Alexis Drummond on its way to a fourth-place finish, while Aurora Central, Gateway and Hinkley finished in a tight pack in the Nos. 8-9-10 spots.
Paced by Akolda Redgebol at 130, the Trojans finished at 395, two strokes ahead of Eh Kar Gay and host Gateway (397) with Valeria Moctezuma's 123 leading Hinkley to a score of 398.
The final EMAC standings determine where each team plays in state qualifying regional tournaments save for Vista PEAK, which is set to play in the Class 4A Region 4 tournament at Highland Hills.
Based on their current position in the standings, here's where Aurora's 5A teams would be headed for regional play: Rangeview and Aurora Central to the Northern Regional at Collindale in Fort Collins, Gateway to the Western Regional at Fox Hollow G.C. and Hinkley to the Southern Regional at the Country Club of Colorado.
Aurora's EMAC team's return to action in an South Division tournament scheduled for 11 a.m. April 17 at Aurora's Meadow Hills G.C.
Courtney Oakes is Sentinel Sports Editor. Reach him at 303-750-7555 or [email protected] Twitter: @aurorasports. FB: Sentinel Prep Sports
2018 EMAC GIRLS GOLF MAJOR TOURNAMENT NO. 1
April 12 at Aurora Hills G.C.
Team scores (par 216): 1. VISTA PEAK 259; 2. Northglenn 279; 3. Brighton 291; 4. RANGEVIEW 308; 5. Prairie View 326; 6. Westminster 345; 7. Thornton 389; 8. AURORA CENTRAL 395; 9. GATEWAY 397; 10. HINKLEY 398; 11. Adams City 411
Top 10 individuals (par 72): 1. KYREE CONAWAY (VISTA PEAK) 79; 2. KYLIE SEVERIN (VISTA PEAK) 86; 3. Victoria Quintana (Northglenn) 88; 4. Leticia Delgado (Northglenn) 89; T5. ALEXIS DRUMMOND (RANGEVIEW) 91; T5. Shelisa Derr (Brighton) 91; 7. MELISSA COOKE (VISTA PEAK) 94; T8. Kaylee Herring (Westminster) 95; T8. Catera Gagna (Brighton) 95; 10. Alexis Noll (Prairie View) 97
Aurora team-by-team results (in order of finish)
Vista PEAK (259): Kyree Conaway 79, Kylie Severin 86, Melissa Cooke 94, Marin Head 101, Abby Guerrero 108; Rangeview (308): Alexis Drummond 91, Dennea Pigford 104, Marissa Chambers 113, Amari Bullock 139; Aurora Central (395): Akolda Redgebol 130, Marisol Ayala 132, Carmen Hernandez 133, Lauren Stobaugh 134, Kameo Cambell 140; Gateway (397): Eh Kar Gay 128, Kate Osindero 133, Hannah Aoga 136, Emma Thomas 138; Hinkley (398): Valeria Moctezuma 123, Stephanie Ortiz 135, Abigail Mangana 140, Roselyn Garcia 143, Angel Swartout 144
Other team-by-team results (in order of finish)
Northglenn (279): Victoria Quintana 88, Leticia Delgado 89, Sidney Wilson 102, Erin Roth 117; Brighton (291): Shelisa Derr 91, Catera Gagna 95, Alex Chavarria 105, Hailey Radmann 107, Jamie Fleck 109; Prairie View (326): Alexis Noll 97, Kaitlyn Howard 101, Dasha Stanley 128, Ha'manai Ashley 136; Westminster (345): Kaylee Herring 95, Jacee Casebolt 116, Monserrat Estrada Martin 134; Thornton (389): Payton Aragon 111, Tiana Aragon Vargas 137, Kaylie Catalano 141; Adams City (411): Jayanti Jones 130, Sierra Gutierrez 137, Stephanie Cantellano 144