GREELEY | A highly competitive Class 4A Region 4 girls golf tournament saw the top four teams all finish within eight strokes of each other in play Monday at Highlands Hills G.C.
Only the top two teams earned automatic berths in the May 21-22 4A state tournament at the Country Club of Colorado, however.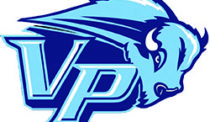 EMAC champion Vista PEAK ended up on the outside looking in as far as the team chase goes, as the Bison — who had qualified as a team in the previous two seasons — shot plus-46 262 as a team to take fourth place behind winner Loveland (254), runner-up Glenwood Springs (256) and Montrose (259).
Coach Amy Severin's Vista PEAK team did come away with a pair of individual state qualifiers, however, as sophomore Kylie Severin and senior Kyree Conaway finished in the group of 13 individual players not part of one of the top two teams that moved on to the state tournament.
Severin finished in a tie for second place with a 6-over-par 78, which was four shots off the place of leader Lauren Lehigh of Loveland. She was in position for a shot at medalist honors, but made bogey on each of her last four holes, while Lehigh played steady to the end. Severin tied for 34 in her state tournament debut last season.
Conaway earned a chance to play in the 4A state tournament for a third straight time with her eighth-place finish after she carded a plus-14 86.
Cook shot a 98 to finish in 23rd place, while Marin Head shot 102 to tie for 27th to round out results for Vista PEAK. Conaway tied for 32nd at state as a sophomore and tied for 10th last season.
Courtney Oakes is Sentinel Sports Editor. Reach him at 303-750-7555 or [email protected] Twitter: @aurorasports. FB: Sentinel Prep Sports
2018 CLASS 4A REGION 4 GIRLS GOLF TOURNAMENT
May 7 at Highland Hills G.C.
Team scores (par 216): 1. Loveland 254; 2. Glenwood Springs 256; 3. Montrose 259; 4. VISTA PEAK 262; T5. Northridge 268; T5. Niwot 268; 7. Mountain View 289; 8. Palisade 301; 9. Centaurus 341; 10. Silver Creek 351; 11. Arvada 364; 12. Central (Grand Junction) 383; Thompson Valley no score
4A state qualifiers (par 72): 1. Lauren Lehigh (Loveland) 74; T2. KYLIE SEVERIN (VISTA PEAK) 78; T2. Lois Sheaffer (Northridge) 78; T4. Taylor Kettell (Montrose) 82; T4. Julia Solem (Niwot) 82; 6. Lauren Murphy (Glenwood Springs) 83; 7. Lisa Kelley (Glenwood Springs) 84; 8. KYREE CONAWAY (VISTA PEAK) 86; 9. Taylor Bandemer (Loveland) 87; 10. Nicole Cherry (Montrose) 88; T11. Emma Sheaffer (Northridge) 89; T11. Halie Ostrom (Niwot) 89; T11. Ashlyn Manuel (Montrose) 89; T11. Callie Jones (Glenwood Springs) 89; 15. Renee Demaree (Mountain View) 90; 16. Sarah Murphy (Glenwood Springs) 91; 17. Natalee Hall (Loveland) 93; 18. Casey Bradley (Loveland) 94; 19. Kathi Norell (Palisade) 95; T20. Camryn Polansky (Mountain View) 97; T20. Mya Ostrom (Niwot) 97; T20. Ally Nichols (Montrose) 97; 1st alternate: MELISSA COOKE (VISTA PEAK) 98; 2nd alternate: Laure Bourgin (Niwot) 100