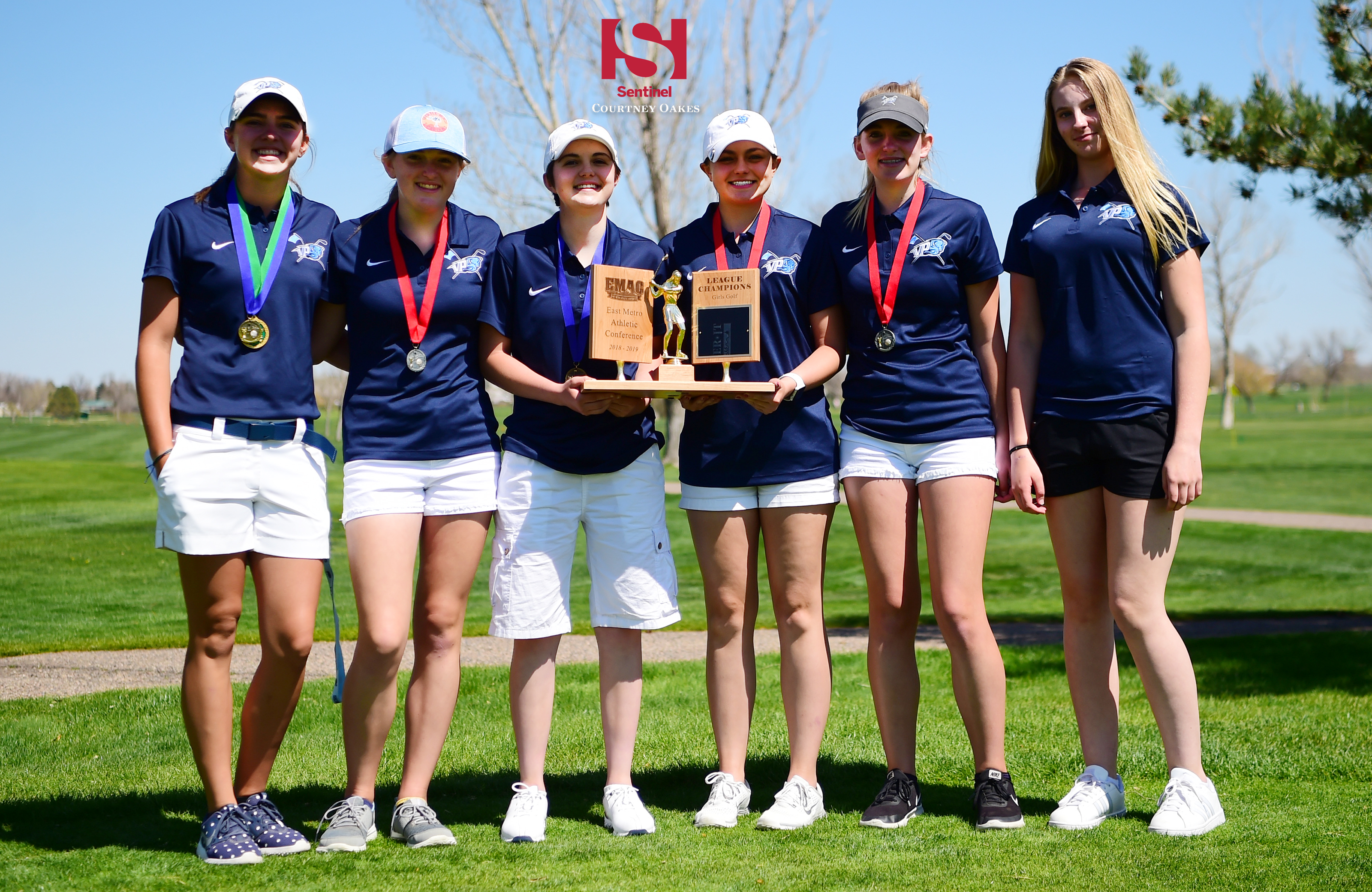 AURORA | With the sun shining above and a 55-stroke lead tucked neatly in its pocket, the Vista PEAK girls golf team got to fully enjoy Thursday's second EMAC major.
Two days earlier, the Bison got off to a fine start as juniors Kylie Severin and Melissa Cooke helped them build a massive advantage going into the conclusion of the league season at Aurora Hills G.C.
Coach Amy Severin's team not only maintained its huge advantage, it more than doubled it as all five of its players — Kylie Severin, Melissa Cooke, Marin Head, Charlotte Higgins and Ayla Higgins — earned all-conference honors and brought home the Vista PEAK program's third straight EMAC title and fifth in a row overall.
Playing together in the lead group, Kylie Severin shot a 1-over-par 73 to cruise to EMAC medalist honors and Cooke recorded her first career round in the 70s with a 7-over 79 as the Bison won the day by 42 strokes over Brighton and the two-tournament set by 121 strokes over league runner-up Prairie View.
Vista PEAK also got 91 from Head — a 14-stroke improvement over the previous major — 99 from Ayla Higgins and 101 from Charlotte Higgins as all three earned All-EMAC second team honors.
Though the Bison finished atop the league, they were one of two 4A teams (third-place finisher Riverdale Ridge) that drop out for regional purposes.
Rangeview was Aurora's top-finishing 5A team, as coach Terry Anderson's group — which had a pair of second-team All-EMAC performers in Alexis Drummond and Amari Bullock — came in fourth in the overall standings and as the No. 2 seed among 5A teams.
Marisol Ayala grabbed the final All-EMAC second team spot for Aurora Central, which finished sixth overall, while Gateway came in 10th and Hinkley 11th.
Courtney Oakes is Sentinel Colorado Sports Editor. Reach him at 303-750-7555 or [email protected] Twitter: @aurorasports. IG: Sentinel Prep Sports
2019 FINAL EMAC GIRLS GOLF STANDINGS
Team standings: 1. VISTA PEAK 261-243 — 504; 2. Prairie View 316-309 — 625; 3. Riverdale Ridge 330-318 — 648; 4. RANGEVIEW 329-321 — 650; 5. Northglenn 367-338 — 705; 6. AURORA CENTRAL 374-344 — 718; 7. Thornton 394-354 — 748; 8. Westminster 376-373 — 749; 9. Brighton 462-288 — 750; 10. GATEWAY 414-362 — 776; 11. HINKLEY 437-405 — 842; 12. Adams City 405-462 — 867
First team All-EMAC: 1. KYLIE SEVERIN (VISTA PEAK) 78-73 — 151; 2. MELISSA COOKE (VISTA PEAK) 87-79 — 166; 3. Shelisa Derr (Brighton) 88-89 — 177; 4. Leticia Delgado (Northglenn) 92-88 — 180; 5. Lily Nelson (Prairie View) 94-90 — 184; 6. Catera Gagna (Brighton) 97-97 — 194
Second team All-EMAC: 7. MARIN HEAD (VISTA PEAK) 105-91 — 196; 8. CHARLOTTE HIGGINS (VISTA PEAK) 96-101 — 197; 9. AYLA HIGGINS (VISTA PEAK) 107-99 — 206; 10. ALEXIS DRUMMOND (RANGEVIEW) 99-107 — 206; 11. AMARI BULLOCK (RANGEVIEW) 111-105 — 216; 6. MARISOL AYALA (AURORA CENTRAL) 115-106 — 221