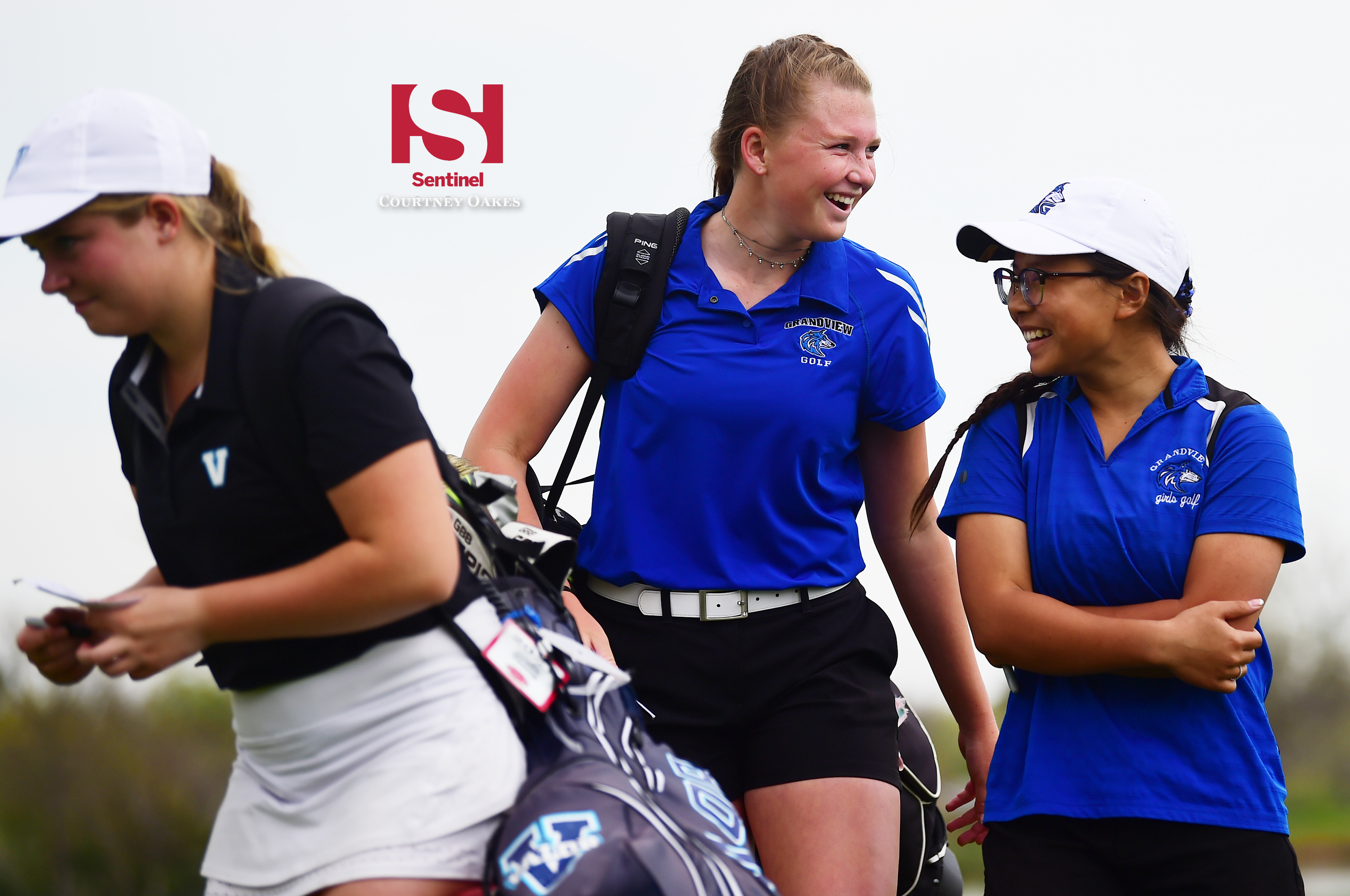 AURORA | Morgan Ryan and Amy Chitkoksoong began Monday's Class 5A Northern Regional girls golf tournament as teammates and ended it as competitors.
The Grandview seniors and good friends played Aurora Hills Golf Course with identical scores of 2-over-par 74 — finishing a stroke clear of Rock Canyon's Grace Dunkelberger — then needed a playoff to decide the regional champion.
Ryan prevailed in extra play in the battle of Division I signees (Ryan with Wyoming, Chitkoksoong with Northern Colorado) to finish as the Northern Regional medalist and punctuate a performance that gained the Wolves admission into the May 20-21 5A girls state golf tournament at Harmony Golf Club in Fort Collins.
Led by Ryan and Chitkoksoong and supported by the duo of Brinnli Stevens and Sydney Szarka — who each shot 93 to tie for 20th — coach Mary Danielson's Grandview team claimed the second automatic team spot in the state tournament. The Wolves finished five strokes behind Rock Canyon for the regional title and 10 shots clear of its closest pursuer, Valor Christian.
Playing in the lead group, Chitkoksoong birdied her first two holes and made three on the front side, which helped her hold the individual lead until a bogeys on Nos. 15 and 17 opened the door for Ryan.
Ryan made birdies on Nos. 13 and 15 and could have won it with a birdie putt on No. 18 that went just left. She finished with three birdies total in her round.
Chitkoksoong shot 74 and Ryan 76 when Grandview played at Aurora Hills in the second Centennial League meet of the season April 18.
Szarka (who played at state last year as part of Grandview's runner-up finish) carded an 82 at the league tournament, but ended up at 93 at regionals at two par-4s — Holes Nos. 1 and 4 — gave her trouble. Stevens shot one shot higher than at the Centennial League tournament.
Hinkley, the other Aurora team in the regional field, finished 13th as Aaliyah Jones and Sabrina O'Donnell tied for top honors for the Thunderbirds with identical scores of 140.
In addition to Grandview, Eaglecrest sophomore Emma Bryant made it out of the Southern Region (where she was the champion) and Overland senior Sasha Parker earned an individual spot out of the Central Regional (where she had the top result of players from three Aurora teams).
Aurora's 5A state representation should grow with the results of Tuesday's 5A Western Regional at Tiara Rado G.C. in Grand Junction that featured Cherokee Trail, Rangeview, Regis Jesuit and Smoky Hill.
Courtney Oakes is Sentinel Colorado Sports Editor. Reach him at 303-750-7555 or [email protected] Twitter: @aurorasports. IG: Sentinel Prep Sports
2019 CLASS 5A NORTHERN REGIONAL GIRLS GOLF
May 6 at Aurora Hills G.C.
Team scores (par 216, top two teams qualify for 5A state tournament): 1. Rock Canyon 236; 2. GRANDVIEW 241; 3. Valor Christian 251; 4. Broomfield 253; 5. Castle View 254; 6. Heritage 267; 7. Prairie View 309; 8. Fountain-Fort Carson 314; 9. Chatfield 316; 10. Horizon 317; 11. Thornton 260; 12. Boulder 347; 13. HINKLEY 424
Top 18 individuals (state qualifier, par 72): 1. MORGAN RYAN (GRANDVIEW) 74 (won in playoff); 2. AMY CHITKOKSOONG (GRANDVIEW) 74; 3. Grace Dunkelberger (Rock Canyon) 75; 4. Ashley Kozlowski (Rock Canyon) 78; 5. Nicole Fatovic (Broomfield) 79; T6. Kayla Robinson (Heritage) 82; T6. Meghan Vogt (Broomfield) 82; T6. Grace Young (Valor Christian) 82; 9. Amira Badruddin (Rock Canyon) 83; T10. Samantha Schoenborn (Valor Christian) 84; T10. Cassie McCord (Castle View) 84; T12. Lindsay Taylor (Castle View) 85; T12. Morgan Frieling (Castle View) 85; T12. Morgan Hamler (Valor Christian) 85; 15. Mia Kliner (Rock Canyon) 87; 16. Lindsey Benson (Heritage) 90; T17. Teandra Omans (Fountain-Fort Carson) 91; T17. Isabelle Dinapoli (Chatfield) 91; 19. Ana Cole (Broomfield) 92; 1st alternate: Lily Nelson (Prairie View) 94; 2nd alternate: Jessie Schulte (Valor Christian) 95 (won playoff)
Aurora team results (in order of finish)
Grandview (241): T1. Morgan Ryan 74, T1. Amy Chitkoksoong 74, T20. Brinnli Stevens 93, T20. Sydney Szarka 93; Hinkley (424): T46. Aaliyah Jones 140, T46. Sabrina O'Donnell 140, 48. Roselyn Garcia 144, 49. Stephanie Ortiz 170