CENTENNIAL | A season's worth of play in the Centennial League benefited Overland's Sasha Parker when it counted the most.
The Trailblazers' standout tied her best 18-hole score of the season — a 15-over-par 87 — Monday at the Class 5A Central Regional girls golf tournament at South Suburban G.C. to earn her first trip to the 5A state tournament.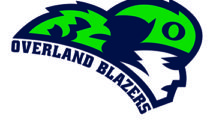 Parker shot the same score that she had in a league tournament at Raccoon Creek G.C. and it was good enough to tie her for 12th in the regional field, easily enough to put her into the May 21-22 5A state tournament at the Boulder Country Club.
Parker steadied herself after making double bogeys on two of her first three holes, made the turn at plus-7 and largely avoided trouble on the back side.
Overland hasn't had a golfer in the 5A girls state golf tournament since Seung Ha Choi and Soleil Worthy made it in 2012.
Aurora's Centennial League golfers as a whole dominated regional play.
Grandview won the Southern Regional title, Eaglecrest qualified three golfers at the Northern Regional — including individual medalist Emma Bryant — Cherokee Trail had the Western Regional champion in Brooke Kramer and qualified two and Smoky Hill's Amisha Singh advanced individually from the Southern Regional.
Rangeview also represented Aurora in the Central Regional and was led by Alexis Drummond, who carded a 103.
The Raiders placed 12th as a team.
Courtney Oakes is Sentinel Sports Editor. Reach him at 303-750-7555 or [email protected] Twitter: @aurorasports. FB: Sentinel Prep Sports
2018 CLASS 5A CENTRAL REGIONAL GIRLS GOLF TOURNAMENT
May 7 at South Suburban G.C.

Team scores (par 216): 1. Highlands Ranch 236; 2. Columbine 244; 3. Grand Junction 252; 4. Chaparral 253; 5. Arapahoe 255; 6. Heritage 275; 7. Rampart 284; 8. Brighton 289; 9. Horizon 293; 10. Fairview 296; 11. Pomona 313; 12. RANGEVIEW 340; OVERLAND no score
5A state qualifiers (par 72): 1. Kelsey Webster (Fairview) 69; T2. Haena Kim (Highlands Ranch) 73; T3. Katherine Malcolm (Chaparral) 73; T4. Jenna Chun (Highlands Ranch) 74; T4. Tess Mitchell (Columbine) 74; 6. Brittlynn Odell (Grand Junction) 78; 7. Gracie Olkowski (Grand Junction) 79; 8. Courtney Packer (Arapahoe) 81; T9. Annika Schooler (Columbine) 82; T9. Gabby Esquibel (Heritage) 82; 11. Samantha Packer (Arapahoe) 85; T12. SASHA PARKER (OVERLAND) 87; T12. Kira Petersen (Chaparral) 87; T14. Shelisa Derr (Brighton) 88; T14. Hanna Lawton (Columbine) 88; T16. Claire Hendee (Highlands Ranch) 89; T16. Christine Attai (Arapahoe) 89; T18. Alex Hill (Rampart) 90; T18. Alaina Oscai (Highlands Ranch) 90
Aurora team-by-team results (in order of finish)
Rangeview (340): Alexis Drummond 103, Amari Bullock 117, Dennea Pigford 120, Marissa Chambers 128; Overland (NS): Sasha Parker 87, Maya Romero 101