AURORA | Grandview junior Amy Chitkoksoong won her third consecutive individual Centennial League girls golf championship, which she put the finishing touches on with a performance that tied for first in Wednesday's league finale.
Chitkoksoong — also the defending Class 5A state champion — claimed the league's medalist honors yet again after a steady season that saw her accumulate 85.21 points. She won just one tournament outright — when she fired a 71 for a two-stroke win at Aurora Hills G.C. — though she also tied for first on two other occasions.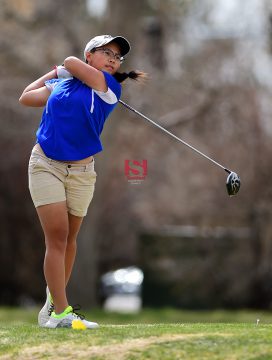 Junior Morgan Ryan (60.21 points) and senior Caitlin O'Donnell (55.21 points) joined Chitkoksoong on the All-Centennial League first team — comprised of the top eight individual finishers — as they ranked fifth and seventh, respectively.
O'Donnell played at an all-league first team level for the third time, while Ryan earned the distinction for a second time. Junior Sydney Szarka claimed the final spot on the all-league second team for coach Mary Danielson's Wolves.
Grandview was unable to retain its hold on the Centennial League team title, however, as it ended up in second place with a 46-stroke finish behind youth-infused Cherry Creek. The Wolves edged the Bruins by a single stroke last season, but fell behind the Bruins by 18 strokes in the 9-hole opening tournament at The Links G.C. and never got the deficit into single digits.
Eaglecrest freshman Emma Bryant announced her arrival in a big way with a second-place finish in the individual league standings as she earned a total of 78.21 points. Bryant won the league's Meadow Hills G.C. tournament by a full five strokes over Chitkoksoong and she finished in second place or better in four of six tournaments.
Bryant's performance in Wednesday's finale, in which she tied Chitkoksoong for low honors with a 1-over-par 73, gave her enough points to jump over Cherry Creek's Payton Canon into the second spot in the individual standings.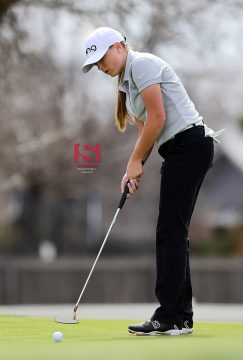 Led by Bryant and Julia Shaver — a returning 5A state qualifier who made the all-league second team — the Raptors turned in the area's next-highest team finish in fourth.
Cherokee Trail finished six strokes behind Eaglecrest in fifth place in the league standings, led again by junior Brooke Kramer, who collected all-league honors for a third straight season. Kramer finished in the eighth and final All-Centennial League first team spot for the second year in a row with her point total of 54.21.
Kramer's top individual finish came at Meadow Hills G.C., where her 80 put her in a tie for fourth. Sophomore teammate Gabriella Ello made the all-league second team.
Smoky Hill had no team score, but junior Amisha Singh finished 16th in the final standings to take a spot on the all-league second team.
The final standings determined where teams will play in Class 5A regionals May 7.
Grandview and Smoky Hill — which takes the No. 6 spot in the league after the true No. 6, Mullen, drops out of the 5A equation and heads to the 3A Region 4 tournament — will compete in the 5A Southern Region tournament at the Colorado Springs Country Club, while Cherokee Trail joins Cherry Creek at the 5A Western Regional at Fox Hollow G.C., Eaglecrest heads to Collindale G.C. as part of the 5A Northern Regional and Overland joins Arapahoe in the 5A Central Regional at South Suburban G.C.
Courtney Oakes is Sentinel Sports Editor. Reach him at 303-750-7555 or [email protected] Twitter: @aurorasports. FB: Sentinel Prep Sports
2018 CENTENNIAL LEAGUE GIRLS GOLF FINAL STANDINGS
Final team standings (The Links (9 holes), Littleton (9 holes), Aurora Hills, Meadow Hills, Raccoon Creek, Saddle Rock): 1. Cherry Creek 130-144-293-323-312-316 — 1,518; 2. GRANDVIEW 148-140-317-327-321-311 — 1,564; 3. Arapahoe 144-153-340-351-317-328 — 1,633; 4. EAGLECREST 161-162-359-378-373-372 — 1,805; 5. CHEROKEE TRAIL 158-177-357-381-377-361 — 1,811; 6. Mullen 177-186-387-425-377-409 — 1,961; SMOKY HILL & OVERLAND no score
First team All-Centennial League (top eight): 1. AMY CHITKOKSOONG (GRANDVIEW) 85.21 points; 2. EMMA BRYANT (EAGLECREST) 78.21; 3. Payton Canon (Cherry Creek) 77.21; 4. Kaylynn Xia (Cherry Creek) 66.21; 5. MORGAN RYAN (GRANDVIEW) 60.21; 6. Alyssa Chin (Cherry Creek) 57.21; 7. CAITLIN O'DONNELL (GRANDVIEW) 55.21; 8. BROOKE KRAMER (CHEROKEE TRAIL) 54.21
Second team All-Centennial League (9-18): 9. Rachel Penzenstadler (Cherry Creek) 53.21; 10. Merielle Gojo (Cherry Creek) 52.21; 11. Courtney Packer (Arapahoe) 44.21; 12. Ella Chism (Arapahoe) 39.21; 13. GABRIELLA ELLO (CHEROKEE TRAIL) 30.21; 14. Samantha Packer (Arapahoe) 29.21; 15. Christine Attai (Arapahoe) 27.74; 16. AMISHA SINGH (SMOKY HILL) 26.00; 17. JULIA SHAVER (EAGLECREST) 22.21; 18. SYDNEY SZARKA (GRANDVIEW) 1.21
Regional destinations: 5A Western Regional — Cherry Creek, CHEROKEE TRAIL; 5A Southern Regional — GRANDVIEW, SMOKY HILL; 5A Central Regional — Arapahoe, OVERLAND; 5A Northern Regional — EAGLECREST; 3A — Mullen