AURORA | Because it was rescheduled from the first week of the season, Monday's Grandview Invitational girls golf tournament at Heritage Eagle Bend lost a little punch.
Six teams originally entered in the 18th annual tournament couldn't make it to the reschedule and Grandview junior Amy Chitkoksoong, the defending Class 5A state champion, didn't play after she competed in a national event over the weekend.
But a quality field remained and Eaglecrest freshman Emma Bryant rose to the top of it, as she handled gusty conditions on her way to an even-par 72. Bryant — younger sister of Eaglecrest's Davis Bryant, the 5A boys state champion in the fall — made birdie on two of her final six holes to win by a full five shots.
Playing together, Bryant and her teammate Rian Nelson also won the best ball portion of the tournament, as the Raptors' duo combined to shoot a 1-under 71.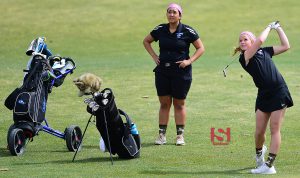 Without Chitkoksoong, Grandview was led individually by junior Morgan Ryan, who carded a 5-over-par 77 to finish in a tie for second with Ella Chism of Arapahoa.
In the best ball competition, the Wolves' tandem of senior Caitlin O'Donnell and junior Sydney Szarka finished with an even-par 72 to come in second behind Bryant and Nelson.
Cherokee Trail and Vista PEAK also represented Aurora in the field and the top individual for each team — junior Brooke Kramer for the Cougars and senior Kyree Conaway for the Bison — each finished in a tie for fourth with plus-9 81s.
Courtney Oakes is Sentinel Sports Editor. Reach him at 303-750-7555 or [email protected] Twitter: @aurorasports. FB: Sentinel Prep Sports
2018 GRANDVIEW INVITATIONAL GIRLS GOLF TOURNAMENT
April 2 at Heritage Eagle Bend G.C.
Top 10 individuals (par 72): 1. EMMA BRYANT (EAGLECREST) 72; T2. MORGAN RYAN (GRANDVIEW) 77; T2. Ella Chism (Arapahoe) 77; T4. BROOKE KRAMER (CHEROKEE TRAIL) 81; T4. Olivia Roper (Denver East) 81; T4. KYREE CONAWAY (VISTA PEAK) 81; 7. CAITLIN O'DONNELL (GRANDVIEW) 83; T8. GABI ELLO (CHEROKEE TRAIL) 84; T8. Sloane Post 84; T8. KYLIE SEVERIN (VISTA PEAK) 84
Top two best ball results (par 72): 1. EMMA BRYANT-RIAN NELSON (EAGLECREST) 71; 2. CAITLIN O'DONNELL-SYDNEY SZARKA (GRANDVIEW) 72