FORT COLLINS | The ending hasn't been written on Emma Bryant's fantastic freshman season, but the story is pretty good so far.
The Eaglecrest frosh continued the momentum from her third-place individual finish in the Centennial League standings by going out and winning the Class 5A Northern Regional girls golf tournament Monday at Collindale G.C. to earn her way into her first state tournament.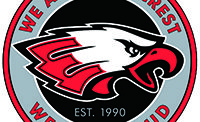 Bryant — the younger sister of 5A boys golf state champion Davis Bryant — finished two strokes clear of the field and gave coach John Olander's Raptors a big push in their effort to qualify as a team for the 5A state tournament May 21-22 at Boulder Country Club.
Behind Bryant, who made two birdies in her first three holes and finished with a plus-4 75, Eaglecrest finished in tie for second place with Rock Canyon with a team score of plus-39 252. The Jaguars prevailed in a one-hole playoff to take the second automatic team spot at the state tournament.
Still, the Raptors will have the chance to record a team score at the state tournament with three qualifiers as Julia Shaver and Rian Nelson also made it in individually.
Shaver is state-bound for a second time after she recorded an 86 at regionals to come in 11th, while Nelson earned her first state berth with a 91 that put her under the cut by four strokes.
Senior Kamryn Crouthers, a state qualifier last season for Eaglecrest, shot 99 and finished four shots out of the last state spot.
Gateway had no team score with just two golfers in the field.
Eh Kar Gay and Emma Thomas shot 125 and 128, respectively, for the Olys.
Courtney Oakes is Sentinel Sports Editor. Reach him at 303-750-7555 or [email protected] Twitter: @aurorasports. FB: Sentinel Prep Sports
2018 CLASS 5A NORTHERN REGIONAL GIRLS GOLF TOURNAMENT
May 7 at Collindale G.C.

Team scores (par 213): 1. Fossil Ridge 242; T2. Rock Canyon 252 (won playoff); T2. EAGLECREST 252; 4. Legend 256; 5. Denver East 259; 6. Bear Creek 287; 7. Fountain-Fort Carson 296; 8. Monarch 302; 9. Mountain Vista 310; 10. Mountain Range 313; 11. Dakota Ridge 322; 12. Thornton 370; GATEWAY no score
5A state qualifiers (par 71): 1. EMMA BRYANT (EAGLECREST) 75; T2. Ashley Kozlowski (Rock Canyon) 77; T2. Kayla Elder (Fossil Ridge) 77; T2. Brandy McClain (Rock Canyon) 77; T5. Leigha Devine (Fossil Ridge) 81; T5. Olivia Roper (Denver East) 81; 7. Maddy Dunkle (Legend) 83; T8. Gabi Werst (Fossil Ridge) 84; T8. Anna Branscome (Bear Creek) 84; 10. Melisa Buckton (Legend) 85; 11. JULIA SHAVER (EAGLECREST) 86; T12. Clara Hosman (Legend) 88; T12. Sophie Pruter (Denver East) 88; 14. Jordan Johnson (Fountain-Fort Carson) 89; 15. Elise Fortino (Denver East) 90; 16. RIAN NELSON (EAGLECREST) 91; 17. Kaylee Snow (Denver East) 94; 18. Yulim Kim (Monarch) 95
Aurora team-by-team results (in order of finish)
Eaglecrest (252): Emma Bryant 74, Julia Shaver 86, Rian Nelson 91, Kamryn Crouthers 99; Gateway (NS): Eh Kar Gay 125, Emma Thomas 128