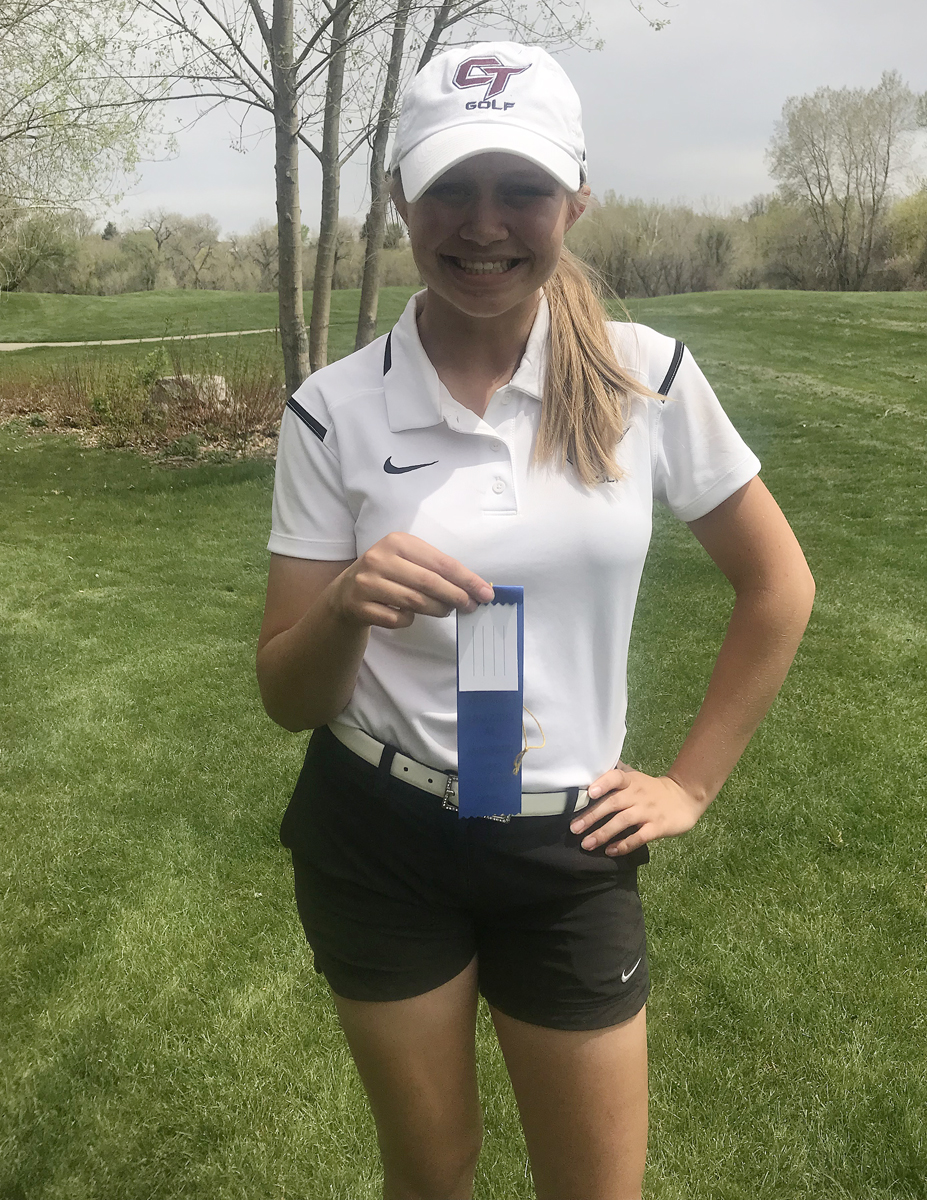 LAKEWOOD | Cherokee Trail junior Brooke Kramer has made a habit of qualifying for the Class 5A girls state golf tournament, but she did it in grand style Monday.
Kramer earned her third career trip to state with a medalist-winning performance at the 5A Western Regional at Fox Hollow G.C., as she carded a 1-over-par 73 to win by a stroke over runner-up Meghan Vogt of Broomfield.
Sophomore Gabriella Ello gave Cherokee Trail a second qualifier for the May 21-22 5A state tournament at Boulder Country Club as she shot a plus-16 88 that put her firmly in the group of individual qualifiers.
Centennial League champion Cherry Creek cruised to the regional title with a team score of plus-13 229, while Ralston Valley edged ThunderRidge by a single stroke for the second qualifying spot with a team tally of 249.
Coach Gerry Camilli's Cherokee Trail team shot 259 that put it fifth, while Aurora Central's team total of 402 put it 12th among 12 teams that earned a team score.
Kramer — who started on Hole No. 18 — got as high as 3-over-par after eight holes, but three consecutive birdies on holes Nos. 8, 9 and 10 brought her back to even with seven holes remaining. She played six of the seven holes to par with only a bogey on No. 12 that ended up putting her 1-over.
Vogt, meanwhile, made bogey on the 18th hole to drop a stroke out of the lead.
Ello had double bogeys on three of her first eight holes, but played steadily the rest of the way to earn her second career state tournament appearance.
Kiara Gill shot 98 to tie for the spot just outside the qualifying group of individuals.
Coach Larry Taylor's Aurora Central team was paced by Marisol Ayala with a 130, one stroke in front of teammate Akolda Redgebol.
Courtney Oakes is Sentinel Sports Editor. Reach him at 303-750-7555 or [email protected] Twitter: @aurorasports. FB: Sentinel Prep Sports
2018 CLASS 5A WESTERN REGIONAL GIRLS GOLF TOURNAMENT
May 7 at Fox Hollow G.C.

Team scores (par 216): 1. Cherry Creek 229; 2. Ralston Valley 249; 3. ThunderRidge 250; 4. Broomfield 256; 5. CHEROKEE TRAIL 259; 6. Castle View 278; 7. Chatfield 305; 8. Boulder 315; 9. Fruita Monument 335; 10. Prairie View 350; 11. Adams City 400; 12. AURORA CENTRAL 402; Doherty no score
5A state qualifiers (par 72): 1. BROOKE KRAMER (CHEROKEE TRAIL) 73; 2. Meghan Vogt (Broomfield) 74; T3. Kaylynn Xia (Cherry Creek) 76; T3. Rachel Penzenstadler (Cherry Creek) 76; T5. Sydney Eye (Ralston Valley) 77; T5. Payton Canon (Cherry Creek) 77; T5. Taylor Tucker (ThunderRidge) 77; 8. Alyssa Chin (Cherry Creek) 78; 9. Lexi Mueldener (Ralston Valley) 82; 10. Lauren Tucker (ThunderRidge) 84; 11. Lindsay Taylor (Castle View) 86; T12. GABRIELLA ELLO (CHEROKEE TRAIL) 88; T12. Kat Kachel (Doherty) 88; T14. Cassie McCord (Castle View) 89; T14. Hannah Basler (ThunderRidge) 89; T16. Allie Nocera (Ralston Valley) 90; T16. Lauren Hirsch (Broomfield) 90; T18. Nicole Fatovic (Broomfield) 92; T18. Sophie Nelsen (Ralston Valley) 92; 20. Isabelle Dinapoli (Chatfield) 93; 21. Anna Roh (Broomfield) 95; 22. Sydney Arthur (Boulder) 97; Alternates: KIARA GILL (CHEROKEE TRAIL) and Megan Hood (Chatfield) 98
Aurora team-by-team individual results (in order of finish)
Cherokee Trail (259): Brooke Kramer 73, Gabriella Ello 88, Kiara Gill 98, Jordan Rockwood 118; Aurora Central (402): Marisol Ayala 130, Akolda Redgebol 131, Lauren Stobaugh 141, Carmen Hernandez 153