GREENWOOD VILLAGE | Before Monday afternoon's snowstorm that caused the game to be ended early picked up, the offense for the Regis Jesuit field hockey team put up a flurry of goals.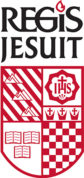 The Raiders dealt Cherry Creek its first loss of the season with a 4-0 victory at Stutler Bowl in a game called off early in the fourth quarter due to field conditions that gave coach Spencer Wagner's team a measure of payback from a three-goal loss to the Bruins a few weeks earlier.
Paced by four different goal scorers — Katie Loftus, Cate Lord, Ellie Johnson and Annie Tartell — the Regis Jesuit offense scored twice as many goals as Cherry Creek (8-1) had allowed to any other team this season, while the Raiders' defense extended its streak of games without allowing a goal to four and did so against a team averaging 5.5 goals per game.
"It was a great performance by a team that really wanted to show their skill and what they are capable of because they were sorely disappointed with what they showed when we played the first time," Wagner said. "What changed was we actually had a day or two of practice, which we didn't have the first time. It allowed us to synchronize our defense and work on a number of things we hadn't had a chance to work on before."
Regis Jesuit (5-1) got a late start to its season due to quarantine and has faced numerous cancellations of games and practices due to weather, spring break and other factors.
The Raiders came up with their best result against Cherry Creek, even though Wagner said both teams played largely the way they did in the first meeting, though his team was the one that was able to convert this time.
"I'm amazed that we were so fortunate in this game," said Wagner, whose also credited improved play in the goal. "They are a very skilled team, obviously. They played as strong as they did the first time and got as many penalty corners, but we were just able to focus on stopping them."
Another difference was the appearance of versatile senior Grace Weigand, who is seeing limited playing time as she continues to recover from a serious knee injury.
Regis Jesuit and Cherry Creek could meet again very soon as both are on track to be part of the four-team state playoffs that begin April 26 and could be semifinal opponents.
Courtney Oakes is Sentinel Colorado Sports Editor. Reach him at [email protected] Twitter: @aurorasports. IG: Sentinel Prep Sports
REGIS JESUIT 4, CHERRY CREEK 0
Score by quarters:
Regis Jesuit    1  1  1  1 — 4
Cherry Creek  0  0  0  0 — 0
SCORING
First quarter
Regis Jesuit — Katie Loftus
Second quarter
Regis Jesuit — Cate Lord
Third quarter
Regis Jesuit — Ellie Johnson
Fourth quarter
Regis Jesuit — Annie Tartell