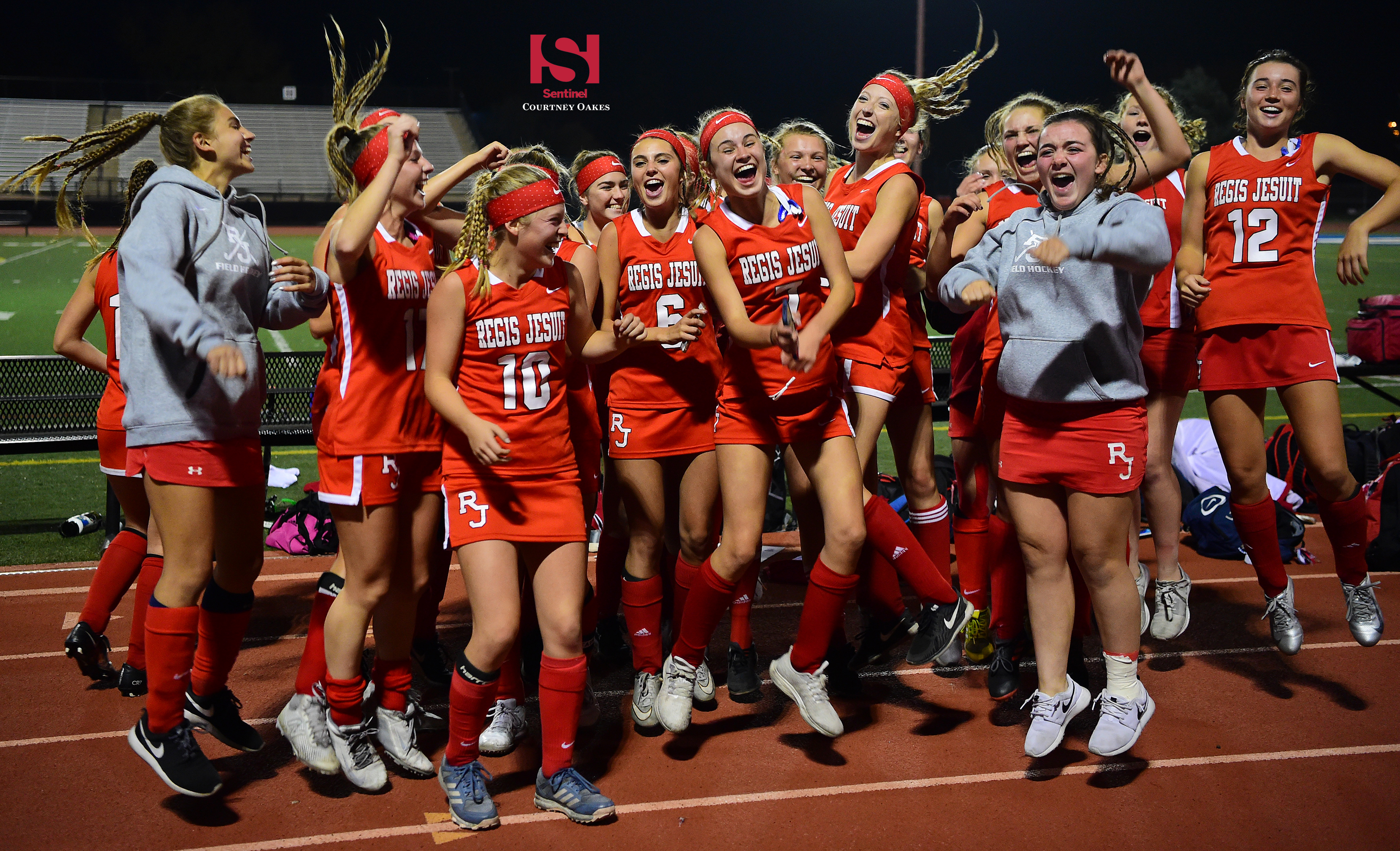 DENVER | Spencer Wagner thrust his trademark hat in the air in celebration when the clock hit triple zeroes Tuesday night at All-City Stadium, hugged his assistant coaches and cracked a huge smile.
But just a few minutes after his Regis Jesuit field hockey team had made history with its first-ever victory in the state semifinals — a 1-0 defeat of Kent Denver — a look of seriousness returned to his face.
For the first time, Wagner had a state championship game to prepare for and a formidable opponent ahead in top-seeded and undefeated Cherry Creek in a 7 p.m. Thursday contest on the same turf.
"It feels really good, now I've got to go prep for the next one," Wagner said after junior Lauren Pendergast's goal early in the second half gave the Raiders (14-2-1) their first win in three semifinal chances.
"The job of a coach is never done," he added. "But they can celebrate, so that's good."
Celebrate the Raiders did after they became the first Aurora school to advance to the state championship game since Smoky Hill in 2002.
"We've never done it before at Regis, so it's really big for us," senior captain Elizabeth Dewey said.
Regis Jesuit and Kent Denver (13-2-2) met in the opening game of the regular season Aug. 23 and played to a 1-1 tie and were deadlocked again through the first 40-plus minutes of the rematch.
After a handful of short corner opportunities, the Raiders finally found one that worked as junior Zoey Dale pushed the ball in front to Pendergast, who settled it and unloaded a shot that thudded against the back of the Kent Denver goal with 18 minutes, 21 seconds, left in regulation.
"The last time we played them, we had 17 corners and didn't get one in," Pendergast said. "We practice that a lot and I'm glad we got one in when we did."
The Raiders' defense held strong from there and allowed Kent Denver just one short corner in the game, which came with 6:30 minutes left in the second half. Sophomore Catherine Lord disrupted the Sun Devils' play and they never got a good shot.
Regis Jesuit went on to join Cherry Creek as the only teams to keep Kent Denver from scoring this season.
With the Raiders and Bruins knocking off Kent Denver and Colorado Academy, respectively, it will be the first state championship game contested without at least one of those teams since 2002 when Cherry Creek topped Smoky Hill in overtime.
Regis Jesuit is looking forward to a rematch with Cherry Creek (16-0-1) team that won a 3-1 decision when the teams met Sept. 13.
"We lost to Creek, but that was one of our off games," Dewey said. "We've practiced a lot harder and we're prepared for what they're going to bring to us."
Added Pendergast: "We're ready, so bring on the challenge. I think we need to go out there, play together and play with our hearts and we can get it."
Courtney Oakes is Sentinel Sports Editor. Reach him at 303-750-7555 or [email protected] Twitter: @aurorasports. FB: Sentinel Prep Sports
(3) REGIS JESUIT 1, (2) KENT DENVER 0
Score by halves:
Regis Jesuit   0  1 — 1
Kent Denver  0  0 — 0
SCORING
Second half
Regis Jesuit — Lauren Pendergast (Zoey Dale), 18:15