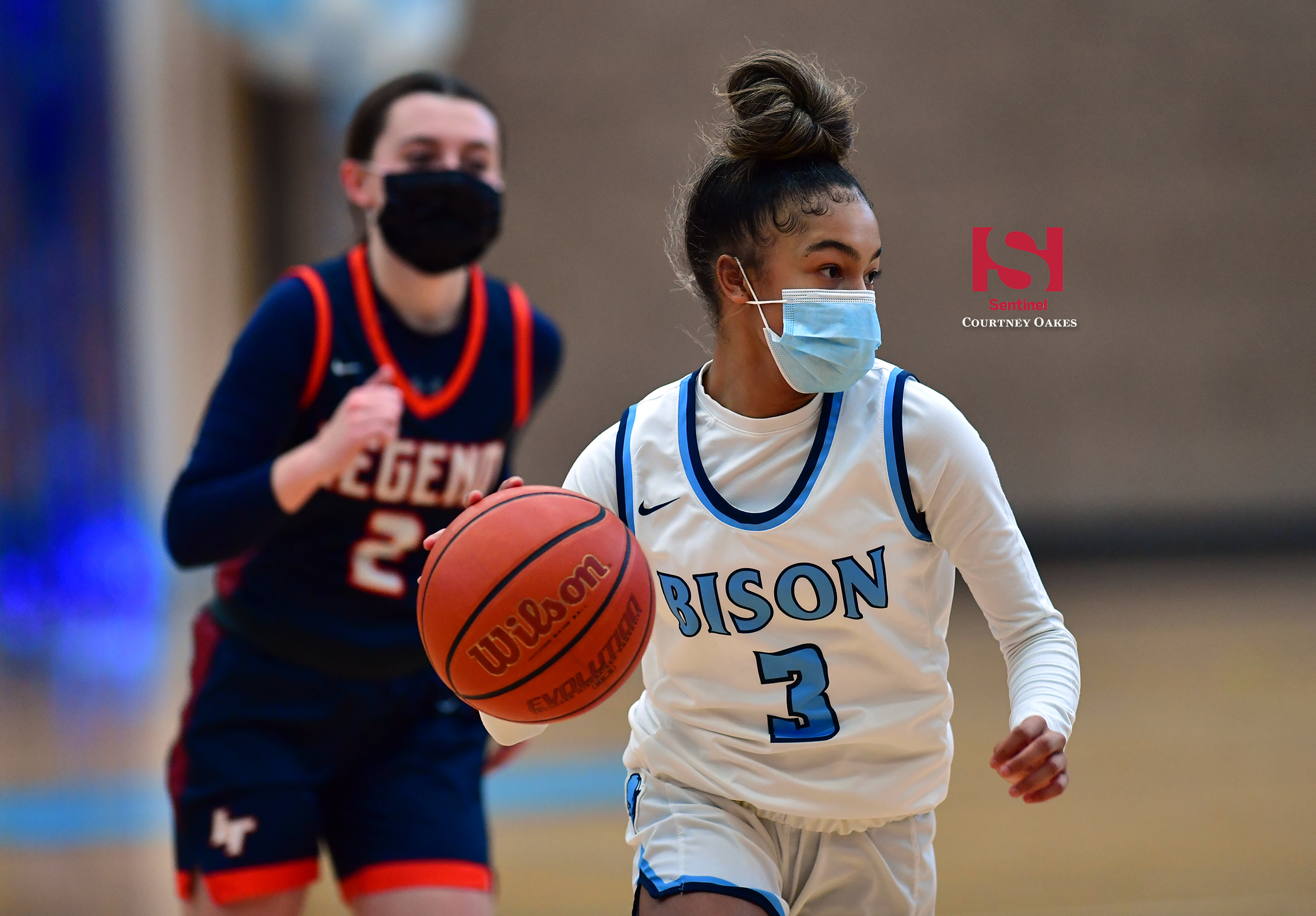 AURORA | With no practice for nearly three weeks and games piling up due to a mandatory quarantine, the Vista PEAK girls basketball team doesn't have much time to learn from mistakes.
Playing for the second time in less than 24 hours since coming off their forced break due to possible exposure on a game against an opponents, the Bison rallied in the second half against visiting Legend Saturday, but their rally ran out of steam in the final seconds of a 46-43 non-league defeat.
Junior Breanna Jefferson scored 16 points and junior Mikenzie Jones — who had a tying 3-point attempt hit the front of the rim and bounce out as time expired — finished with 15 points for coach Howard Payne's Vista PEAK team, which fell to 4-2 overall.
Coming off a 53-46 win over Prairie View Friday night in which Payne could see the energy level drop quickly, the Bison fell behind in the opening half against Legend (4-8), which came in with a seven-game losing streak, but were competitive in defeat of late.
The Titans got up 23-9 near the midway point of the second quarter and threatened to pull away, but Jones went on a scoring binge with seven points in a stretch to end the half capped by a Jefferson steal and layup to make it an eight-point game.
The Bison kept chipping away at the deficit, though the Titans knocked down some corner 3-pointers that kept it with a fairly comfortable lead that got back to double figures with just 3:59 remaining in regulation.
Two 3-pointers from junior Destiny Love following one from Jefferson quickly cut the Bison's deficit to one point at 44-43 and they even had the chance to take the lead with 41.1 seconds remaining, but Jones missed two free throws.
The Titans' Katie Lamb made two free throws to make it a three-point margin with 6.8 ticks left and Vista PEAK had the chance to tie with the 3-pointer from the top of the key by Jones — who had only attempted two triples all season — that just missed.
With a mandatory off day on Sunday, Vista PEAK won't get to practice before playing at undefeated Valor Christian Monday. The Bison will accomplish something despite the result, as it will give them the seventh game necessary to qualify for the Class 5A playoffs.
Courtney Oakes is Sentinel Colorado Sports Editor. Reach him at 303-750-7555 or [email protected] Twitter: @aurorasports. IG; Sentinel Prep Sports
LEGEND 46, VISTA PEAK 43
Score by quarters:
Legend     15  13  6  12 — 46
Vista PEAK  9  11  8  15 — 43
LEGEND (46)
Jordan Laessig 4 1-2 12, Delaney Quinn 0 0-2 0, Hailey Houlberg 2 4-5 8, Katie Lamb 6 2-2 17, Allison Harrison 1 0-0 2, Katie Wilkinson 1 0-0 2, Gemma Gibbs 2 0-1 5, Mykayla Tucker 0 0-0 0. Totals 16 7-12 46.
VISTA PEAK (43)
Tajah Randall 0 1-4 1, Breanna Jefferson 7 0-0 16, Tariana Paige 0 2-4 2, Mikenzie Jones 7 1-3 15, Jayda Arbor 1 0-0 2, Destiny Love 2 0-0 6, Nevaeh Sanford 0 1-2 1, Mia Elicerio 0 0-0 0. Totals 17 5-13 43.
3-point field goals — Legend (7): Jordan Laessig 3, Katie Lamb 3, Gemma Gibbs. Vista PEAK (4): Breanna Jefferson 2, Destiny Love. Total fouls — Legend 8, Vista PEAK 14. Fouled out — Legend: Delaney Quinn. Technical fouls — None.