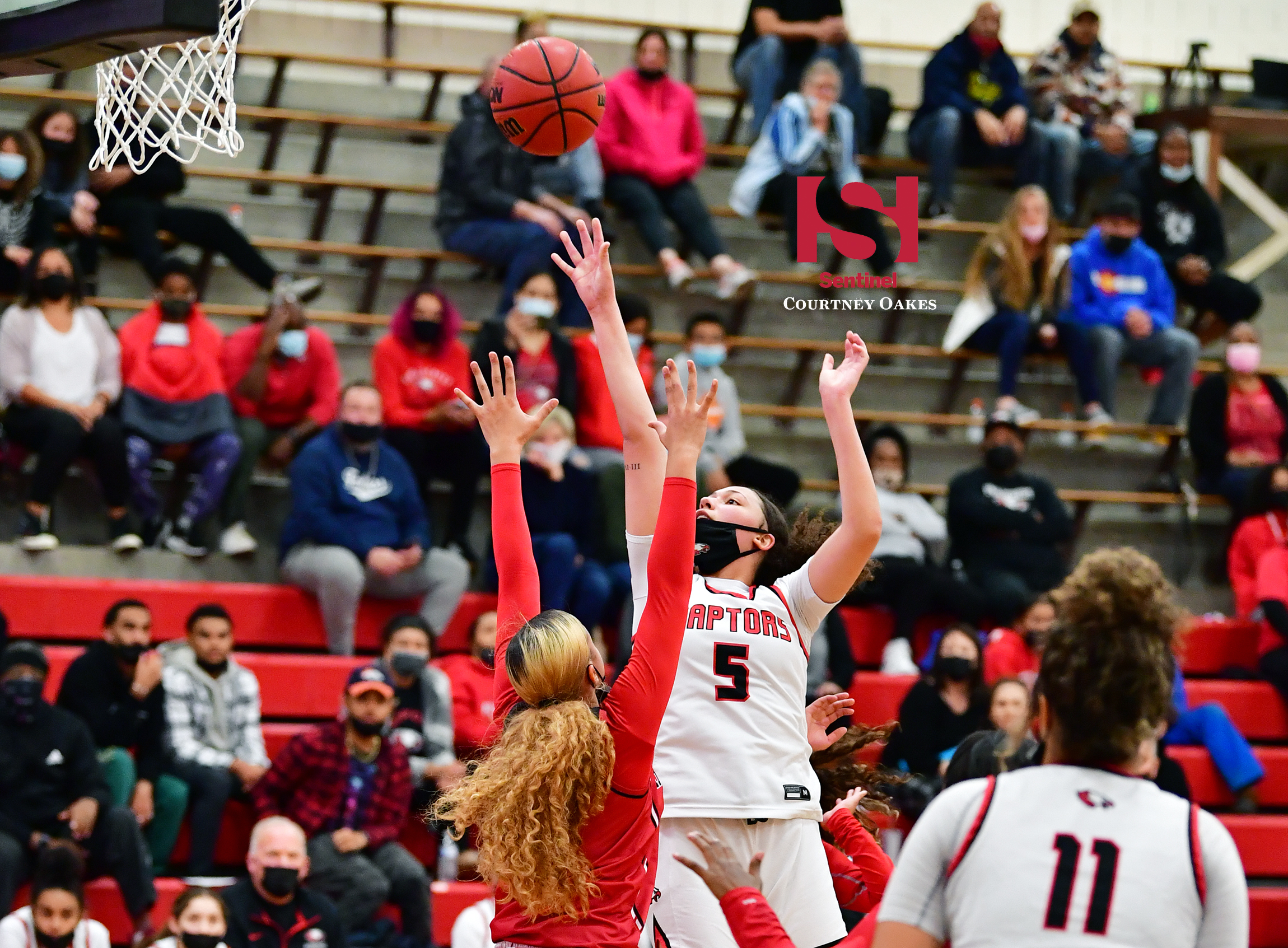 CENTENNIAL | When asked about the shooting prowess she displayed Tuesday night, Laci Roffle was quick to point out the one airball she launched.
Aside from the one errant shot, the Eaglecrest junior didn't miss much else as poured in 20 points — many in key instances — to help the Raptors survive a challenge from visiting Rangeview for a 49-40 victory in lively atmosphere at The Nest.
Fellow junior Nia McKenzie added 14 points, including a three-point play a pivotal point in the fourth quarter, and coach Robby Gabrielli's team improved to 3-1 on the season and dealt the Raiders — who were coming off a victory at the Mountain Vista Tournament — their first loss.
"I had that one airball, but otherwise it was good," said Roffle, who finished with three 3-pointers and topped her previous career high in points, which was 18, which she had twice during her freshman season.
"It's always a process each year getting in the gym and working on your shot," she added. "Coach definitely doesn't hold us back on any shots."
Coach La Monte Weddle's Rangeview team came into the game at 3-0 and took a 9-5 lead after one quarter on a fast start from senior Ny'Era West, who scored five of her team-high 12 points in the period.
Eaglecrest would tighten the clamps defensively in the second quarter, however, holding the Raiders to four points (all scored by West) and build a four-point halftime advantage.
Roffle knocked down a 3-pointer to open the third quarter and made a layup midway through the period that pushed Eaglecrest's lead to nine points, but Rangeview got back within four and threatened to cut the margin further before Roffle hit another triple in the final minute to keep the advantage a seven.
Sophomore D'Ajah Horton scored five of her nine points in the fourth quarter for the Raiders, who kept coming and coming and might have pulled closer had some perimeter shots fallen.
Roffle came off the bench and immediately scored a needed layup and then McKenzie came up with a large move in the post to finish as she was fouled with just under two minutes remaining. McKenzie's free throw made it an eight-point game.
"Our coach is good at having us work on calming each other down in those situations," Roffle said. "We just looked at each other and we were all good."
Rangeview doesn't have to wait long to try to get back on track with a contest against Cherokee Trail on Thursday, while Eaglecrest has a lengthy break before it returns to its home court for a 7 p.m. Dec. 15 game against Denver South.
Courtney Oakes is Sentinel Colorado Sports Editor. Reach him at [email protected] Twitter: @aurorasports. IG: Sentinel Prep Sports
EAGLECREST 49, RANGEVIEW 40
Score by quarters:
Rangeview  9   4  12  15 — 40
Eaglecrest  5  12  15  17 — 49
RANGEVIEW (40)
Genesis Sweetwine 1 1-2 3, Daijah Watkins 1 0-0 2, Zane Bullock 2 0-0 5, Ny'Era West 2 7-8 12, Amya Winfrey 1 0-0 2, D'ajah Horton 3 3-6 9, Danielle Washington 2 1-2 6, Jennesse Byrd 1 0-0 2. Totals 13 11-19 40.
EAGLECREST (49)
Haley Esser 1 1-2 3, Laci Roffle 8 1-4 20, Nia McKenzie 5 3-7 14, Shyann Farbes 2 2-2 6, Jolene Ramiro 0 4-7 7, Alexa Back 1 0-0 2, Lauren Perkins 0 0-0 0. Totals 17 11-22 49.
3-point field goals — Rangeview (3): Zane Bullock, Danielle Washington, Ny'Era West. Eaglecrest (4): Laci Roffle 3, Nia McKenzie. Total fouls — Rangeview 18, Eaglecrest 12. Fouled out — None. Technical fouls — None.