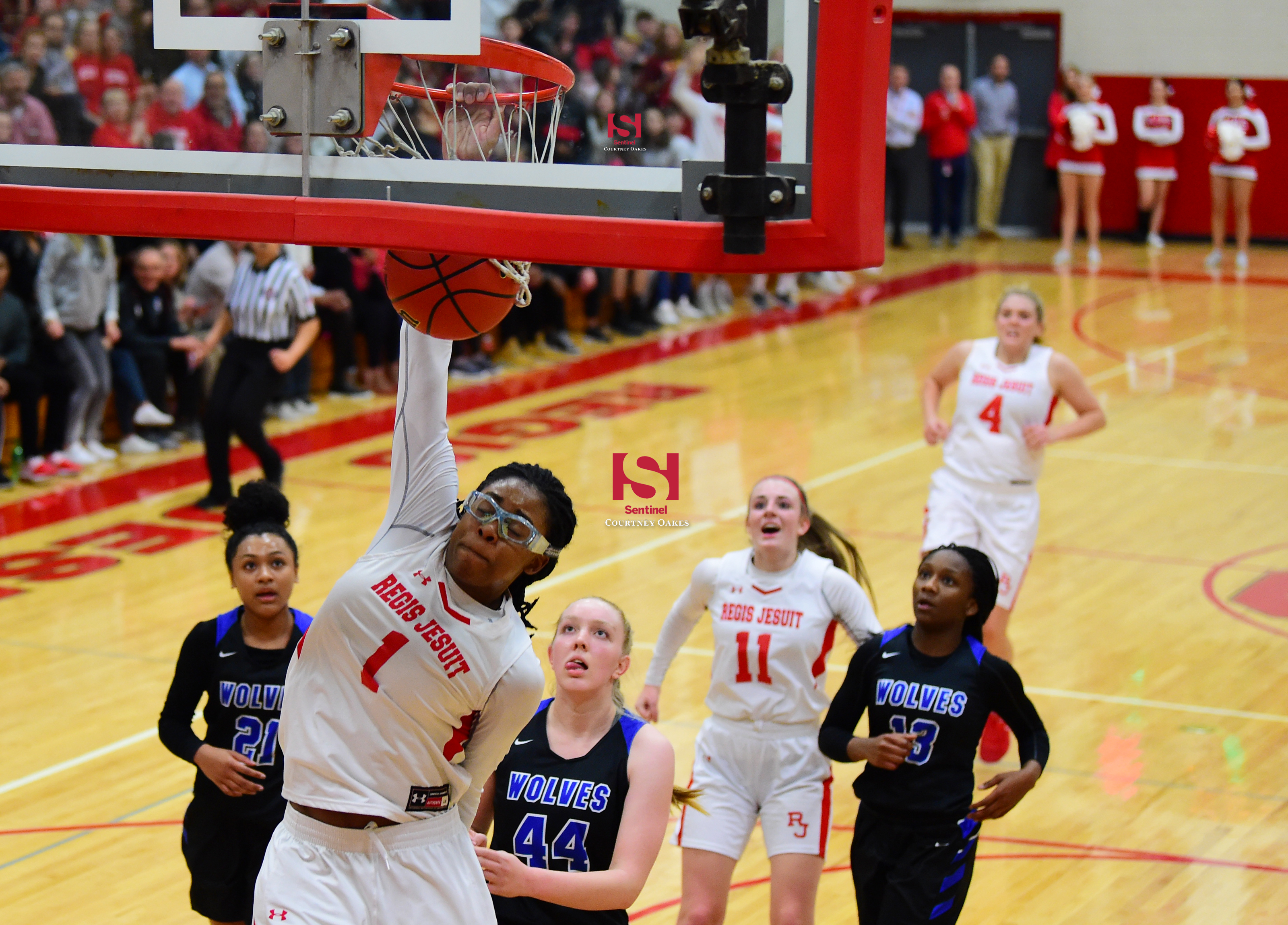 AURORA | Wednesday night's rematch between the Grandview and Regis Jesuit girls basketball teams didn't go as expected in many ways.
It went exactly how the Raiders planned, however.
With the sting of a six-point loss to the Wolves nine months ago in the Class 5A state championship game at the Denver Coliseum still fresh, Regis Jesuit kept its foot on the gas from start to finish in a cathartic 79-52 victory.
Regis Jesuit senior Fran Belibi shocked the capacity crowd with a one-handed dunk in the opening half, which came on the heels of sophomore Avery VanSickle's hot shooting start and gave the Raiders all the momentum they needed against the Wolves.
"We came out with a chip on our shoulder from what happened last March," VanSickle said, referring the 67-61 defeat in the title game.
"We just wanted to come out with a different type of energy and we wanted go out and lay it all out there," she added. "The pain we felt last March is something we never want to feel again, so we just took it out there and said 'let's try to beat them by 30.'"
With Belibi finishing with a career-high 32 points and VanSickle going for 26, coach Carl Mattei's Regis Jesuit team — now 5-0 — very nearly did win by 30. The Raiders won for only the second time in the last seven meetings with Grandview, but lead the series 7-5 since the teams began playing regularly in the 2009-10 season.
Coach Josh Ulitzky's Wolves (4-1) suffered their most lopsided loss in the past nine seasons. Grandview fell to Highlands Ranch 77-43 on Dec. 1, 2009.
"The kids have had that one circled since after the championship game," Mattei said. "That left a really sour taste in their mouths and they felt they were robbed."
Grandview took the lead seconds into the game when senior Allyah Marlett (who tied for game-high honors for the Wolves with 13 points) and the teams were knotted at 13-13 inside the final minute of the first quarter before Regis Jesuit took control.
A steal and layup by senior Sidney Weigand followed by sophomore Samantha Jones' buzzer-beating 3-pointer gave the Raiders a five-point edge to build on after one quarter.
And build they did, as VanSickle drained consecutive 3-pointers — the second off a nice screen from Belibi — to push the lead into double figures.
Belibi then brought down the house inside the final two minutes of the half when the 6-foot-1 Stanford signee made a steal under her own basket, drove the length of the floor and after a hop skied for a one-handed dunk, her first in a game since the 2016-17 season in which she dunked three times.
"It was amazing, I went crazy just like everyone else did," Regis Jesuit junior guard Jada Moore said. "Yeah, Fran can dunk against other teams, but to do it against this team in this game, that meant a lot to us."
Added VanSickle, who was trailing the play and smiled as she saw Belibi elevate: "That was the game-changer. I had no idea she was going to do it. She dunked over a girl. She was gone and I thought 'Ok, layup,' but then she did it. That's when the whole gym went crazy. Then we said 'alright, now we have to step on the gas. This is where we end it.'"
VanSickle made three free throws in the closing minute to give Regis Jesuit a 41-19 lead to end a half in which the Raiders forced double-digit turnovers with their defensive pressure.
Marlett, who missed a good portion of the second quarter due to injury, gave Grandview a shot of energy with some hard drives to the basket in the third quarter, but the Wolves could never get closer than 17 points the rest of the way.
Belibi scored 12 points in the fourth quarter to make sure the Raiders finished it off.
"To keep her foul trouble minimal and play solid, straight up basketball; offensively and defensively, that's the best I've seen her play at Regis Jesuit," Mattei said.
Grandview's frustration came out late in the game when senior Alisha Davis (who tied Marlett for team-high honors with 13 points), was ejected with just under three minutes remaining.
After she picked up her fifth foul, Davis began to jaw with Regis Jesuit's Grace Weigand and knocked Weigand to the floor, which cleared the benches.
Regis Jesuit Girls Division athletic director John Koslosky, who is also an assistant coach, stepped in to de-escalate the situation and urge Davis to go to her bench as players and coaches met near the scorer's table. Davis was assessed a flagrant technical foul and ejected from the game, which led to four VanSickle free throws to push the lead to 74-45.
"Props to Grandview, that's a very good team, but I'm proud of my team that we didn't step down when it got chippy," VanSickle said.
Ulitzky — whose team next heads to the Nike Tournament of Champions in Phoenix, where it will play in the most difficult bracket — could see the determination in the Regis Jesuit team from start to finish.
"They had a tough loss last year, so they were waiting all summer for this one," said Ulitzky, who also got 10 points from sophomore Addison O'Grady.
"To their credit, they made a statement," he added. "Now, we have to get back to work. I know my kids will bounce back and I'm hopeful we'll learn a lot from this. Give Regis credit and hopefully we'll get a chance to see them again."
Courtney Oakes is Sentinel Sports Editor. Reach him at 303-750-7555 or [email protected] Twitter: @aurorasports. FB: Sentinel Prep Sports
REGIS JESUIT 79, GRANDVIEW 52
Score by quarters:
Grandview   13    6   16  17 — 52
Regis Jesuit  18  23   15  23 — 79
GRANDVIEW (52)
Alisha Davis 6 1-3 13, Allyah Marlett 5 3-5 13, Tomia Johnson 1 0-1 2, Landri Hudson 2 0-0 6, Addison O'Grady 5 0-0 10, Lauren Betts 2 1-4 5, Kamery Brown 1 0-0 3. Totals 22 5-13 52.
REGIS JESUIT (79)
Francesca Belibi 13 6-10 32, Sidney Weigand 1 3-4 5, Avery VanSickle 7 9-10 26, Jada Moore 3 0-0 8, Sam Jones 2 0-0 5, Madden McHugh 1 0-0 3, Grace Weigand 0 0-0 0. Totals 27 18-24 79.
3-point field goals — Grandview (3): Landri Hudson 2, Kameryn Brown; Regis Jesuit (7): Avery VanSickle 3, Jada Moore 2, Sam Jones, Madden McHugh. Total fouls — Grandview 19, Regis Jesuit 13. Fouled out — Grandview: Alisha Davis. Technical fouls — Grandview: Davis (flagrant), Tomia Johnson.