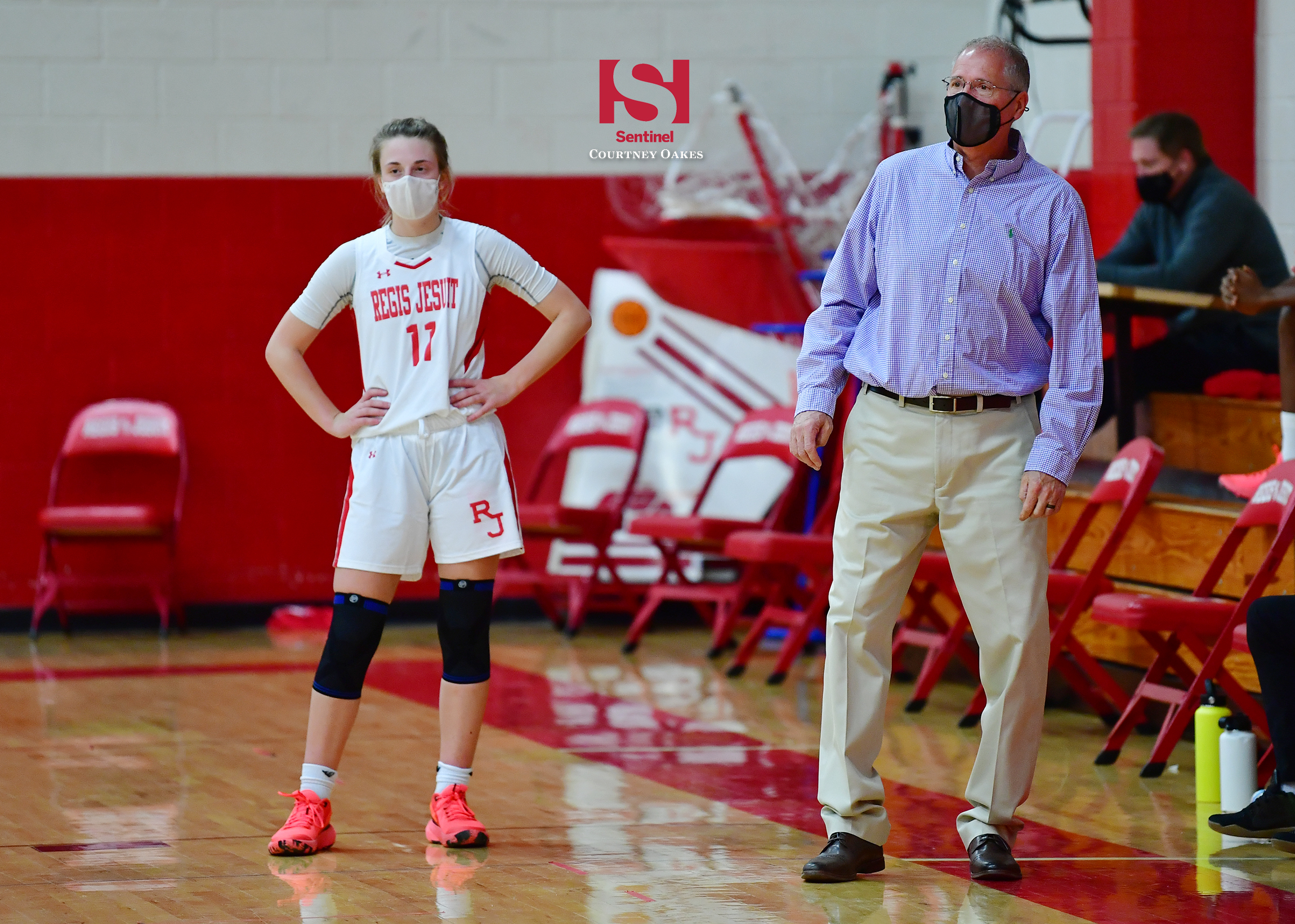 AURORA | Coming off its first loss of the season, the Regis Jesuit girls basketball team couldn't wait to get back on the floor for some redemption.
That will have to wait two weeks, however, as coach Carl Mattei's Raiders have been placed in a mandatory quarantine due to potential exposure by playing an opponent with a player who has tested positive for COVID-19.
The possible exposure came Feb. 18 in Regis Jesuit's 84-10 win at Heritage, after which an Eagles player was confirmed to have the coronavirus. The Raiders didn't find out until after they played Valor Christian on Saturday in a game they dropped 67-45.
"We're obviously very disappointed that we have to shut down two weeks fore the state tournament because we were looking to rebound from a good game against Valor," Mattei told the Sentinel. "You learn a lot from a loss. We're happy that loss happened and that we can still play another game."
Mattei said that he had not been placed in quarantine individually and that Valor Christian also wouldn't be required to quarantine after playing his team because it was a game removed from the potential exposure.
The good news for Regis Jesuit (now 9-1) is that it has already met the Colorado High School Activities Association's seven-game requirement for qualifying for the state playoffs, so the timing of the quarantine won't prevent it from playing in the postseason.
The Raiders will miss three games — a Tuesday contest against Holy Family (an 8-1 4A team) that was picked up when their game with quarantined Vista PEAK got canceled, along with Continental League matchups with Rock Canyon (3-7) and Mountain Vista (5-4) — while Mattei said it will be able to keep its scheduled March 5 road game at Chaparral (9-1).
Mattei hoped to make up one of the lost games on March 6 — the final day of the regular season — but has been told there are no officials available. The state tournament brackets come out March 8.
Bert Borgmann, the CHSAA Assistant Commissioner who is in charge of basketball, told the Sentinel the missed games likely wouldn't have much of an effect on Regis Jesuit's placement in the state tournament field. The tournament will be seeded with a four-factor formula that includes CHSAA RPI, Packard Rankings, MaxPreps Rankings and CHSAA Coaches Poll.
Borgmann noted that as of Monday morning, 56 Colorado boys basketball teams and 38 girls teams had yet to reach the seven-game requirement for postseason play, but he didn't expect to be short of teams for any bracket. The Class 5A & 4A brackets will have 32 teams, while 3A-1A will have 24 teams.
So far, only 3-1 Vista PEAK — which will return to action at the end of this week — and Hinkley (3-3) among Aurora girls teams hadn't made it to seven games. The Thunderbirds can get there with Tuesday's scheduled EMAC contest against Brighton, while the Bison must play at least three of the five games they has left on its schedule.
Courtney Oakes is Sentinel Colorado Sports Editor. Reach him at [email protected] Twitter: @aurorasports. IG: Sentinel Prep Sports