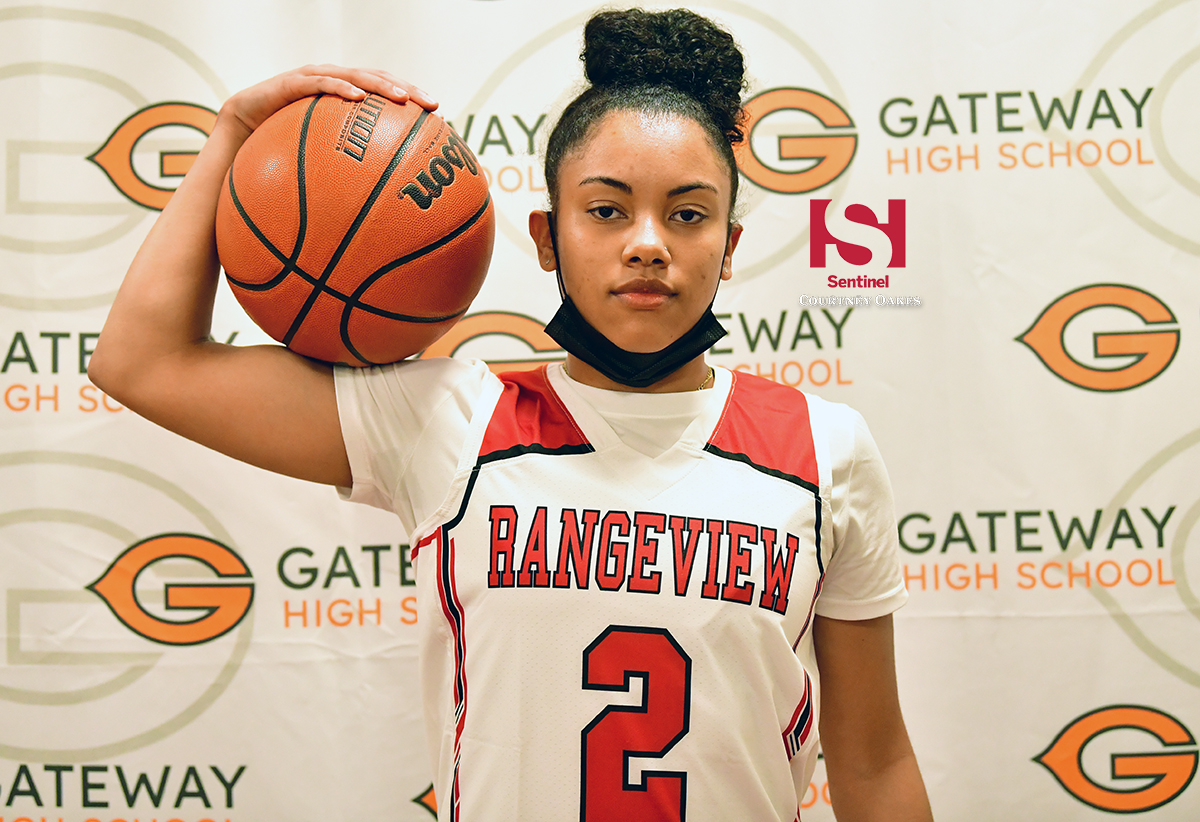 AURORA | Five senior city girls basketball players and two coaches were honored by the Colorado Coaches of Girls Sports for the 2020-21 season with selections to all-state teams.
The CCGS typically holds All-State contests for the players picked in all five classifications, but decided against it this year due to the health and safety challenges presented by the ongoing coronavirus pandemic.
Had the game been contested this year, two Aurora coaches — Josh Ulitzky of Grandview and La Monte Weddle of Rangeview — were picked to guide the Class 5A teams and both had at least one player among the 20 seniors selected.
Rangeview — which went 14-2, won the EMAC title and advanced to the 5A Great 8 under Weddle, the EMAC Coach of the Year — had a pair of 5A All-State selections in Amari Bullock and Brianna Linnear, both All-EMAC first teamers who played in the annual A-Town All-Star Girls Game over the weekend.
Linnear averaged 11.4 points per game to rank second on the Raiders, while Bullock led the team in rebounding at 6.7 per contest and averaged 9.3 points as well.
Ulitzky guided Grandview to a Centennial League championship, 17-1 record and spot in the 5A Final Four with the help of CCGS All-State selection Addison O'Grady.
The 6-foot-4 University of Iowa signee led the Wolves in assists with 4.2 per game, while she was second in scoring (14.7 points per game) and rebounding (6.4 rebounds per game). O'Grady was also selected to the A-Town All-Star Game, but was unable to play.
Rounding out the players from Aurora programs selected in 5A is Samantha Jones, who helped Regis Jesuit make it to the 5A state championship game.
Jones, an All-Continental League first team selection and A-Town All-Star Game pick (who was unable to play), finished second on her team in scoring with an average of 12.8 points per game.
Asseya Malki of the Lotus School For Excellence earned a selection to the CCGS 3A All-State Team as well after a season in which she averaged 7.1 points and 6.7 rebounds per game for the 14-1 Meteors.
Courtney Oakes is Sentinel Colorado Sports Editor. Reach him at [email protected] Twitter: @aurorasports. IG: Sentinel Prep Sports
2020-21 CCGS CLASS 5A ALL-STATE TEAM
ADDISON O'GRADY, GRANDVIEW; AMARI BULLOCK, RANGEVIEW; BRIANNA LINNEAR, RANGEVIEW; Brook Bohlender, Poudre; Jenna Seibert, Valor Christian; Jordyn Gutierrez, Pine Creek; KaCee Kyle, Cherry Creek; Kate Edwards, Arapahoe; Kendyll Wetta, Valor Christian; Liberty Line, Ponderosa; Makena Englund, Fairview; Mariah Ramos, Lakewood; Nikki Antonopoulos, Brighton; Payton Muma, Highlands Ranch; Peyton Holes, Horizon; SAMANTHA JONES, REGIS JESUIT; Taylor Gossage, Liberty; Teja Tsangarakis, Chaparral; Timiya Guevara, Denver South; Torie Bass, Fountain-Fort Carson. Coaches: JOSH ULITZKY, GRANDVIEW and LA MONTE WEDDLE, RANGEVIEW
2020-21 CCGS CLASS 4A ALL-STATE TEAM
Alexa Dominguez, Mullen; Alyssa Wells, Holy Family; Ashton Haddock, Littleton; Breanna Fowler, Berthoud; Courtney Hank, Green Mountain; Dylan Saunders, Holy Family; Emily Allen, Discovery Canyon; Gabriela Caballero, Battle Mountain; Hannah Burg, Falcon; Hannah Wolfe, Thornton; Kaelen Boyles, The Classical Academy; Kaydee Sims, Weld Central; Kylie Sanger, Windsor; Lexi Szathmary, D'Evelyn; Maya Whiteside, George Washington; Meghan Pohs, Mullen; Nikki Derrell, Sand Creek; Skylar Keller, Roosevelt; Thalia Guardiola, Riverdale Ridge; Tyler Whitlock, Holy Family. Coaches: Ron Rossi, Holy Family and Tarike Adams, Falcon
2020-21 CCGS CLASS 3A ALL-STATE TEAM
Kylie Kravig, University; Brooke Rule, Brush; Alexis Corral, Brush; Nakalya Kuskie, Eaton; Jennifer Jarnagin, Eaton; Alexa Huff, Delta; Taylor Wiescamp, Coal Ridge; Emily Papierski, Moffat County; Keely Porter, Delta; Brenna McDaniel, Centauri; Courtney Hamilton, Centauri; Stephanie Schultz, Lutheran; Denise Perez, Machebeuf; Ella Freimuth, Colorado Academy; Katie Trail, Middle Park; Sarah Jordan, Bennett; Whitney Richardi, Vanguard; Zoey Bilbrey, Florence; Hope Arnold, Colorado Springs Christian School; ASSEYA MALKI, LOTUS SCHOOL FOR EXCELLENCE
2020-21 CCGS CLASS 2A ALL-STATE TEAM
Taby Jones, Wray; Savannah Brown, Heritage Christian; Jolee Ortiz, Rye; Trinity Perry, Burlington; Kammie Henderson, Cedaredge; Kaeci Madrid, Del Norte; Mackinley Parker, Sorocco; Ema Richardson, Yuma; Abigail Snyder, Rocky Ford; Amy Bazzant, Platte Canyon; Mckenzie Tolliver, Sargent; Gracie Day, Hayden; Jayden Brunson, Ignacio; Mariah Garcia, Olathe; Maddy Timms, Dawson; Avery Joy, Lyons; Elizabeth Gilmore, Cedaredge; Lily Hancock, Rocky Ford; Chloe Richardson, Rye; Grace McCurdy, Vail Christian
2020-21 CCGS CLASS 1A ALL-STATE TEAM
Frances Hillard, Shining Mountain; Kaitlyn Rector, Simla; Kendyl Kirkwood, Fleming; Grace Hatfield, Dove Creek; Allisa Hebbard, South Baca; Koylynn Gulliford, Cotopaxi; Ally Spady, Eads; Avery Palmgren, SDC; Tieler Randel, Kit Carson; Shelby Hoffman, Briggsdale; Faith Trenkle, Merino; Renae Sinclare, SDC; Andrea Kuntz, Lone Star; Tessa Smith, Genoa-Hugo; AJ Winford, Kim; Oliva Lay, Elbert; Kylie Christiensen, SDC; Mercede Smith, Simla; Savanna Kassack, Flat Irons Academy; Brylee Miller Genoa-Hugo