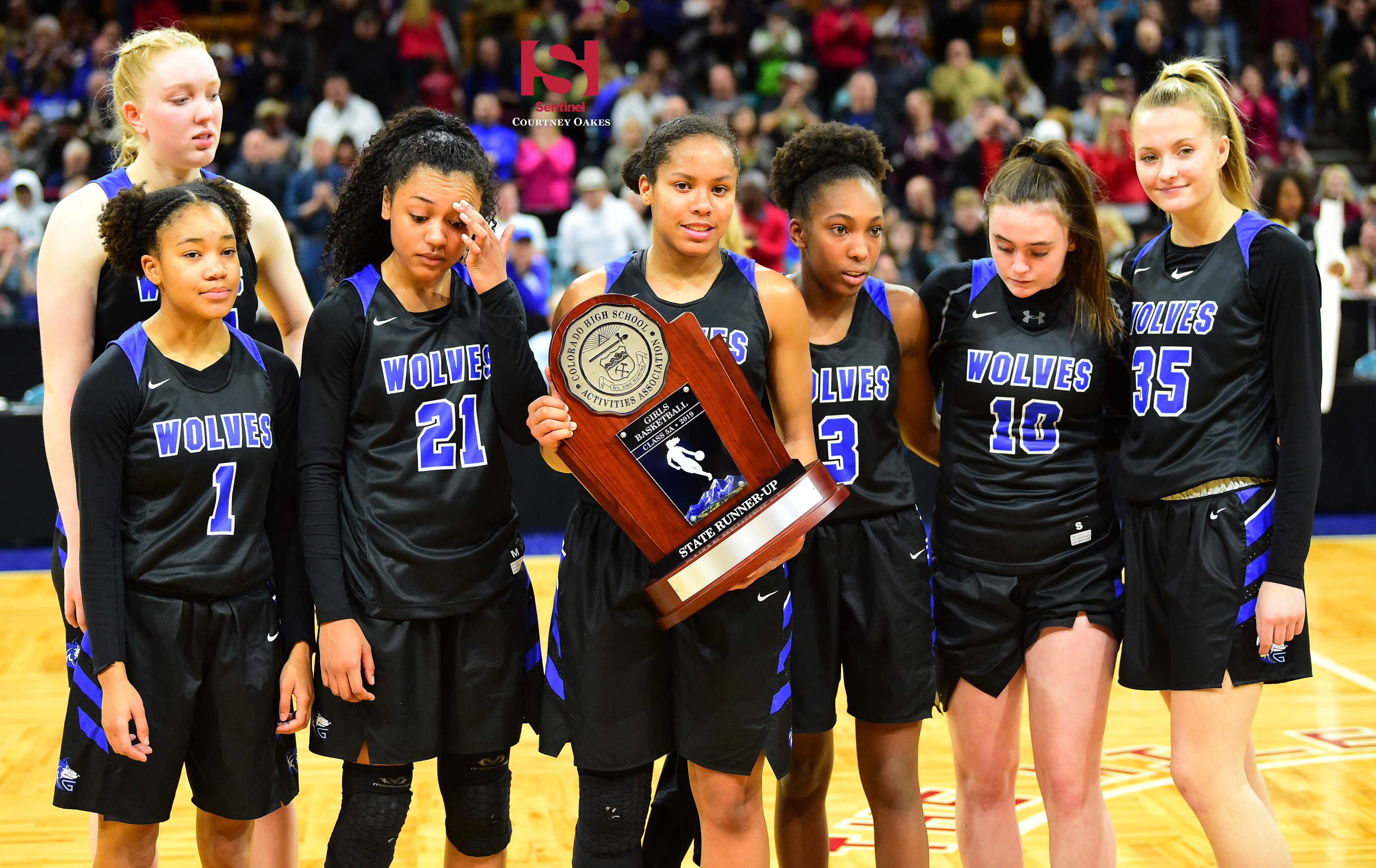 DENVER | A third straight Class 5A state championship was in sight for the Grandview girls basketball team, then slipped away in the most painful way imaginable.
The sixth-seeded Wolves led Centennial League rival Cherry Creek by nine points with just over five minutes left at the Denver Coliseum, but watched the fourth-seeded Bruins score 12 of the final 15 points to escape with a 51-49 victory in a thriller.
Cherry Creek's Jana VanGytenbeek scored the go-ahead basket with 4.3 seconds remaining and Grandview turned the ball over on its final possession to end the game. Coach Josh Ulitzky's Wolves lost for the first time in three trips to the state championship game and finished the season 23-5, while the Bruins won the school's first all-time state title in girls basketball.
Grandview's only two seniors, Allyah Marlett and Alisha Davis, led the Wolves with 14 and 13 points, respectively, while freshman Lauren Betts added nine and junior Tomia Johnson six.
Marlett got the Wolves off to a strong start by scoring their first seven points and finished with nine in the opening half, while Davis contributed seven before picking up her third foul midway through the second quarter.
Betts contributed four points in the first half, but her biggest contributions came on the defensive end. After back-to-back blocked shots on Cherry Creek's Cali Clark in the first quarter, Davis came away with a steal and converted it into a three-point play on the other end. Another block, this time on Kacee Kyle, ignited a fast break finished by Marlett.
Grandview maintained a six-point edge after the third quarter and built a lead as large as 10 points a minute into the fourth quarter when Betts scored on a cutback after Marlett missed a pullup jumper.
But the desperate Bruins kept coming and the Wolves' attempts to take time off the clock resulted in a number of missed shots and turnovers, along with two missed free throws.
VanGytenbeek (23 points) converted a three-point play to cut Grandview's lead to four and also made a layup to cut it to two before Kacee Kyle (21 points) tied it and drew a foul.
Though Kyle missed a go-ahead free throw, Cherry Creek came up with the rebound and set up a possession that ended when VanGytenbeek skipped inside the Grandview defense and lofted a shot just over the outstretched arms of Davis and Betts and into the basket.
With 4.3 seconds remaining, the Wolves had to use two time outs to get the ball inbounded and had the ball in Johnson's hands as they looked for a quick basket to tie it and send it to overtime. Hounded by VanGyntenbeek, Johnson was called for traveling after she crossed midcourt and the Bruins inbounded to run out the final clock.
Marlett and Davis finish their illustrious four-year varsity careers having won 101 games in all and appearing in at least the 5A Final Four every year. The Wolves lost to ThunderRidge in the semifinals in 2016 and won state titles in 2017 and 2018 prior to this season's loss in the final.
Courtney Oakes is Sentinel Sports Editor. Reach him at 303-750-7555 or [email protected] Twitter: @aurorasports. FB: Sentinel Prep Sports
(4) CHERRY CREEK 51, (6) GRANDVIEW 49
Score by quarters:
Grandview     11  13  14  11 — 49
Cherry Creek   6  12  14  19 — 51
GRANDVIEW (49)
Alisha Davis 6 1-3 13, Allyah Marlett 4 6-8 14, Tomia Johnson 1 4-4 6, Landri Hudson 1 0-0 3, Addison O'Grady 1 1-2 3, Lauren Betts 4 1-2 9, Kameryn Brown 0 1-2 1, Breelyn Robinson 0 0-0 0. Totals 17 14-21 49.
CHERRY CREEK (51)
Abby Wrede 0 0-0 0, Bella Sparaco 0 0-0 0, Jana VanGytenbeek 10 1-1 23, Cali Clark 3 1-2 7, Kacee Kyle 6 8-9 21, Carly Thompson 0 0-0 0, Julia Fein-Ashley 0 0-0 0. Totals 19 10-12 51.
3-point field goals — Grandview: Landri Hudson; Cherry Creek (3): Jana VanGytenbeek 2, Kacee Kyle. Total fouls — Grandview 19, Cherry Creek 17. Fouled out — None.