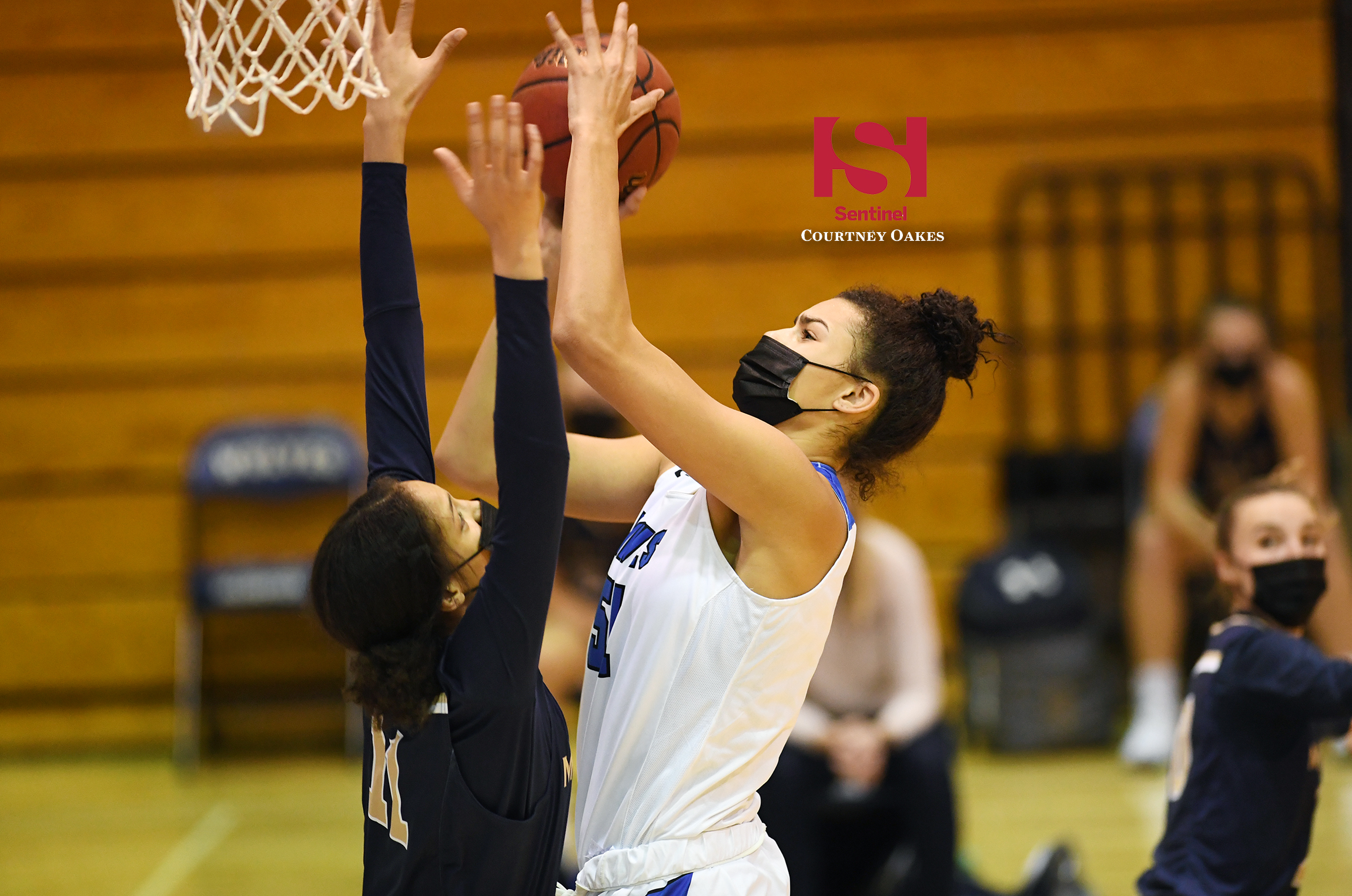 AURORA | The inside duo of Lauren Betts and Addison O'Grady were as good as expected, but it took a complete team effort for the Grandview girls basketball team to put away Mullen Wednesday night.
In a game that pitted the top-ranked team in Class 5A in Grandview against the preseason No. 1 in 4A in Mullen that was played in a nearly empty gymnasium, the visiting Mustangs had the halftime edge and a confidence that kept growing.
Then the Wolves did everything that makes them look like a favorite to reach the Class 5A state championship game for a fifth consecutive year: feed Betts and O'Grady — both Division I bound players — whenever possible and get timely plays from everybody else. Coach Josh Ulitzky's team did that for the final two quarters, outscoring the Mustangs 37-19 on their way to a 68-53 season-opening victory.
"That was a state championship-caliber game right out of the gate," said Ulitzky, whose team made the 5A final last season with Mullen qualifying for the 4A title game before they were both canceled due to the coronavirus pandemic.
"That is great, but it's also challenging," he added. "Mullen is so well-coached and they have great kids, so it was a good battle."
Helping to win the battle was the inside play of the 6-foot-7 Betts, a recent Stanford committment, as she racked up 31 points, while Iowa signee O'Grady contributed 19 and junior Marya Hudgins eight.
The pace was high in the opening half, despite the mandatory wearing of masks.
Hudgins scored all of her points in the opening quarter to get Grandview off to a good start, but Haley Van Horn had seven on the other side and Mullen ended the period with a one-point lead, which expanded to three by halftime as the Wolves had trouble stopping Gracie Gallegos in the second quarter.
The second half proved much different, however, as Betts and O'Grady went to work.
Betts' second field goal of the third period gave Grandview a lead it would never relinquish, though the game would remain close until a big stretch by senior Dasiya Jones late in the third quarter and early fourth broke the game open.
With the teams trading blows and the Wolves holding a five-point edge, Jones dove on the floor for a loose ball after a Mullen miss and was able to secure it and call time out. Jones converted the crucial possession in a 3-pointer from the corner with 1:05 left in the period and came up with a steal that kept the Mustangs from scoring again in the period.
Jones then assisted on the first of three straight O'Grady inside baskets in the opening minute of the final period for more breathing room. Senior Libby Campbell's 3-pointer — her only basketball of the game — pushed the lead into double figures with just under six minutes remaining.
While Mullen went cold from the field on one end — and weren't able to come up with the offensive rebounds that were crucial to its first half success — Betts got position at will and even showed off the ability to finish with the left hand. She scored eight points in each of the final two quarters.
To Ulitzky's pleasure, Grandview also took care of the ball in crunch time and showed good discipline in shot selection.
"They did a really nice job; it's so hard because you just haven't had much time together," he said. "It was really fun to see the kids play well and disciplined and step up when needed it. …I was really pleased with how they responded, particularly in the second half. We did a better job on the defensive boards, which killed us in the first half."
The teams are scheduled to meet again Feb. 19 at Mullen.
Courtney Oakes is Sentinel Colorado Sports Editor. Reach him at 303-750-7555 or [email protected] Twitter: @aurorasports. IG: Sentinel Prep Sports
(1 5A) GRANDVIEW 68, (1 4A) MULLEN
Score by quarters:
Mullen        15  19   6  13 — 53
Grandview  14  17  17  20 — 68
MULLEN (53)
Megan Pohs 3 4-4 12, Alexa Dominguez 2 3-6 7, Haley Van Horn 6 2-3 15, Imani Perez 2 0-0 5, Gracie Gallegos 3 5-5 12, Kilah Freelon 1 0-0 2, Elaina Martinez 0 0-0 0. Totals 17 14-18 53.
GRANDVIEW (68)
Libby Campbell 1 0-0 3, Breelyn Robinson 0 0-0 0, Addison O'Grady 9 1-2 19, Marya Hudgins 3 0-0 8, Lauren Betts 12 7-8 31, Dasiya Jones 3 0-0 7, Jolene Ramiro 0 0-0 0. Totals 28 8-10 68.
3-point field goals — Mullen (5): Megan Pohs 2, Gracie Gallegos, Imani Perez, Haley Van Horn. Grandview (4): Mayra Hudgins 2, Libby Campbell, Dasiya Jones. Total fouls — Mullen 12, Grandview 15. Fouled out — None. Technical fouls — None.