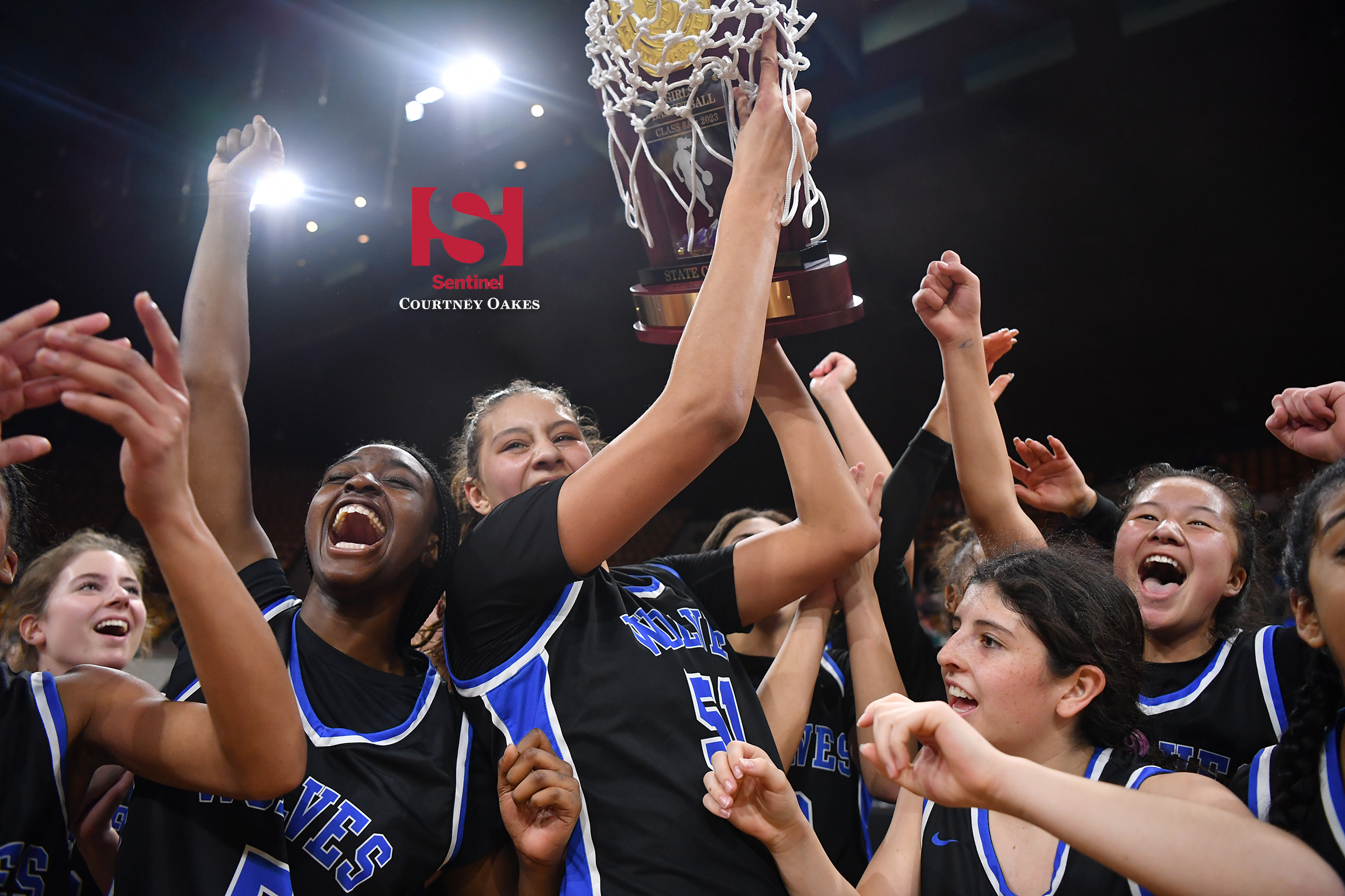 DENVER | Sienna Betts stood at the free throw line at the Denver Coliseum with a smile on her face and tears in her eyes Saturday afternoon.
The Grandview sophomore star had two free throws coming with her team in firm control of the Class 6A state championship game against Monarch and the emotions came out, just as they had a year earlier on the same floor when she had finished in an embrace with her older sister, Lauren, as the Wolves won a state title.
This time, Lauren — now at Stanford — sat in the stands and hung on every play as her sister scored 22 points, pulled down 20 rebounds and blocked three shots to help the Wolves to a 38-28 victory over fourth-seeded Monarch.
"I just realized what we had just done," Betts said of her late moment before the final horn sounded and she ended up in a heap with her teammates at center court.
"It just came into perspective what we had done and how the odds were against us," she added. "Nobody believed in us but us. We just proved why it is really Grandview girls basketball against everybody."
PHOTO GALLERY FROM GRANDVIEW'S WIN OVER MONARCH, HERE
Conventional wisdom — and what veteran head coach Josh Ulitzky saw with his own eyes during the summer — said that there was no way that Grandview would earn back-to-back championships for the second time in program history (after it had done so in 2017 and 2018 as well — but this is not a conventional program.
Only two players returned from last season's state championship victory over Valor Christian in Betts and senior Isa Dillehay, who was an uber-valuable spark plug off the bench. Betts took on a much larger role with the graduation of her sister and so did Dillehay, who suddenly became the team's starting point guard and served as the team's "heart and soul" according to Ulitzky.
But outside of that, there was a lot of uncertainty, although that dissipated for Ulitzky once he saw his team grow throughout the season.
"We played a summer league game at Regis and I think we lost by 50 points and as a staff, we were like 'I don't know how this is going to go,'" Ulitzky said. "But I am so proud of this group of kids and what they did. It just defies most thoughts. It's such a credit to how hard they worked, how together they are and how willing they were to accept what we were asking them to do."
In a high-stakes game, experience does make a difference and both of Grandview's returning players played key roles in the championship game victory.
Betts obviously provided the lion's share of the offense and her work on the boards helped keep the Coyotes — who had a senior-filled starting line that was determined to win the program's first all-time state championship — while Dillehay was chiefly part of a defensive effort to stop Monarch star guard Natalie Guanella.
Dillehay added a handful of points, including a steal and breakaway layup with two minutes remaining that allowed the Wolves some breathing room in the final minutes.
"I knew I had a really bad turnover the play before that, so I knew I had to make up for it some way," Dillehay said. "It was like 'OK, easy finish, breathe and we've got this.' …This feels so amazing. I have a different role for this team and it means so much more to me to win it in my senior year." 
That brings Dillehay's career state championship count to three, as she was part of the basketball team and girls soccer team that claimed last season's 5A crown.
The players with new roles certainly came through in the title game for the Wolves, especially on the defensive end, where they continued to make things extremely difficult for opposing offenses.
Offensively, sophomore Deija Roberson played a big role on the inside with so many Monarch players committed to limiting Betts and she contributed four points, while freshman Lexi Yi had a huge 3-pointer in the final period and the rest of the players that got on the floor all contributed hustle plays to the final result.
Courtney Oakes is Sentinel Colorado Sports Editor. Reach him at [email protected] Twitter: @aurorasports. IG: Sentinel Prep Sports
2023 CLASS 6A GIRLS BASKETBALL STATE CHAMPIONSHIP
March 11 at Denver Coliseum
(11) GRANDVIEW 38, (4) MONARCH 28
Score by quarters:
Grandview  7   8  10  13 — 38
Monarch     4  12   7    5 — 28
GRANDVIEW (38)
Benedicte Kalala 1 0-0 2, Lexi Yi 1 0-0 3, Sydnie McClain 0 0-0 0, Isa Dillehay 2 1-2 5, Sienna Betts 9 4-5 22, Deija Roberson 2 0-2 4, Bryton DeHaven 0 0-0 0, Leiava Hollman 0 0-0 0. Totals 15 7-12 38.
MONARCH (28)
Natalie Guanella 4 4-4 14, Arezo Safi 1 1-2 4, Amelia Rosin 1 4-11 7, Caroline Walley 1 0-0 3, Hayley Luther 0 0-0 0, Reese Trobaugh 0 0-0 0, Avery Richardson 0 0-0 0. Totals 7 9-17 28.
3-point field goals — Grandview: Lexi Yi. Monarch (5): Natalie Guanella 2, Amelia Rosi, Arezo Safi, Caroline Walley. Total fouls — Grandview 14, Monarch 14. Fouled out — Monarch: Hayley Luther. Technical fouls — None.