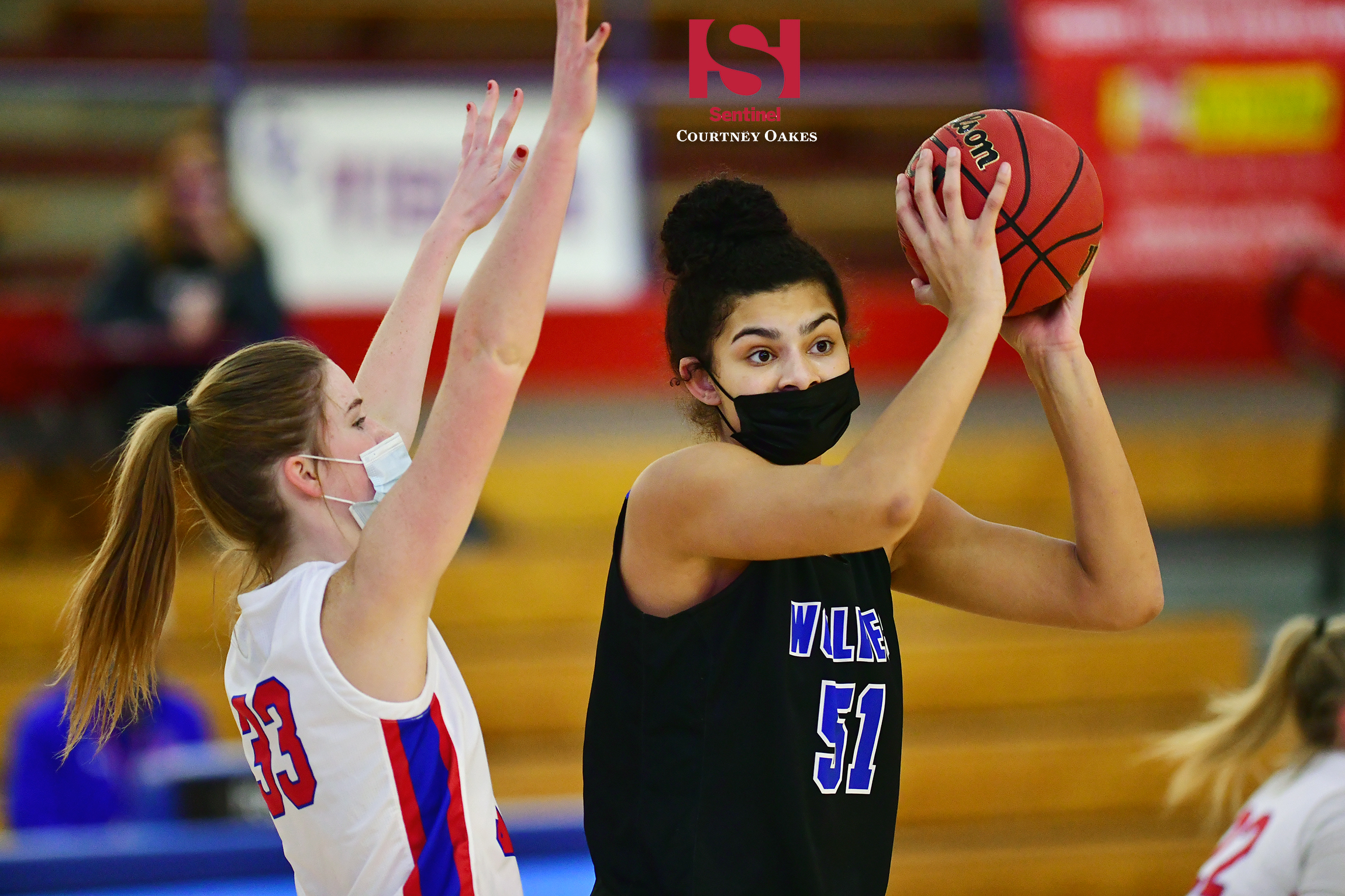 GREENWOOD VILLAGE | For one half Wednesday, the Grandview and Cherry Creek girls basketball matchup looked like a late-season Centennial League matchup with the postseason approaching.
Then, Lauren Betts and the Wolves flipped the switch and pulled away in the second half to earn a sweep of the league series with the Bruins, the team they were to face in last season's Class 5A state championship game before it was wiped out by the coronavirus.
The 6-foot-7 Betts scored nine of her team-high 20 points in the first four minutes of the third quarter — sprinkling in a few blocked shots as well — as Grandview expanded its four-point halftime lead to 14 and went on to a 63-36 road victory.
Junior Marya Hudgins added 10 points and senior Addison O'Grady finished with nine for coach Josh Ulitzky's Wolves, who had eight players scored at least two points and improved to 10-0 overall and maintained a two-game lead in the Centennial League standings with four games remaining.
Senior Abby Wrede matched Betts for game-high honors with 20 points for the Bruins, who fell to 3-7.
Grandview won the first meeting with Cherry Creek — which is split the season series with last season — by a 73-44 count Feb. 2 in a game in which the Wolves were up 25-10 after one quarter and 41-19 at the break.
The rematch started in the opposite fashion, however, as Grandview opened the game with several missed shots and turnovers that kept it off the scoreboard until midway through the opening period when O'Grady finally finished a layup.
The Bruins slowed the pace deliberately in the opening quarter and led by two points, then expanded the advantage to nine when Charley Gordon made two 3-pointers and Wrede also cashed one in to make it a 19-10 edge with more than half of the second quarter elapsed.
Grandview owned the final 3:30 of the period, however, scoring the final 13 points of the half with a girls that included three putbacks by Betts and four points from sophomore Jaden Weathersby to go into the break up 23-19.
The Wolves would match their first half total in the third quarter alone, sparked by nine points from Betts in a span of just three minutes. She made two layups to help expand the advantage and she put it in double figures with a blocked on one end that ignited a fast break that she finished on the other end.
Betts' three-point play made it a 14-point game midway through the quarter and it was 16 at the break, while it grew even larger in the fourth quarter as Weathersby and seniors Libby Campbell and Dasiya Jones each knocked down 3-pointers.
Courtney Oakes is Sentinel Colorado Sports Editor. Reach him at [email protected] Twitter: @aurorasports. IG: Sentinel Prep Sports
(1) GRANDVIEW 63, CHERRY CREEK 36
Score by quarters:
Grandview       8  15  23  17 — 63
Cherry Creek  10   9  11    6 — 36
GRANDVIEW (63)
Breelyn Robinson 2 1-1 5, Addison O'Grady 4 1-4 9, Marya Hudgins 4 0-0 10, Dasiya Jones 2 2-4 7, Lauren Betts 9 2-5 20, Libby Campbell 1 0-0 3, Jaden Weathersby 2 2-2 7, Jolene Ramiro 1 0-0 2, Auto Thomas 0 0-0 0, Amaya Charles 0 0-0 0. Totals 25 8-16 63.
CHERRY CREEK (36)
Abby Wrede 5 7-8 20, KaCee Kyle 2 5-9 9, Logan Christianson 0 0-0 0, Charley Gordon 2 0-0 6, Kinsey Christianson 0 0-0 0, Mireya Johnson 0 1-2 1, Julia Leach 0 0-0 0, Sam Smith 0 0-0 0, Kel McDavid 0 0-0 0. Totals 9 13-19 36.
3-point field goals — Grandview (5): Marya Hudgins 2, Libby Campbell, Dasiya Jones, Jaden Weathersby; Cherry Creek (3): Charley Gordon 2, Abby Wrede. Total fouls — Grandview 13, Cherry Creek 9. Fouled out — None. Technical fouls — None.