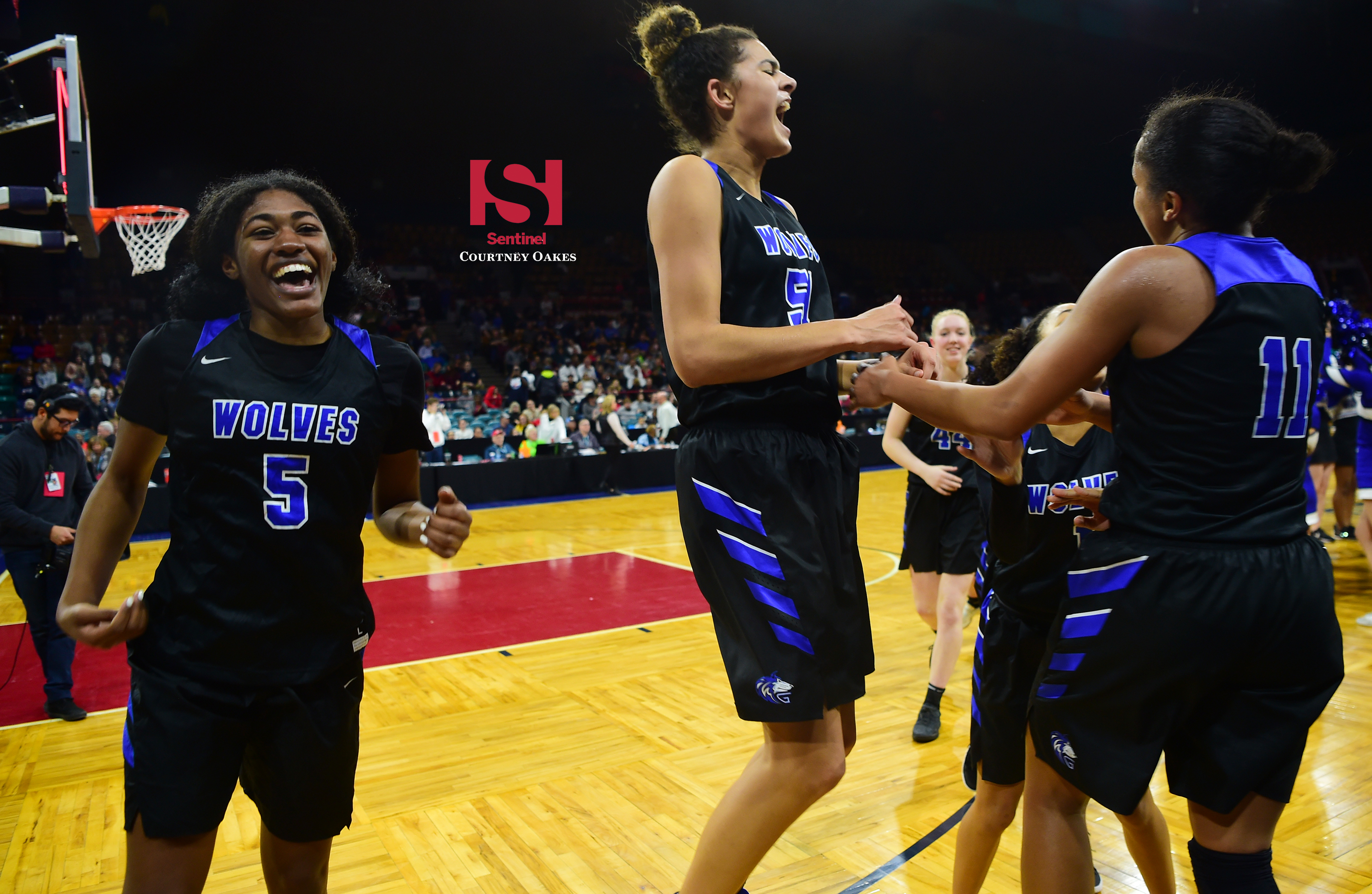 DENVER | The prep careers of Allyah Marlett and Alisha Davis will eventually come to an end at the Denver Coliseum.
It just wasn't going to be Thursday night.
Aided by plenty of help from their teammates young and old alike in the clutch moments of a Class 5A state semifinal contest against Regis Jesuit, the two seniors on the Grandview girls basketball team will get to play their last game in the last game possible.
The sixth-seeded Wolves rallied past second-seeded Regis Jesuit to win the battle of Aurora power 48-38 and take a spot in the 5A state championship game at 6:30 p.m. March 9. With their sixth straight win, Grandview (23-4) earned a spot in the final to take on fourth-seeded Cherry Creek, an upset one-point winner over top-seeded Highlands Ranch.
Grandview earned a chance to become the first 5A girls basketball program to three-peat since ThunderRidge (2006-08), but coach Josh Ulitzky's team had to get past its nemesis in Regis Jesuit, which hoped to win its first state title since 2013.
Junior Landri Hudson scored all team-high 13 points in the opening half to get the Wolves off on the right foot, junior Tomia Johnson had a steal and a go-ahead layup midway through the final period and freshman Lauren Betts had all seven of her points in the last five minutes of the game to secure the victory.
Marlett contributed 10 and Davis eight — half in the final period — for Grandview.
Regis Jesuit, which won by the first meeting of the teams by 24 points back in December finished the season 23-4. The Raiders' only in-state losses of the season came to the Wolves and Highlands Ranch.
Sophomore Avery VanSickle found a lot less shooting room thanks to the play of Hudson and Grandview defenders, but still managed her fourth straight playoff game with multiple 3-pointers as she made three on her way to 13 points.
Junior Jada Moore added 11 for Regis Jesuit, while senior Fran Belibi — hampered by foul trouble much of the night — scored just six points after she averaged nearly 22 points per game in the previous 26.
Courtney Oakes is Sentinel Sports Editor. Reach him at 303-750-7555 or [email protected] Twitter: @aurorasports. FB: Sentinel Prep Sports
(6) GRANDVIEW 48, (2) REGIS JESUIT 38
Score by quarters:
Grandview   17   9    5  17 — 48
Regis Jesuit  9  13  14    2 — 38
GRANDVIEW (48)
Alisha Davis 2 4-4 8, Allyah Marlett 4 0-1 10, Tomia Johnson 2 4-4 8, Landri Hudson 4 2-2 13, Addison O'Grady 1 0-0 2, Lauren Betts 3 1-2 7, Kamery Brown 0 0-0 0, Breelyn Robinson 0 0-0 0. Totals 16 11-13 48.
REGIS JESUIT (38)
Fran Belibi 3 0-0 6, Sidney Weigand 2 0-0 6, Avery VanSickle 3 4-4 13, Jada Moore 3 4-6 11, Samantha Jones 1 0-0 2, Grace Weigand 0 0-0 0, Madden McHugh 0 0-0 0. Totals 12 8-10 38.
3-point field goals — Grandview (5): Landri Hudson 3, Allyah Marlett 2; Regis Jesuit (6): Avery VanSickle 3, Sidney Weigand 2, Jada Moore. Total fouls — Grandview 14, Regis Jesuit 16. Fouled out — None. Technical fouls — None.