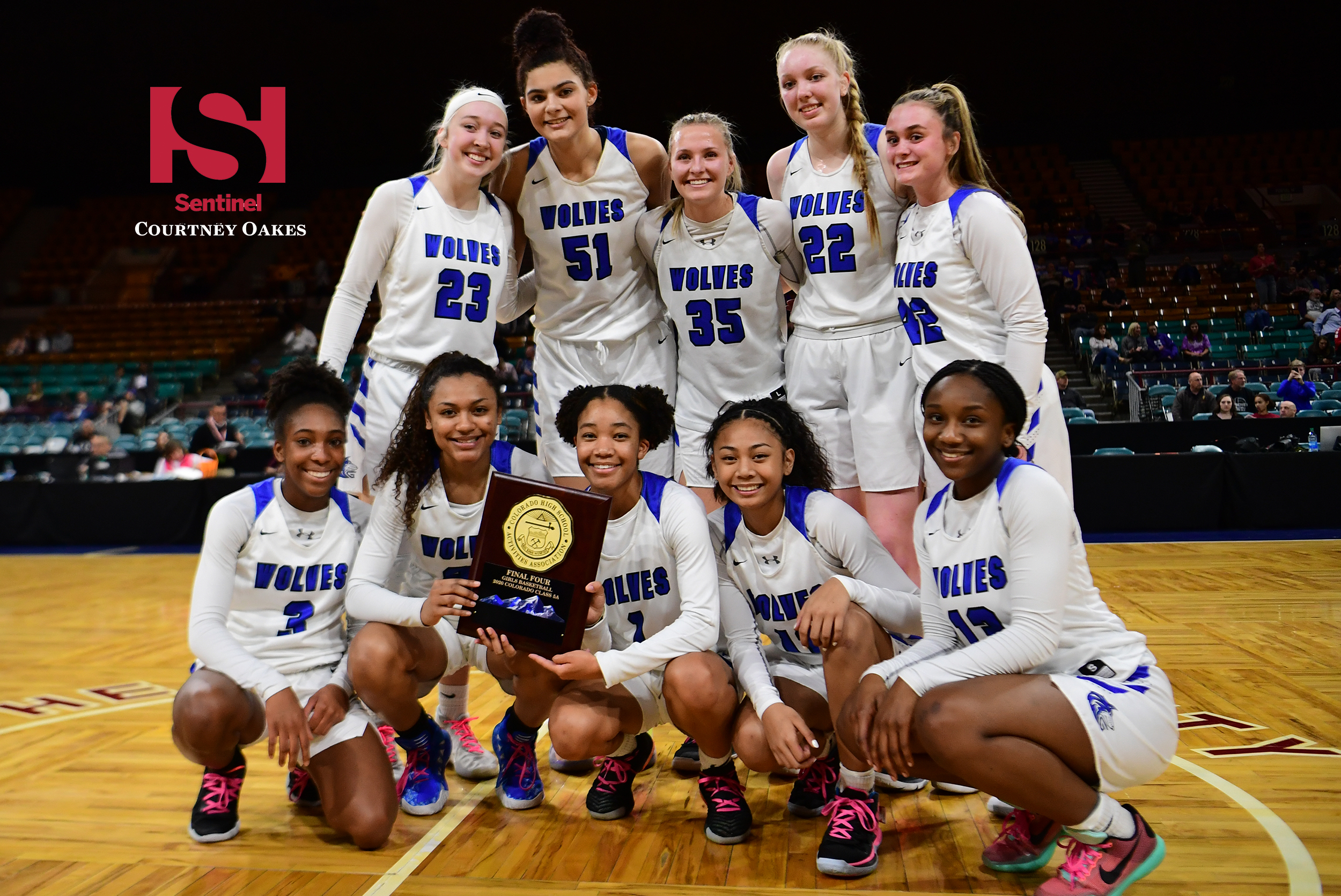 DENVER | Sitting in the stands at the Denver Coliseum and watching the Class 5A Great 8 contest between Highlands Ranch and Regis Jesuit go down to the wire, the Grandview girls basketball team wanted no similar drama Friday evening.
The fourth-seeded Wolves capitalized early on their obvious size advantage with 6-foot-7 sophomore Lauren Betts against a fifth-seeded Fruita Monument team that didn't even have a 6-footer on the roster and ran away with a 77-38 victory.
Betts finished with 29 points and 12 rebounds to set the tone and was able to sit out large chunks of the rest of the game as coach Josh Ulitzky's Grandview team ran away with a win that sent it to the Final Four for a fifth straight season.
"Watching that game we were talking about it, that we needed to win by about 10 so we could stay calm," said Betts, who scored 19 points in the first two quarters, while the Wildcats had 21 as a team at the break.
"At the end of the day, we were just focusing on getting the win, no matter what," she added.
Sophomore Mayra Hudgins added 15 points, senior Dasiya Jones and junior Addison O'Grady had six apiece and 10 players scored at least two points as the Wolves moved into a 7 p.m. March 12 semifinal matchup against top-seeded Valor Christian, a 63-22 winner over No. 8 Fossil Ridge.
Third-seeded Regis Jesuit nearly joined Grandview in the Final Four, but the Raiders went scoreless in the last two minutes of a 51-44 loss to sixth-seeded Highlands Ranch, which will oppose No. 2 Cherry Creek in the other semifinal.
Right out of the gate, Grandview went inside to Betts, who finished twice from point blank range in the opening minute to get her team off to a big start and Hudgins followed for a 6-0 burst off the opening tip-off.
"It makes it really easy having a girl who is 6-7," senior Landri Hudson said. "It opens the perimeter and makes them guard her hard. It's definitely an advantage."
Betts then grabbed a rebound and dished to O'Grady for a score and then had back-to-back layups on second chances as the Wolves had a double-digit lead midway through the opening quarter.
Betts finished with 12 points in the opening quarter and seven more in the second period when the lead grew from nine points to 12 at the break.
"I think our guards did an amazing job of getting the ball inside today and I think Addison and Dasiya, our bigs, did a good job of sharing the ball," Betts said.
Ulitzky urged his team to come out with more intensity in the second half and they did so with back-to-back quarters of 22 points.
The third quarter consisted of more of the same with Betts, who added eight more points in the third and two more early in the fourth before coming out for the rest of the game as the lead ballooned to more than 20 points.
"It's a big matchup for anybody with Lauren, but especially for them," Utlizky said. "She's special, so I'm definitely glad she's in our uniform."
The inside presence opened the perimeter chances for Grandview, which made three of its four 3-pointers in the second half despite some shooting woes from the perimeter.
Next up for the Wolves is a Final Four matchup with No. 1 Valor Christian (25-1) in a game scheduled for 7 p.m. March 12 at the Denver Coliseum. Grandview topped Valor Christian in the Great 8 round of last season's state tournament.
Courtney Oakes is Sentinel Colorado Sports Editor. Reach him at 303-750-7555 or [email protected] Twitter: @aurorasports. IG: Sentinel Prep Sports
(4) GRANDVIEW 77, (5) FRUITA MONUMENT 38
Score by quarters:
Fruita Monument    9  12  10    7 — 38
Grandview           18  15  22  22 — 77
FRUITA MONUMENT (38)
Bailey Rigsby 5 5-5 16, Kloe Bates 1 0-0 2, Callie Allen 3 0-1 6, Kylie Wells 1 1-4 4, Lila Dere 3 4-7 10, Jillian Buck 0 0-0 0, Alga Petelo 0 0-0 0, Emily Richardson 0 0-0 0. Totals 13 10-19 38.
GRANDVIEW (77)
Tomia Johnson 1 0-3 3, Landri Hudson 1 1-2 4, Addison O'Grady 3 0-0 6, Marya Hudgins 5 2-2 15, Lauren Betts 14 1-1 29, Dasiya Jones 3 0-0 6, Kameryn Brown 1 0-0 3, Breelyn Robinson 1 2-2 4, Libby Campbell 2 1-1 5, Jolene Ramiro 1 0-0 2. Totals 33 7-8 77.
3-point field goals — Fruita Monument (2): Bailey Rigsby, Kylie Wells. Grandview (4): Kameryn Brown, Landri Hudson, Marya Hudgins, Tomia Johnson. Total fouls — Fruita Monument 11, Grandview 18. Fouled out — None. Technical fouls — None.