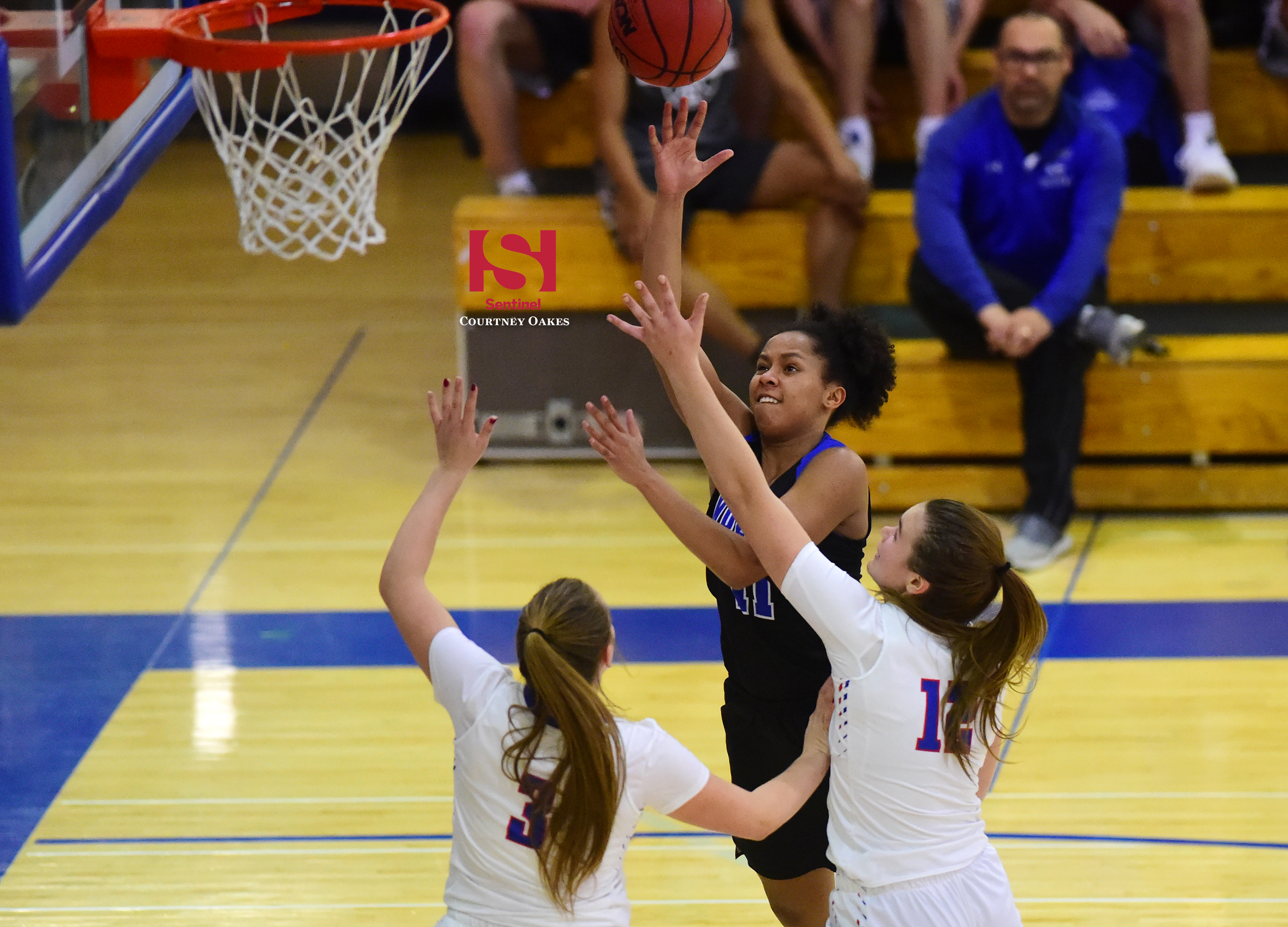 GREENWOOD VILLAGE | Addison O'Grady stepped back and drained a 3-pointer to give the Grandview girls basketball team a 12-point lead in the third quarter at Cherry Creek Monday.
The 6-foot-4 sophomore post player's second made triple of the season came just before Bruins star Jana VanGytenbeek picked up her third foul and had the Wolves seemingly in pole position for a league sweep in the powerhouse rivalry.
Then came the next six minutes of game time, over which Grandview didn't come up with a single point, while VanGytenbeek scored 12 of her game-high 33 points to push Cherry Creek in front by four. The Wolves never recovered despite some late runs in a 55-48 defeat that put the teams in a tie atop the Centennial League standings.
Coach Josh Ulitzky's Wolves (17-4) — who won the first meeting 54-53 on Jan. 12 — had an eight-game winning streak against the Bruins (which dated back to Feb. 4, 2015) snapped.
Even after freshman Lauren Betts snapped Grandview's scoreless skid with an inside basket in the first minute of the fourth quarter for the Wolves' first points since O'Grady's 3-pointer at the 5:20 mark of the third, Cherry Creek continued its momentum and built a lead as large as 11 points at 48-37 midway through the final period.
Grandview didn't go away, however. The Wolves turned in a play of the year candidate when senior Allyah Marlett dove on the floor for a loose ball, threw an over the shoulder pass from the ground to junior Tomia Johnson, who fed to junior Landri Hudson for a layup plus an and-one free throw.
Johnson then hit a 3-pointer to make it 48-45 in favor of Cherry Creek, but VanGytenbeek answered with a triple of her own with just over two minutes left and made just enough free throws to keep the Wolves at bay.
Grandview closes out the Centennial League season at Eaglecrest Feb. 13 and at home against Cherokee Trail Feb. 15, while Cherry Creek has a Feb. 13 visit to Overland and Feb. 15 home date with Arapahoe remaining.
Courtney Oakes is Sentinel Sports Editor. Reach him at 303-750-7555 or [email protected] Twitter: @aurorasports. FB: Sentinel Prep Sports
CHERRY CREEK 55, GRANDVIEW 48
Score by quarters:
Grandview     14  13   7   14 — 48
Cherry Creek  6   14  18  17 — 55
GRANDVIEW (48)
Alisha Davis 4 0-0 8, Tomia Johnson 3 0-0 7, Landri Hudson 4 3-5 13, Allyah Marlett 1 2-2 4, Addison O'Grady 1 0-0 3, Lauren Betts 4 2-4 10, Kameryn Brown 1 0-0 3, Breelyn Robinson 0 0-0 0. Totals 18 7-11 48.
CHERRY CREEK (55)
Abby Wrede 2 0-0 4, Isabella Sparaco 0 0-0 0, Jana VanGytenbeek 13 4-10 33, Cali Clark 3 1-2 8, Kacee Kyle 3 0-0 7, Carly Thompson 1 1-2 3, Julia Fein-Ashley 0 0-0 0. Totals 22 6-14 55.
3-point field goals — Grandview (5): Landri Hudson 2, Kameryn Brown, Tomia Johnson, Addison O'Grady; Cherry Creek (5): Jana VanGytenbeek 3, Cali Clark, Kacee Kyle. Total fouls — Grandview 16, Cherry Creek 13. Fouled out — Grandview: Hudson, Cherry Creek: Clark. Technical fouls — None.