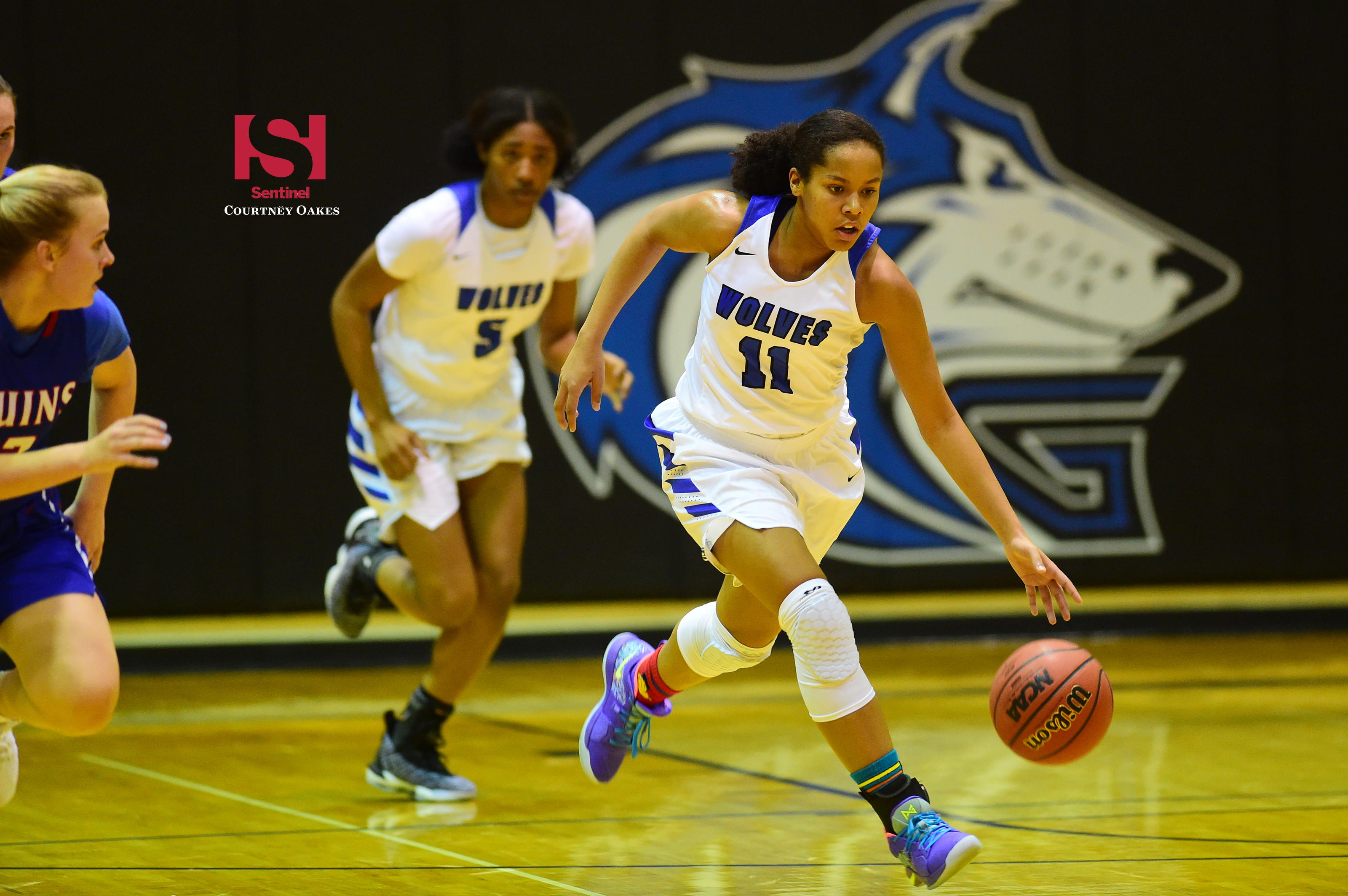 AURORA | Saddled with foul trouble, Lauren Betts spent a large part of Saturday's Centennial League girls basketball showdown between Grandview and Cherry Creek as a spectator.
In crunch time, however, the Wolves' freshman post player loomed large when she was needed the most.
The 6-foot-7 Betts calmly sank a pair of free throws with 17.8 seconds left to put Grandview ahead by a point and then helped force the Bruins into a desperate final shot attempt that was well wide in a thrilling 54-53 victory.
"I was terrified, especially at that moment being a freshman, I was like 'Oh my gosh, I can't let this up for my team,'" said Betts, who finished with six points. "I wasn't doing my best throughout the game, so I really had to step up and be mentally tough.
"I did my best and made them."
Seniors Alisha Davis and Allyah Marlett had 17 and 10 points, respectively, and junior Tomia Johnson added nine for coach Josh Ulitzky's Wolves, who rallied from a 10-point deficit in the late stages of the third quarter.
Grandview improved to 10-3 overall and 4-0 in the Centennial League, while Cherry Creek dropped to 8-3 and 3-1. The teams meet in the second round of league play on Feb. 6 on the Bruins' home floor.
For much of the first meeting, Cherry Creek had the advantage as it got up by eight points after one quarter and led by double figures just passed the midway point of the third quarter.
The Wolves went on an 11-0 run to end the third period, a spurt keyed by lock-down defense, forced turnovers and veteran play on the offensive end.
Davis, the team's leading scorer, had a six-point burst that included two sets of successful free throw attempts sandwiched around a transition layup, while Johnson scored the final five points of the period (including a floater she put high off the backboard and through the hoop to beat the buzzer) to put Grandview in front by a point.
"The kids grew up a little bit in that situation and it was really great to see," Ulitzky said.
A see-saw fourth quarter saw the score tied three times and the lead exchange hands five times, with the Bruins building a lead as large as four points on consecutive baskets by junior standout Jana VanGytenbeek, who had a game-high 20.
Davis scored on a layup to pull the Wolves within a point and Grandview proceeded to foul Kacee Kyle, who helped the Wolves by missing the front end of a 1-and-1 free throw opportunity with just 26.9 seconds remaining.
Grandview's go-ahead shot missed, but Betts came up with a huge rebound (her eighth of the game) and got fouled to earn her chance at the free throw line, where she was 0-for-2 on the day and a 32 percent shooter for the season.
Betts credited Davis with a pep talk that made her feel comfortable stepping to the line in the clutch situation and she knocked them both down.
"I'm pretty confident in my free throws, but at times like that there are some nerves that go through my body," Betts admitted.
The freshman wasn't done affecting the outcome of the game.
With 4.1 seconds remaining and Cherry Creek in possession, Ulitzky put Betts on the Cherry Creek player trying to inbounds the basketball. Betts swatted the first pass out of bounds as three precious tenths came off the clock, then she forced a rushed pass to VanGytenbeek, who fumbled the ball and got off a harmless shot as time expired.
"That's a pretty unique situation, so we'll take advantage of it," Ulitzky said of using Betts in that instance.
The win helped give the Wolves a better feeling about the stretch ahead, as they come off the initial portion of the season in which they dropped three games or as many as they did all of last season.
Grandview fell to still undefeated Regis Jesuit back on Dec. 12 before a 2-2 showing at the Nike Tournament of Champions in Phoenix prior to winter break.
Since their return, the Wolves seem to have found their stride, especially when they buckle down on the defensive end. They have one more contest with Cherry Creek ahead to prepare for the postseason.
Courtney Oakes is Sentinel Sports Editor. Reach him at 303-750-7555 or [email protected] Twitter: @aurorasports. FB: Sentinel Prep Sports
GRANDVIEW 54, CHERRY CREEK 53
Score by quarters:
Cherry Creek  19  15    7  12 — 53
Grandview      11  18  13  12 — 54
CHERRY CREEK (53)
Abby Wrede 2 0-0 6, Isabella Sparaco 2 0-0 4, Jana VanGytenbeek 6 8-11 20, Cali Clark 7 5-6 19, Kacee Kyle 0 2-3 2, Carly Thompson 0 2-2 2, Charley Gordon 0 0-0 0, Julia Fein-Ashley 0 0-0 0. Totals
GRANDVIEW (54)
Alisha Davis 5 7-10 17, Allyah Marlett 3 4-5 10, Tomia Johnson 3 1-2 9, Landri Hudson 1 0-1 3, Addison O'Grady 3 0-0 6, Lauren Betts 2 2-4 6, Kameryn Brown 1 0-0 3, Breelyn Robinson 0 0-0 0. Totals 18 14-22 54.
3-point field goals — Cherry Creek (2): Abby Wrede 2. Grandview (4): Tomia Johnson 2, Kameryn Brown, Landri Hudson. Total fouls — Cherry Creek 19, Grandview 15. Fouled out — None. Technical fouls — None.