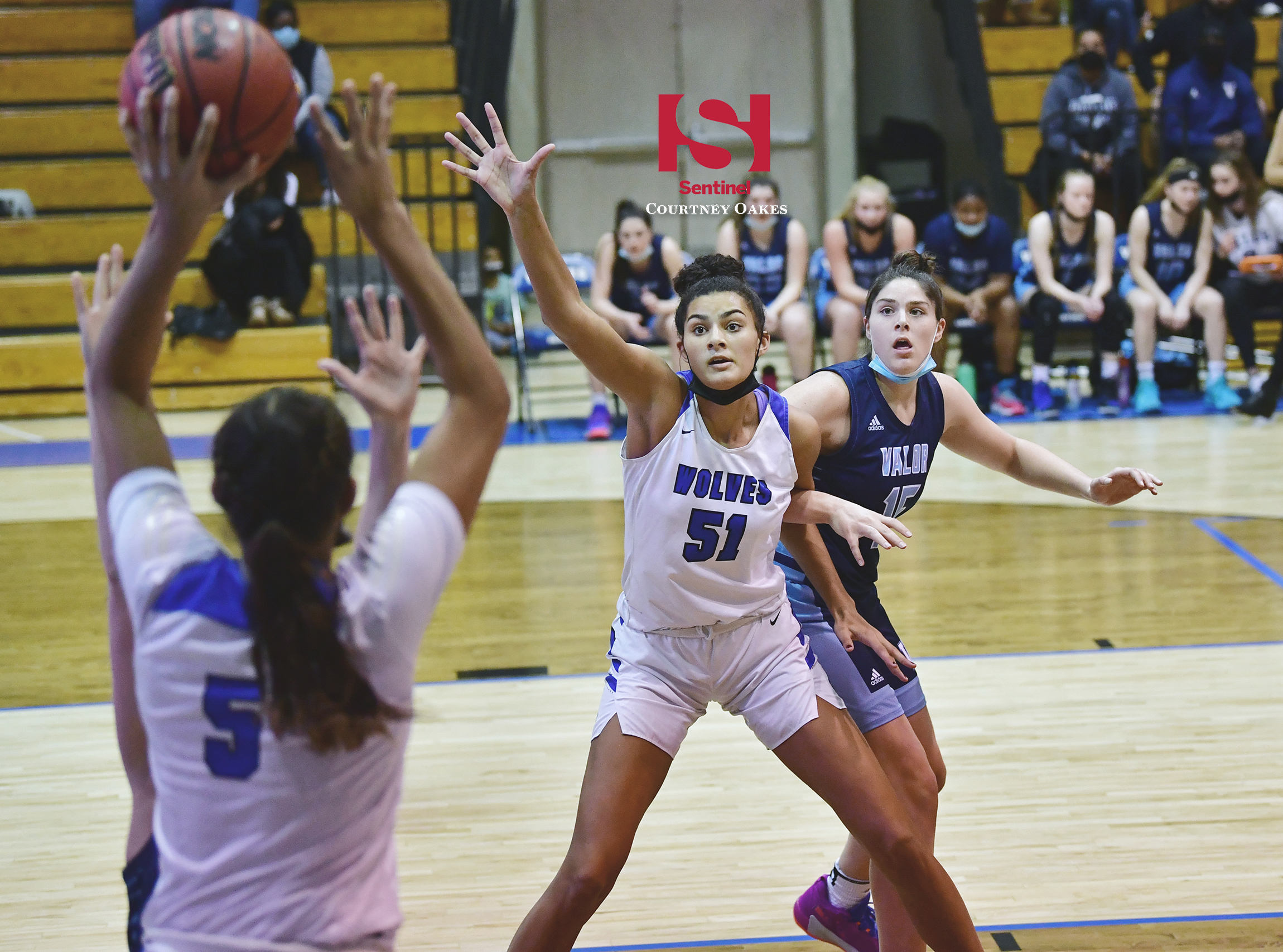 The Grandview girls basketball team took down the top-ranked team in Colorado Jan. 8, but they can only revel in it for so long.
The Wolves defeated the defending Class 5A state champion Eagles 59-52 in a high-intensity matchup between two title favorites that served as tune-up for their third — and biggest — out of state tournament of the season.
Coach Josh Ulitzky's team will head to Minnesota Jan. 21-22 for a four-team tournament scheduled to be aired nationally on ESPN.
Thankfully, Grandview got the test of all tests — at least as far as Colorado has to offer — with visiting Valor Christian, which came in on a 19-game winning streak against state teams and looked to live up to their top-ranked billing.
The Wolves had other ideas, however, as they built a built a double-digit lead — boosted by the tremendous backcourt play of seniors Auto Thomas and Amaya Charles — and held on for a huge victory that pushed them to 3-7 on the season.
"It was a good win for us, I was really proud of them," said Ulitzky, who was ambushed and soaked with celebratory water in the lockerroom afterwards. "We were able to build a good lead, they came back and then we were able to sustain it a little bit at the end.
"We're going to see them again, so we'll have to be prepared for that."
The only Colorado team to defeat Valor Christian over the past three seasons is Grandview, which now owns four victories against the Eagles over that span.
Much of the reason for the Wolves' ability to matchup with Valor Christian so well is the presence of 6-foot-7 senior Lauren Betts, who goes against the Eagles' difference maker in the middle, 6-3 Raegan Beers.
The Stanford-bound Betts — ESPN's top-ranked player in the Class of 2022 — and Beers, an Oregon State signee ranked No. 10, put on an impressive display against each other in the game-within-the-game, but it was others that ended up deciding it for Grandview.
Santa Clara signee Marya Hudgins had a big first half for Grandview and finished with 13 points and Betts also had 10 — virtually canceling out the 12 of Beers — but Thomas and Charles came up huge, especially in the second half.
Thomas played an outstanding game on the defensive end and finished with a team-high 16 points — which matched her career high — while Charles went 4-for-4 from the free throw line and in the fourth quarter and had 12 points to help the Wolves preserve a lead that crested at 16 points, but fell to as little as three in the final minute.
"We have prepared ourselves for a few weeks to beat Valor, so this is very exciting," said Thomas, who Ulitzky said had never played a better game that he had seen.
Charles said the Wolves had the "biggest energy" they had all season and that team chemistry was at an all-time high.
That will be important for Grandview in the upcoming tournament, though two not-so-easy Centennial League games against Cherry Creek and Eaglecrest remain before that.
In Minnesota, the Wolves join host Hopkins (Minnesota) plus DeSoto (Texas) and Sidwell Friends (DC) for a two-day showcase that will be nationally televised on ESPN. Those three teams happen to be the top three teams in the country according to ESPN's latest rankings.
Sidwell Friends' Kiki Rice (a UCLA signee) is the No. 2 recruit behind Betts, Hopkins' Maya Nnaji (Arizona) — sister of Zeke Nnaji of the Denver Nuggets — is No. 9 and DeSoto has three seniors ranked in ESPN's top 69.
Grandview already owns a victory over a nationally-ranked team in La Jolla Country Day — which it defeated as part of the Nike Tournament of Champions in Phoenix — but this will be a tall task. The three teams have a combined record of 37-1 with the lone loss for DeSoto (which has already played 20 games) coming to Sidwell Friends.
The Wolves open against DeSoto at 5 p.m. Jan. 21 and with a win play the Sidwell Friends-Hopkins victor for the championship at 5 p.m. Jan. 22 or play the loser for third place at 3 p.m.
Grandview faced stiff tests at the She Got Game Classic in Texas and Nike Tournament of Champions its first two out of state tournaments and finished 1-7, but won't be surprised by what it will see given what it's been through.
"We learned about being tough and matching their energy," Thomas said about the elite teams. "We can play at their level, so we need to play with our energy and we'll be fine."
The spotlight is often on Betts — who gets to play with her younger sister, Sienna, for the first time — given her stature since she reached high school and through her play internationally, but she was glad to see her teammates rise to the occasion in the game against Valor Christian.
"I'm so proud of them, it's really tough playing with girls that are highly ranked," Betts said. "I know sometimes it's hard for them to try to find their times in games, but they trusted themselves and had confidence and they had a huge game for us. They did a really good job."
Notes: Betts and Hudgins received nominations for the annual McDonald's All-American Game, which will be played in person again this year after it was canceled last year due to the coronavirus pandemic. Story, here.
Courtney Oakes is Sentinel Colorado Sports Editor. Reach him at [email protected] Twitter: @aurorasports. IG: Sentinel Prep Sports