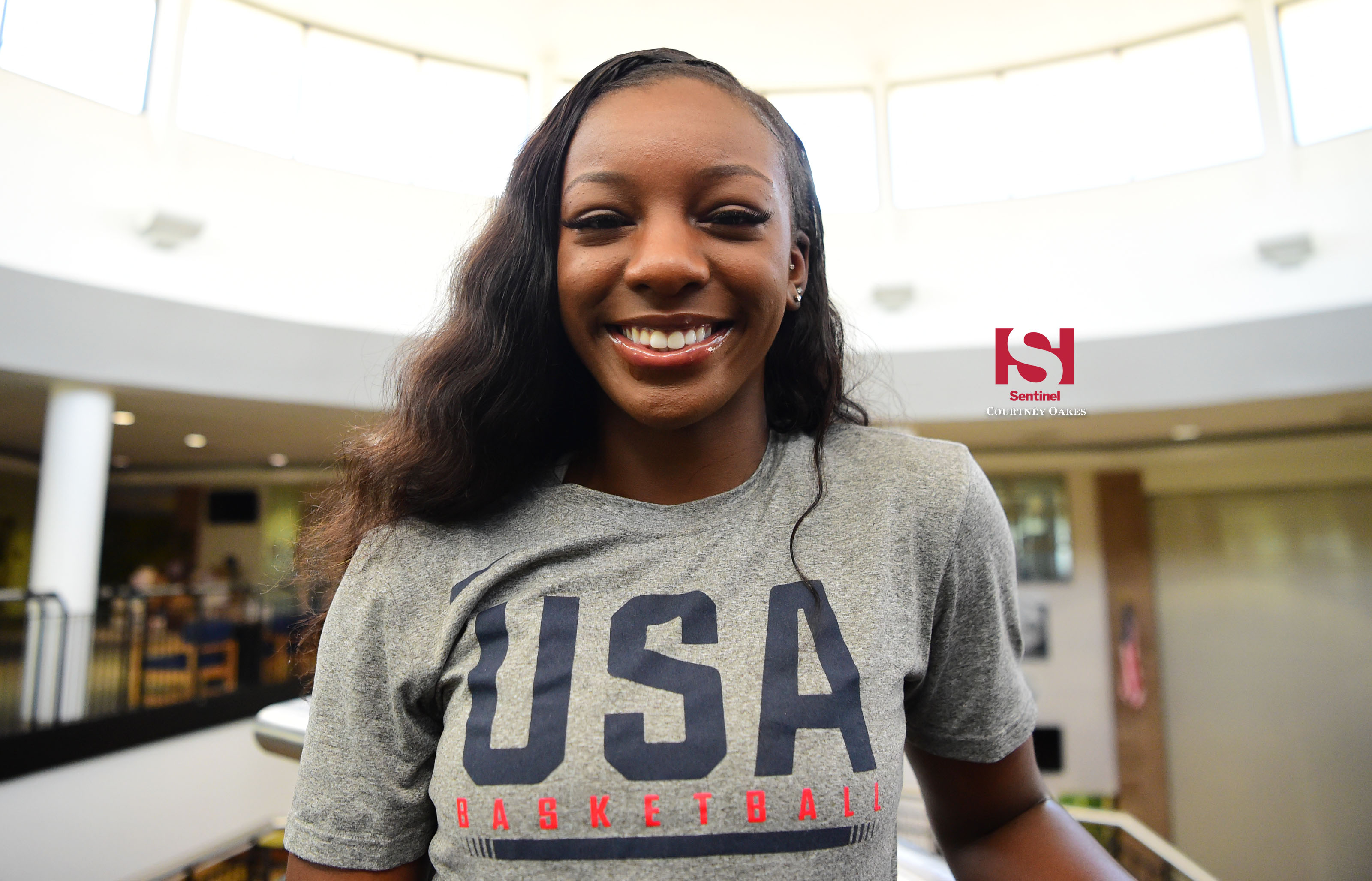 Michaela Onyenwere vividly remembers walking in the gym for the first time when she hoped to play for USA Basketball.
She was 14-years-old and still coming into her own in the sport and 152 other players — some her age, most older — stood in her way of a spot on the roster of the American team headed to the FIBA U17 World Championships in the Czech Republic.
Onyenwere made the initial cut down to 96, but eventually walked out of the Olympic Training Center without the chance to play for her country.
"I was 14 and I don't even know why I even tried out for the U17 team, but it taught me there was a whole lot of stuff I had to learn," Onyenwere, now 19, recalled.
Fast forward five years and Onyenwere has learned a whole lot in that span, both during her time as a star at Grandview and in the early stages of her college career at UCLA.
This summer, she will represent the USA not once, but twice, on the international stage. First, she's one of four college players that will compete in a 3-on-3 tournament in Russia in early July, then she will be part of the USA's Pan American team headed to Lima, Peru, in August.
To make the Pan American Team, she survived tryouts in Colorado Springs — this one of just 35 players, all invitees — where she grinded her way through four grueling days of games playing in altitude her body's not used to anymore.
"I was really nervous the last day; I did well for the most part, then they took us into the gym the morning of the last day and started calling out names of the players that made the team," Onyenwere said. "I didn't know if I was going to get picked, but they called me towards the end and I was like 'Whew!'
"When I first found out, I didn't want to be super arrogant or obnoxious because there were people around who didn't make it, but afterwards, we went to a meeting with all the team and I was like 'Wow, this is such an honor.'"
On top of the reflection of her skill as one of the top players in the country in her age group, Onyenwere takes the chance to pull on a jersey with USA on the front as extra special.
She was born in Aurora, but her parents — Edith and Peter — both hail from Nigeria. They will be able to head to Peru to watch her play for the USA and celebrate her 20th birthday with her while she is there.
"I'm excited; I think it's a huge honor to represent your country, especially coming from parents that aren't from here," Onyenwere said. "They are really excited to watch."
That Onyenwere is in this position — with the potential for Olympic and professional play in the WNBA in the future — is not a surprise for anybody who watched her play four varsity seasons at Grandview.
She burst onto the scene as a freshman who averaged 18.7 points per game for coach Josh Ulitzky's Wolves, then went on to win three straight Colorado Gatorade Player of the Year awards — the only player in the state to do that since it began in 1984-85 — became the first player from an Aurora school to make the McDonald's All-American Game (she has since been joined by Regis Jesuit's Fran Belibi) and led Grandview to its first Class 5A state championship.
Onyenwere took a season at UCLA to get used to the physical demands of college basketball, but flourished last season as a sophomore when she started all 35 games for the Bruins and earned All-Pac 12 first team honors for a season in which she averaged 18.3 points and 8.5 rebounds.
With her game in its best shape, the time to play for a chance to compete for the USA arrived.
Not only did Onyenwere make the Pan American Team, but she later got added to a mix of college players representing the country in the FIBA 3×3 series. The series will consist of 8-12 events held all over the world as countries ready squads when 3×3 basketball joins the Olympics in 2020.
Six players rotate through the events and Onyenwere is set for the one in Ekaterinburg, Russia, July 9-11. She teams up with Bella Alarie (Princeton), Aleah Goodman (Oregon State) and Christyn Williams (Connecticut), who all played together during the previous stops in Turin and Chengdu, and may continue on when the series heads to Italy. Also in the mix is Oregon's Sabrina Inescu, who coincidentally was also in the tryout Onyenwere had in 2014 and made that team.
Onyenwere likes the 3-on-3 game because it is played halfcourt and only 10 minutes are on the clock. The team doesn't have a coach, so it has to come up with strategy on its own.
After that, Onyenwere returns to Colorado Springs for a training camp with the Pan American team (which also includes Alarie) before it heads to Peru.
A current Grandview standout, Lauren Betts, already played for the USA this summer and claimed a gold medal in Peru, while Regis Jesuit grad Belibi will head to Bangkok, Thailand, July 20-28 to play in the 2019 FIBA U19 World Cup.
Courtney Oakes is Sentinel Colorado Sports Editor. Reach him at 303-750-7555 or [email protected] Twitter: @aurorasports. IG: Sentinel Prep Sports