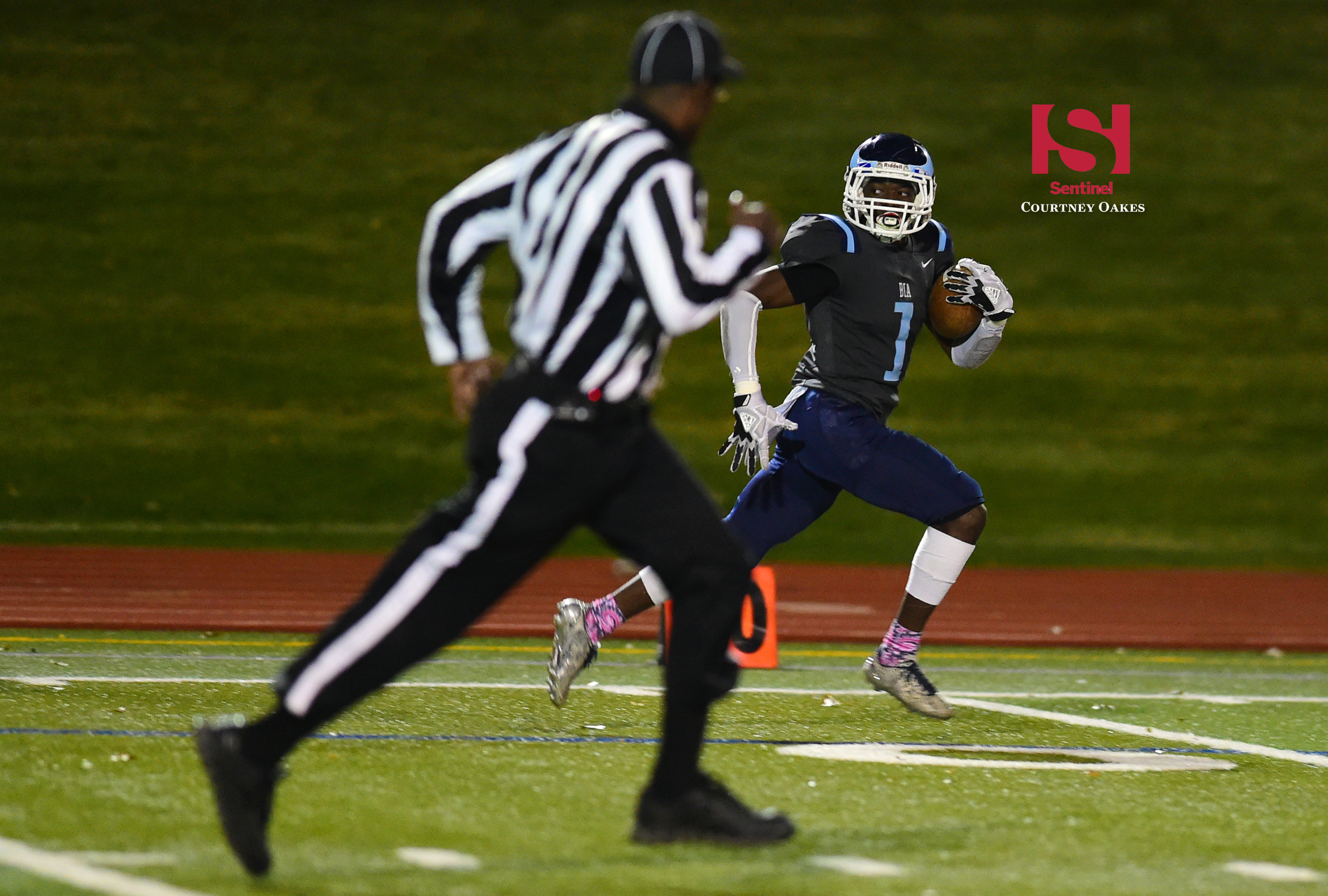 The end of the prep football regular season is nearly here — Class 5A ends in Week 10, with 4A teams playing one week longer — and Aurora teams finished 5-6 in the penultimate week.
Among the victors — which included all three remaining unbeatens in Regis Jesuit, Smoky Hill and Vista PEAK — was Eaglecrest, which rebounded from one of its most lopsided losses in recent years with a strong 28-0 Metro East win over Arapahoe Oct. 24 at Littleton Public Schools Stadium.
The Raptors (7-2 overall, 2-2 in Metro East) got back on track with help from two touchdown passes from senior quarterback Max Marsh to junior wide receiver Ty Robinson (plus a rushing score from Marsh, who finished near 300 total yards with 170 passing and 121 rushing), but the biggest highlight came from senior lineman Reece Atteberry.
The 6-foot-5, 295-pound University of Michigan commitment, playing on the defensive line, scooped up a fumble and rumbled 55 yards to the end zone. The Eaglecrest defense not only scored, but posted its first shutout of the season after allowing 77 points in its previous two games.
Here's what happened in Aurora football in Week 9:
Courtney Oakes is Sentinel Colorado Sports Editor. Reach him at 303-750-7555 or [email protected] Twitter: @aurorasports. IG: Sentinel Prep Sports
AURORA CENTRAL: The Trojans (1-7 overall, 1-3 in 4A Metro League) were held off the scoreboard for the second time in three games and fell to 42-0 to Ponderosa, which picked off four passes. Next: Aurora Central plays host to Denver South (2-6, 0-3) in league play at 4 p.m. Nov. 1.
CHEROKEE TRAIL: The Cougars had a two-game winning streak snapped with a 38-7 Metro East loss to Cherry Creek Oct. 25 at Legacy Stadium. Sophomore quarterback Jack Love connected with junior tight end Sam Hart for the lone score for Cherokee Trail (6-3, 2-2), which defensively yielded the most points it had to any opponent all season. Next: Cherokee Trail closes out the regular season with an important Metro East contest at Legacy Stadium at 7 p.m. Nov. 1 against Eaglecrest (7-2, 2-2).
GATEWAY: The Olys went down swinging against undefeated Montrose in a 50-36 loss Oct. 26. Junior quarterback Erick Covington rushed for 116 yards and three touchdowns for Gateway (2-6, 1-2), junior RJ Webster also scored as part of a 97-yard rushing outing and sophomore Gabriel Broussard covered a fumble for a TD. Next: With a short turnaround, Gateway faces Heritage (6-2, 2-1) in Metro League play at 6 p.m. Oct. 31.
GRANDVIEW: The Wolves eventually pulled away from Overland Oct. 25 at Stutler Bowl for a 38-0 Metro East victory. Junior Noah Schmidt had 30 of Grandview's 51 rushing attempts and gained 226 yards and a touchdown, while junior quarterback Jacob Burr also rushed for a touchdown and threw two TD passes to junior Noah Salazar. Senior Cade Bruckman had two sacks, seven tackles and an interception return for a touchdown to help the Wolves' defense post its first shutout of the season. Next: Grandview pays a 7 p.m. visit to Stutler Bowl Nov. 1 to play Cherry Creek (9-0, 4-0) with the Metro East championship on the line.
HINKLEY: The Thunderbirds navigated weather to trek to the Western Slope, where they lost 42-6 to Fruita Monument Oct. 24 at Stocker Stadium in Grand Junction. Junior Ty'ren Draper (83 yards rushing) rushed for the lone score for Hinkley (5-3, 0-3 Pioneer League), which turned the ball over five times. Next: The Thunderbirds return home for a Nov. 2 contest against Centaurus (2-6, 0-3).
OVERLAND: The Trailblazers (3-6 overall, 0-4 Metro East) were blanked on the second time all season in a 38-0 defeat to Grandview Oct. 25 at Stutler Bowl. Next: Overland finishes up the regular season with a 7 p.m. Nov. 1 visit to Littleton Public Schools Stadium to take on Arapahoe (5-4, 1-3).
RANGEVIEW: The Raiders' couldn't extend their winning streak to three games as they fell at Westminster 30-18 Oct. 25. Junior Reece Berkey and senior Camarin Halliburton both rushed for touchdowns and senior Braidon Nourse connected on a 43-yard field goal for Rangeview (4-5, 4-4). Next: The Raiders play host to Denver East (5-4, 5-3) in a season-ending Metro 10 matchup at 7 p.m. at Aurora Public Schools Stadium.
REGIS JESUIT: The Raiders eventually put away depleted Fountain-Fort Carson 41-21 Oct. 25 at Lou Kellogg Stadium to move to 9-0 overall and 4-0 in the South League. Sophomore quarterback Nicco Marchiol finished without a touchdown pass for the first time all season, but rushed for three touchdowns, sophomore Pyreese Miller ran for two and junior David Dody (158 yards rushing) had one. Junior Clay Nanke racked up three saclks and sophomore Dallas Macias had two interception returns that set up touchdowns. Next: Regis Jesuit pays a 7 p.m. visit to Douglas County (2-7, 0-4) to close out the regular season.
SMOKY HILL: The Buffaloes overcame some early miscues and rolled past Mountain Range 42-9 to stay unbeaten at 9-0 and officially secure the Metro 10 championship. Senior running back Obie Sanni rushed for 154 yards and four touchdowns and junior quarterback Leslie Richardson III (who had 275 yards through the air) threw TD passes to senior Ryan Hollingsworth (116 yards receiving) and junior DeAngelo Horn (two catches for 65 yards) for Smoky Hill. Senior Vincent King racked up 16 tackles, while seniors Chase Lyons and Lydell Hudson-Lewis and sophomore Max Zueger had fumble recoveries for the defense. Next: The Buffaloes go on the road to Westminster at 7 p.m. Nov. 1 to close out the regular season.
VISTA PEAK: The Bison gained revenge for a loss to Standley Lake last season with a decisive 56-17 victory over the Gators Oct. 25. All eight scores for Vista PEAK on a nearly 600-yard night came on the ground with junior Ja'derris Carr-Kersh (141 yards rushing) and senior Gene Sledge Jr. (149 yards rushing) taking it in three times each — and both had a TD run of 77 yards or more — and juniors Montral Hamrick and Victor Owens also finding the end zone. Senior Zack Whitworth had 11 tackles and an interception and Carr-Kersh set up one of his touchdowns with another interceptions. Next: The Bison return to Aurora Public Schools Stadium for a 6:30 p.m. Halloween Pioneer League matchup with Thornton (3-5, 1-2).