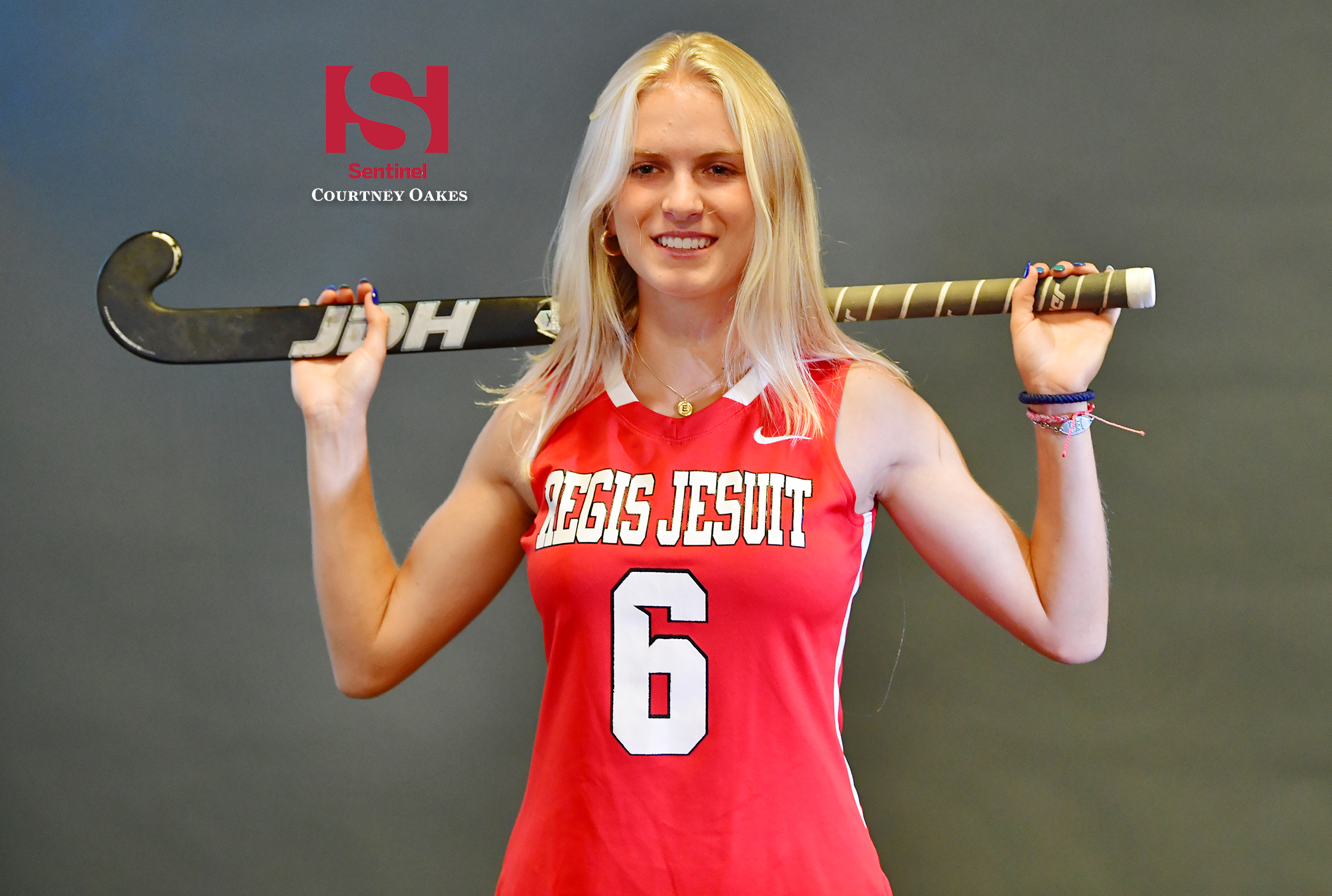 If you were at Stutler Bowl April 30 and closed your eyes and just listened, you would have believed a football slugfest was taking place between Regis Jesuit and Cherry Creek.
Hundreds of students packed together in the stands on both sides buzzing with energy that resembled the most intense of Friday Night Lights contests.
But the two schools instead squared off for the state championship in field hockey in a game that was the first in which attendance restrictions due to the coronavirus pandemic had eased and students were really able to get together on a large scale for the first time. And boy, did they.
The Raiders walked off the field happiest after coming away with a 2-1 overtime victory over the Bruins, which launched a long-lasting celebration on their rivals' field.
"It was euphoric because their school is so big and they had so many fans," senior Paris Corporon recalled to the Sentinel Aug. 16 during her appearance at the Denver Broncos annual High School Media Day at Empower Field at Mile High.
"We had a little less amount of people, but our energy matched if not topped them, especially when we won and they stormed the field," she added.
Added fellow senior Ellie Johnson, who assisted on the game-winning goal by Cate Lord: "We had seniors coming up to us after the game saying this was the highlight of their year because they didn't have any football games to go to. This was the football game of the year."
The Raiders relished the chance to have that big of a spotlight that usually doesn't come for a sport that has just 15 programs statewide and they hope it will bring more people out this season.
While that remains to be seen, the interest generated at the school in joining longtime coach Spencer Wagner's program is tangible.
Corporon and Johnson said that Regis Jesuit tryouts were larger than they had ever been and that they had to create a fourth team in order to accommodate all the interest.
The Raiders will look different on the field no matter what, as they graduated some key talent from last season's 9-1 team. Lord departed after scoring 11 goals last season and pressuring defenses with tremendous speed, while Grace Weigand was a composed, steady presence in the back after she returned from injury.
But with the leading goal scorer back in senior Katie Loftus, plus Johnson (who had a team-leading seven assists to go with four goals) and postseason standout Lily Castiglione and others along with MaryKate Berg in the goal, Regis Jesuit still has the tools to stay among the state's best programs.
"We're focusing on replacing them, we're more using who we have and their skills," Corporon said. "We're not training them to be Cate Lord, we're changing our playing style to fit our new team and what we have."
Johnson believes the team will play "slower" — mostly because of the loss of Lord — but believes the team will be able to develop offense differently and with more connection.
Aurora's two other field hockey programs — Grandview and Smoky Hill — remain building.
Grandview finished last season 5-5 and outside of the shrunken playoff field in Season C and coach Alex Smith's team will have to replace a whole host of graduated seniors (12 in all).
Among the departed was longtime goalie staple Katie Shepherd along with the top three goal scorers in Amelia Henning, Megan Weiss and Elise Euler. The Wolves only expect to return six of their 55 points from last season, which were scored by McKenna Tidwell (2 goals) and Ashley Weiss (one goal).
Smith lists Marley Barrows, Charli Coles, Lindsay Ryan and Emma Cary as players ready to contribute this season.
Smoky Hill also has losses to make up for, as coach Natalie Foester's team — which is a co-op with players also coming in from Cherokee Trail and Eaglecrest — graduated 12 of the 25 players it had on the roster last year.
The Buffaloes will be heavy on freshmen and sophomores, but will be able to have a junior varsity team this season.
Courtney Oakes is Sentinel Colorado Sports Editor. Reach him at [email protected] Twitter: @aurorasports. IG: Sentinel Prep Sports