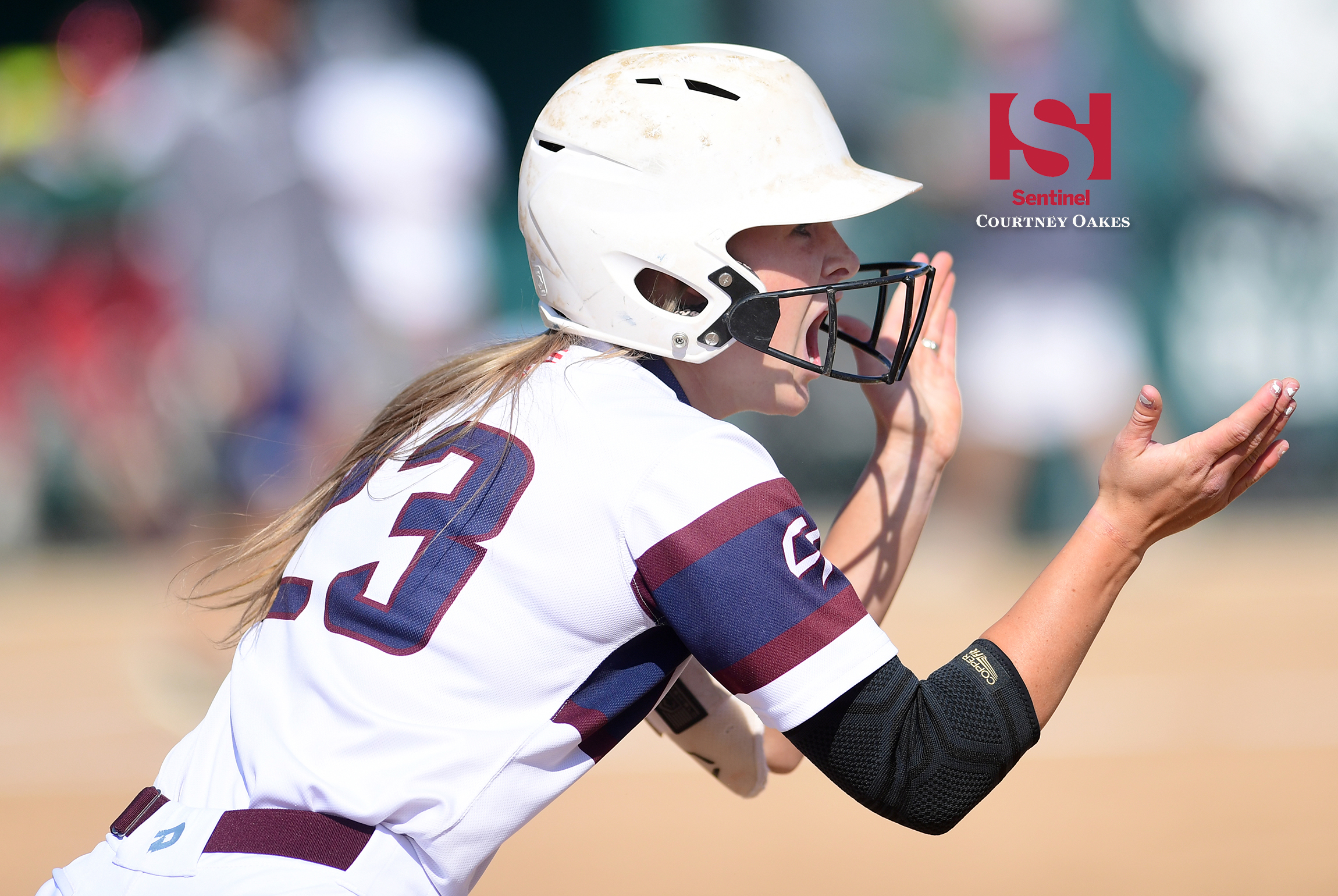 It wasn't perfect, but it was softball.
The coronavirus pandemic threw a curveball to the sport, but it was one of just five fall sports that were given the green light to be played.
A shortened regular season, limited playoff field and different look Class 5A state tournament played at multiple sites were part of the adjustments due to the threat of COVID-19, but Aurora played the game well and three teams — Cherokee Trail, Smoky Hill and Regis Jesuit — qualified for the state tournament.
The 2020 Sentinel Colorado All-Aurora Softball Team — chosen by the Sentinel in conjunction with balloting of city coaches — is dominated by Cherokee Trail and Smoky Hill, who battled it out for supremacy in a regular season that was all Centennial League play. A few extra spots were needed to honor the talent in play across the city.
The run of coach Caley Mitchell's Cherokee Trail team to state championship game (where it lost to Fossil Ridge) got a lot of fuel from the play of junior Jenna Medhus, who was simply outstanding in all phases of the game. She was a steady force on the mound and came through with big pitches when she needed them against a variety of strong offensive opponents. Medhus finished 14-1 with a 3.61 ERA and 106 strikeouts in 95 innings.
Offensively, Medhus displayed a mix of power — as she hit an Aurora-best nine home runs, which helped the All-Centennial League first teamer to a team-high 32 RBI — average (.500) and strong baserunning.
Cherokee Trail was built strong up the middle as many outstanding teams are with junior Caitlin Cushenbery behind the plate, the middle infield of senior Kelsey Bell at shortstop and junior Ryleigh Cruz at second base, while the outfield was bolstered by juniors Brooke Scott and Jaelyn Martinez.
Cushenbery's chemistry with Medhus made for a top-notch battery that was able to adjust to situations fluidly from a defensive standpoint, while she also contributed heavily on offense. Cushenbery homered twice in the Cougars' semifinal victory and she hit .444 on the season.
In the middle infield, Bell and Cruz — both first team all-league selections — worked well as a defensive tandem and flashed it with a double play early in the championship game against Fossil Ridge.
Cruz set the table for Cherokee Trail's offense on a game-by-game basis as she did in the title game when she doubled on the first pitch and scored to gave her team a lead. She led her team with 34 hits and 28 runs scored, while she hit .476 and homered six times. In addition to her steady play, Bell had a .351 average and drove in 17 runs, including a key RBI in a quarterfinal win against Broomfield.
Scott earned All-Centennial League first team honors with a .492 batting average and provided speed on the basepaths with nine extra base hits and 14 stolen bases. Martinez impressed coaches with her defense and instincts, while she hit .350 and drove in 16 runs to help keep the lower end of the Cougars' lineup potent.
Smoky Hill won the Centennial League championship — the program's first since 2003 — with a loaded lineup of its own. Coach B.J. Kingsbaker's Buffaloes went undefeated until the last game of the regular season when it got stopped by Cherokee Trail in the championship game of the Centennial League Challenge.
Junior Delaney Farnsworth won the Centennial League's Player of the Year honors with an outstanding all-around seaso that saw her up her batting average by 100 points from the previous season (getting it up to .489) and better her career totals in every offensive category save runs scored in seven fewer games.
Farnsworth's pitching had been outstanding in her previous two varsity seasons and it was that away again for the right-hander in her junior season, as she finished 9-1 with a 1.43 ERA and 81 strikeouts in 68 2/3 innings. The other half of Smoky Hill's pitching tandem, junior left-hander Kenedy Sandoval, earned All-Aurora honors as a utility player after she hit .342 in addition to a 6-1 record on the mound with 51 strikeouts against just four walks in 37 1/3 innings.
Smoky Hill's loaded infield included sisters Izzy and Gabi Giroux, who each earned All-Aurora first team honors in addition to All-Centennial League first team accolades.
The most memorable day of the season for the sisters came on Sept. 5 when they both homered in a 15-3 road win over Grandview. That was the only homer of the year for Gabi Giroux, who led the team in hitting at .529 (aided by 12 extra-base hits), scored the most runs with 33 and drove in 26 runs fro the No. 2 spot in the order. Izzy Giroux finished just .001 of a point behind her sister in the batting chase at .528 and added a whopping 19 extra-base hits (six of them homers) plus a total of 33 RBI that was second on her team.
Nobody inspired more fear when she came to the plate than junior Amrajie Bass, who fills the designated hitter role on the All-Aurora team. She hit .476 on the season and led her team with eight home runs and 36 RBI, all while showing great discipline as she drew a team-high 20 walks.
Joining Medhus and Farnsworth on the All-Aurora pitching staff is Eaglecrest senior right-hander Alex Hendrian, who committed to Florida Tech after the season.
While it was a down year in terms of total wins for Eaglecrest with five, Hendrian secured four of them and had a couple other slip away. Thirty-two unearned runs came across with Hendrian pitching, but she finished with a 3.99 ERA and struck out 53 in 66 2/3 innings. Hendrian — who played for her mom, Yvette — helped herself with a .407 average and six homers.
Even with five wins, Grandview had a team that scrapped and scrapped and many believed might have been able to qualify for the state tournament if the traditional regional format existed this season.
Clearly nobody enjoyed playing coach Liz Carter's Wolves and especially in the opening inning with senior outfielder Lyla Michels used her speed to set a tone. The Otero J.C. signee and All-Centennial League first teamer missed three games, but hit .350, scored a team-high 14 runs and stole 11 bases, while tracking down some balls most outfielders wouldn't have.
Regis Jesuit senior Lanie Smith is not a pitcher by nature, but she fearlessly took the circle for the Raiders because that's what coach Merideth Feik and her teammates needed her to do.
Smith's all-around contributions were crucial in Regis Jesuit's qualification for the 5A state tournament, as she finished 8-6 with a 4.77 ERA in a whopping 83 2/3 inning pitched, while she led the team in RBI with 19, finished second in hits with 23 and third in average at .434.
The Raiders' top force in the outfield was sophomore Brooke Carey, the team's only All-Continental League first teamer who hit .521 with six homers among 25 hits.
Bell, Hendrian and Smith — along with All-Aurora second teamers Ivy Robinson of Rangeview, Regis Jesuit's Kilee Stortz and Grandview's Jenny Allen — played in the Colorado Coaches of Girls Sports 5A All-State Game Oct. 18.
Courtney Oakes is Sentinel Colorado Sports Editor. Reach him at 303-750-7555 or [email protected] Twitter: @aurorasports. IG: Sentinel Prep Sports
2020 SENTINEL COLORADO ALL-AURORA SOFTBALL TEAM
FIRST TEAM — Pitcher: Delaney Farnsworth, jr., Smoky Hill; Alex Hendrian, sr., Eaglecrest; Jenna Medhus, jr., Cherokee Trail; Catcher: Caitlin Cushenbery, jr., Cherokee Trail; Infield: Kelsey Bell, sr., Cherokee Trail; Ryleigh Cruz, jr., Cherokee Trail; Gabi Giroux, soph., Smoky Hill; Izzy Giroux, jr., Smoky Hill; Outfield: Brooke Carey, soph., Regis Jesuit; Jaelyn Martinez, jr., Cherokee Trail; Lyla Michels, sr., Grandview; Brooke Scott, jr., Cherokee Trail; Utility: Kenedy Sandoval, jr. Smoky Hill; Lanie Smith, sr., Regis Jesuit; Designated hitter: Amrajie Bass, jr. Smoky Hill
SECOND TEAM — Pitcher: Lawrencia Randle, soph., Aurora Central; Kenedy Sandoval, jr., Smoky Hill; Lanie Smith, sr., Regis Jesuit; Catcher: Amrajie Bass, jr., Smoky Hill; Infield: Jenny Allen, sr., Grandview; Maddie Demoss, soph., Eaglecrest; Kennedi LeDuff, jr., Vista PEAK; Sadie Runia, sr., Eaglecrest; Kilee Stortz, sr., Regis Jesuit; Outfield: Julie Cacciavillani, sr., Grandview; Ivy Robinson, sr., Rangeview; Eliana Trujillo, soph., Smoky Hill; Utility: Isabella Chambers, sr., Vista PEAK; Cassie Pearson, sr., Rangeview; Designated hitter: Carlie Jo Caldwell, sr., Regis Jesuit
HONORABLE MENTION: Leslie Barron, jr., Vista PEAK (OF); Sierra Bearden, jr., Hinkley (OF); Mikayla Brown, soph., Rangeview (OF); Aaliyah Crawford, jr., Overland (INF); Katelynn Czerpak, jr., Overland (Utility); Camilla Davis, sr., Hinkley (P); Paris Elsberry, jr., Smoky Hill (INF); Miranda Ferrier, soph., Grandview (OF); Jetziry Gonzales, jr., Hinkley (C); Aajanae Henry, sr., Overland (INF); Liz Herting, jr., Grandview (INF); Chi'Ondra Johnson, sr., Overland (Utility); Kendall Kersey, soph., Regis Jesuit (C); Asia King, sr., Hinkley (INF); Jahlisa Klear, sr., Smoky Hill (INF); Addison Krei, fr., Cherokee Trail (INF); Gabriella Martinez, soph., Rangeview (Utility); Logan Mikkelson, sr., Aurora Central (INF); Chloe Miller, fr., Grandview (P); Anastacia Molina, soph., Vista PEAK (INF); Gabriella Pantuliano, soph., Rangeview (DH); Jayden Paulsen, jr., Eaglecrest (Utility); Abby Rupeka, sr., Cherokee Trail (INF); Anna Salazar, fr., Rangeview (C); Natalie Shellhorn, fr., Regis Jesuit (Utility); Alanah Torres, jr., Vista PEAK (C); Chloe Valdez, sr., Regis Jesuit (INF); Makayla Valle, soph., Grandview (P); Alyssa Walker, jr., Grandview (INF); Peytann Weiland, fr., Grandview (C)