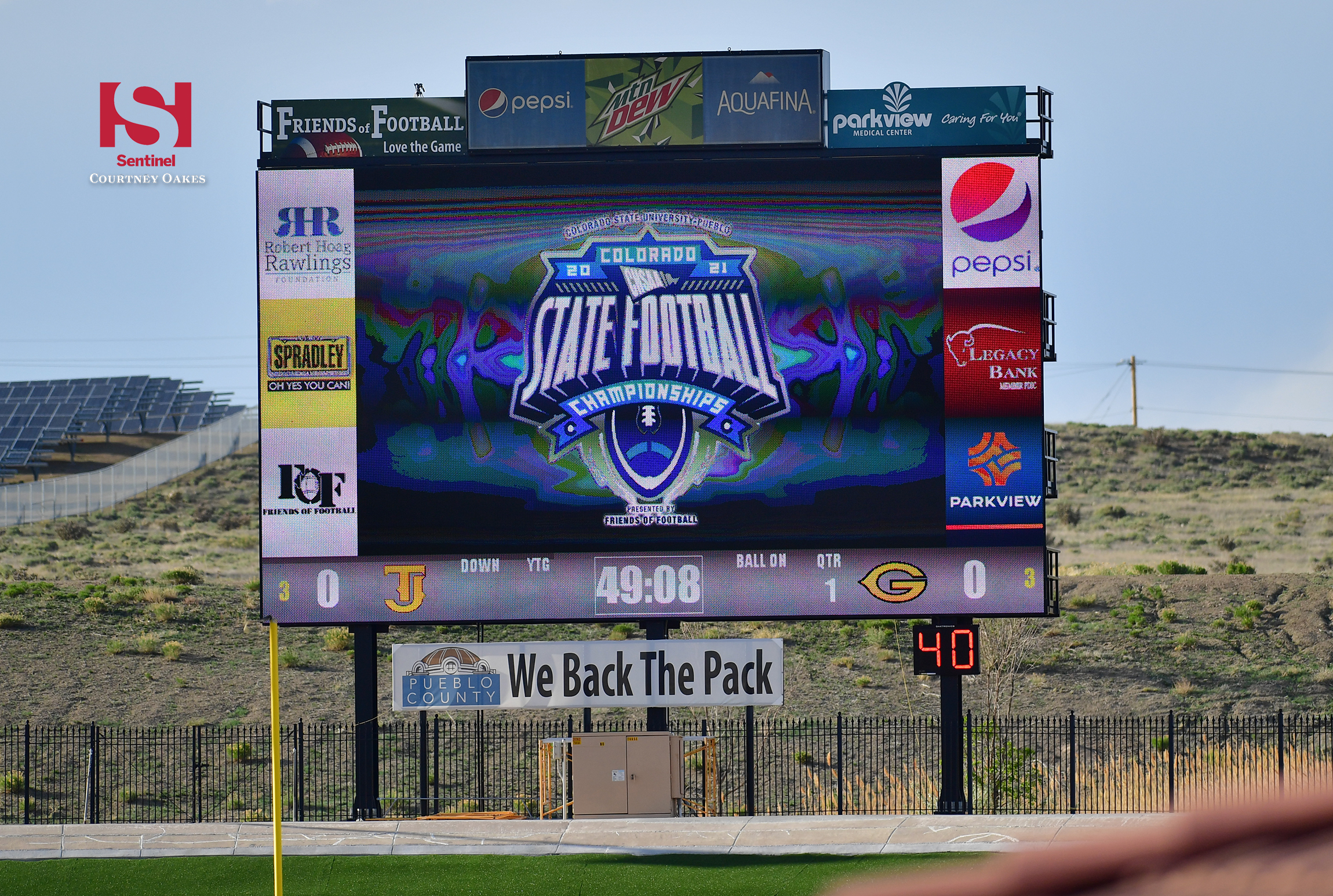 AURORA | The last Colorado prep athletic season looked unlike any before due to the coronavirus pandemic, but the upcoming new one has the look of the old.
Just ahead of the start of practices for all fall sports, the Colorado High School Activities Association issued its bulletins for the fall sports and with it some postseason information.
Football will all be played in the fall this season after it was split between fall and spring last season. The schedule also returns to a 10-game format for the regular season instead of the six played last season, while the playoff field (capped at eight teams last season) will now be 24 in Classes 4A and 5A, with the top eight seeds receiving a first round bye.
All state championship games were played on the campus of Colorado State-Pueblo last season and the majority of them will take place again to that venue — where Gateway played for the 4A spring championship (story, here) — though 4A and 5A return to Empower Field at Mile High, home of the Denver Broncos, Dec. 4. The regular season ends Oct. 30 for all classes save 3A and the postseason begins Nov. 5.
Girls volleyball, which was pushed to Season C last season, gets back its normal number of allowed contests, which were cut significantly last year. The postseason will consist of 12 three-team regionals with the winner of each moving into the Nov. 11-13 state tournament, which has yet to have a venue secured by CHSAA. The Season C state tournament took place at the World Arena in Colorado Springs, where Grandview finished as the Class 5A state runner-up to Rampart (story, here).
Boys soccer, which was contested in Season C last year, is back to its typical number of contests, though postseason specifics have yet to be determined. In Season C, semifinals were played at Englewood H.S. (which saw Grandview fall to Cherry Creek, story, here) with state championship games at Weidner Field (Colorado Springs Switchbacks FC) in Colorado Springs. This fall's postseason — which will resume a 32-team format — begins Oct. 27.
Softball, another of the few fall sports that was able to stay in the fall last year, is able to return to its 23-game regular season schedule before it progresses to regional play (featuring 32 qualifiers) Oct. 16. The state tournament in 3A-5A is scheduled for Oct. 22-23 at its regular venue, the Aurora Sports Park, with state championship games slated for 1:30 p.m on the final day. Cherokee Trail played in the Class 5A title game and finished as the runner-up to Fossil Ridge. last season (story, here).
In cross country, the state championship meet in all classifications returns to the Norris Penrose Events Center in Colorado Springs, which has been the host venue for many years, including last season. The meet is scheduled for Oct. 30 with 5A races — which traditionally include the majority of Aurora's state qualifiers — set for 9 a.m. (girls) and 10:20 a.m. (boys). A rare city qualifier in a smaller classification, 2A, won a state championship last year in Lotus School For Excellence's Kidus Begashaw.
Boys tennis was also able to retain its spot in the fall last season and play largely a normal schedule, though with an expanded number of matches allowed. Regional tournaments (hosts determined in 5A based on final league standings) will return to original format with playback brackets in place.
Last season, only the two players who made the finals at each regional in the three singles and four doubles positions advanced, while playbacks allow third-place winners to challenge losers of the final for a state spot. State tournaments, which are scheduled for Oct. 14-16 (4A at Pueblo City Park, 5A at Gates Tennis Center) also will again have playbacks and a third-place match. Regis Jesuit finished as the 5A runner-up to Cherry Creek last season with a trio of singles champions in Morgan Schilling (No. 1), Conor Kaczmarczyk (No. 2) and Cameron Kruep (No. 3).
Boys golf is the first fall sport to being and also the first sport to conclude, which didn't change last year. A sport largely unaffected by the challenges of the pandemic, the only change to the boys golf season will be the allowance for a few more tournaments. Regional state qualifying tournaments have been scheduled for Sept. 20-24, with state championship tournaments in 3A, 4A and 5A — at Spring Valley Golf Club, City Park G.C. and Colorado Springs Country Club, respectively — set for Oct. 4-5. Regis Jesuit finished third as a team at last season's 5A state tournament and Ryan Occhionero finished with a share of second place individually.
Field hockey — which was held in Season C last year with Regis Jesuit winning the state championship — sees a return of postseason contests to Denver's All-City Stadium after a shift to Stutler Bowl at Cherry Creek High School. Semifinals are scheduled for Oct. 28 (5:30 p.m. & 7:15 p.m.) with the state title game at 6 p.m. on Nov. 1. The playoff field was cut to just four teams last season, but this season will be expanded to 12.
Gymnastics, another sport held in Season C last year, will see a return in the number of meets allowed to 11, while 10 teams will qualify for the state meet along with a number of individuals. Regionals are scheduled for Oct. 28-30 — with defending state champion Overland scheduled to host one Oct. 28 — and the state meet in its normal venue at Thornton H.S. on Nov. 4 at 4 p.m. (Class 5A team competition) and No. 6 at 1:30 p.m. (5A & 4A individual event finals).
Courtney Oakes is Sentinel Colorado Sports Editor. Reach him at [email protected] Twitter: @aurorasports. IG: Sentinel Prep Sports