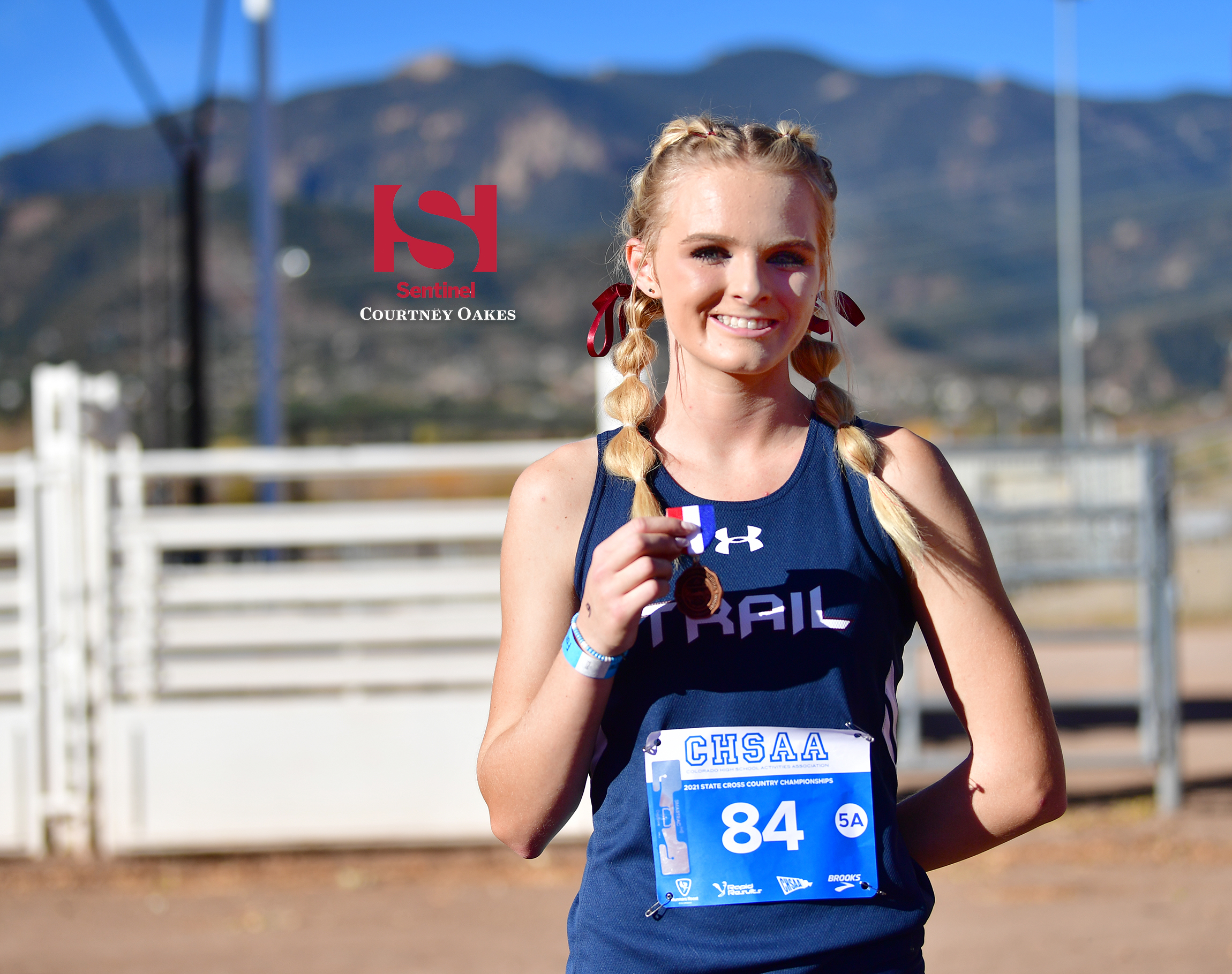 Runners from four programs — Cherokee Trail, Grandview, Regis Jesuit and Vista PEAK — combine to form the top seven girls runners on the 2021 Sentinel Colorado All-Aurora Girls Cross Country Team, which is based on the season and performances at the Class 5A and 4A state cross country meets.
Regis Jesuit had a trio of All-Aurora performers in juniors Alexandra Collins and Lily Jasinowski plus sophomore Erika Danzer, while Cherokee Trail had a pair in junior Mckenna Mazeski and freshman Madison Lippold, while senior Megan Ericksen and junior Grace Dow represent Grandview and Vista PEAK, respectively.
Cherokee Trail saw three-time all-state performer Cameron McConnell depart to run her senior season in Texas — where she was able to win her first career state championship while running for Canyon Randall High School — and a combination of graduation and other departures left a largely inexperienced team.
Mazeski returned, however, and proved to be exactly what a young Cougars team needed as a tone-setter and a leader. She opened the season by winning the Aurora City Championship girls race by more than 40 seconds, set a PR of 17 minutes, 22.90 seconds, running at the Desert Twilight Festival in Arizona and was the 5A Region 1 runner-up to eventual three-time state champion Riley Stewart of Cherry Creek.
Two previous state trips had left Mazeski disappointed as she was 28th last season and 41st as a freshman, but a season of positive thinking that yielded positive results continued at the state meet. Even though she said she didn't feel great at the start of the race, she kept telling herself "the faster I run, the faster I'm done," and it spurred her to a seventh-place finish in a time of 18:14.90.
Joining Mazeski on the All-Aurora team from Cherokee Trail is Lippold, who finished 68th in her state debut in a time of 20:20.50, which was her third fastest of the season following a PR of 19:50 at sea level at the Desert Twilight meet and a 20:09.23 at the Pat Amato Classic.
Though Cherokee Trail edged Regis Jesuit by 12 points in the state standings (with the Cougars finishing 14th and the Raiders 15th), Regis Jesuit (which didn't have returning state qualifier Amelie Colsman in the mix) had three runners earn All-Aurora status.
Collins paced the Raiders all season and she ended up as the second runner from a city program to cross the finish line, as she came in 39th in her second career state race with a time of 19:36.60. Interestingly, Collins' time was more than nine seconds better than when she ran the same state course in 2019, but she finished nine places lower this year.
Her best finish in terms of place came with a fourth place result at the Salida Cross Country Classic.
Danzer made her state debut and finished 85th in 20:38.50, capping a season in which she finished as the second runner for Regis Jesuit in early every race save the Rim Rock Farm Classic in Kansas, in which she came in 22 seconds and 14 spots in front of Collins.
Jasinowski rounded out the Raiders' All-Aurora presence with her 89th place finish in her state debut, which came in a time of 20:40.50. Earlier in the season, she recorded a PR of 20:19.80 at the Liberty Bell Invitational.
Ericksen assumed the lead role for a Grandview team that hadn't had state representation since Anna Swanson made it individually in 2019 and she opened the season by finishing as the runner-up at the Aurora City Championship meet with time of 20:52.30.
Ericksen captured fifth at the Cheyenne Mountain Stampede on the same course at the state meet and turned in a time of 20:32.90, which was just 0.70 of a second faster than her state time, which put her 79th.
Dow got off to a great start to her junior season with a third-place finish at the Aurora City Championship meet, which marked the first of four top-seven finishes for her throughout the season. Dow set her PR of 19:26.70 at the Thornton Invitational and one race later won the EMAC championship.
She ran a time of 20:43.90 in her first state race, which put her 41st.
Note: Grandview sophomore Ashlynn Mojica, junior Grace Kirkpatrick and sophomore Julia Pace earned All-City first team honors at the Aurora City Championship meet as well as Cherokee Trail junior Anna Chilton as they joined the trio of Mazeski (1st), Ericksen (2nd) and Dow (3rd) in the top seven. Mojica finished 4th, Kirkpatrick 5th and Pace 7th. Eaglecrest, Gateway, Hinkley and Regis Jesuit did not run in the city meet this season.
Courtney Oakes is Sentinel Colorado Sports Editor. Reach him at [email protected] Twitter: @aurorasports. IG: Sentinel Prep Sports
2021 SENTINEL COLORADO ALL-AURORA GIRLS CROSS COUNTRY TEAM
First team: Alexandra Collins, jr., Regis Jesuit; Erika Danzer, soph., Regis Jesuit; Grace Dow, jr., Vista PEAK; Megan Ericksen, sr., Grandview; Lily Jasinowski, jr., Regis Jesuit; Madison Lippold, fr., Cherokee Trail; Mckenna Mazeski, jr., Cherokee Trail
Honorable mention: Dawn Armstrong, fr., Cherokee Trail; Anna Chilton, jr., Cherokee Trail; Haleigh Delmoro, soph., Regis Jesuit; Evan Harlan, jr., Regis Jesuit; Molly Kate McCloskey, sr. Regis Jesuit; Alessandra Pezzimenti, soph., Cherokee Trail; Madalynn Rodau, jr., Cherokee Trail; Christie Stratman, jr., Regis Jesuit; Kathryn Vann, jr., Cherokee Trail