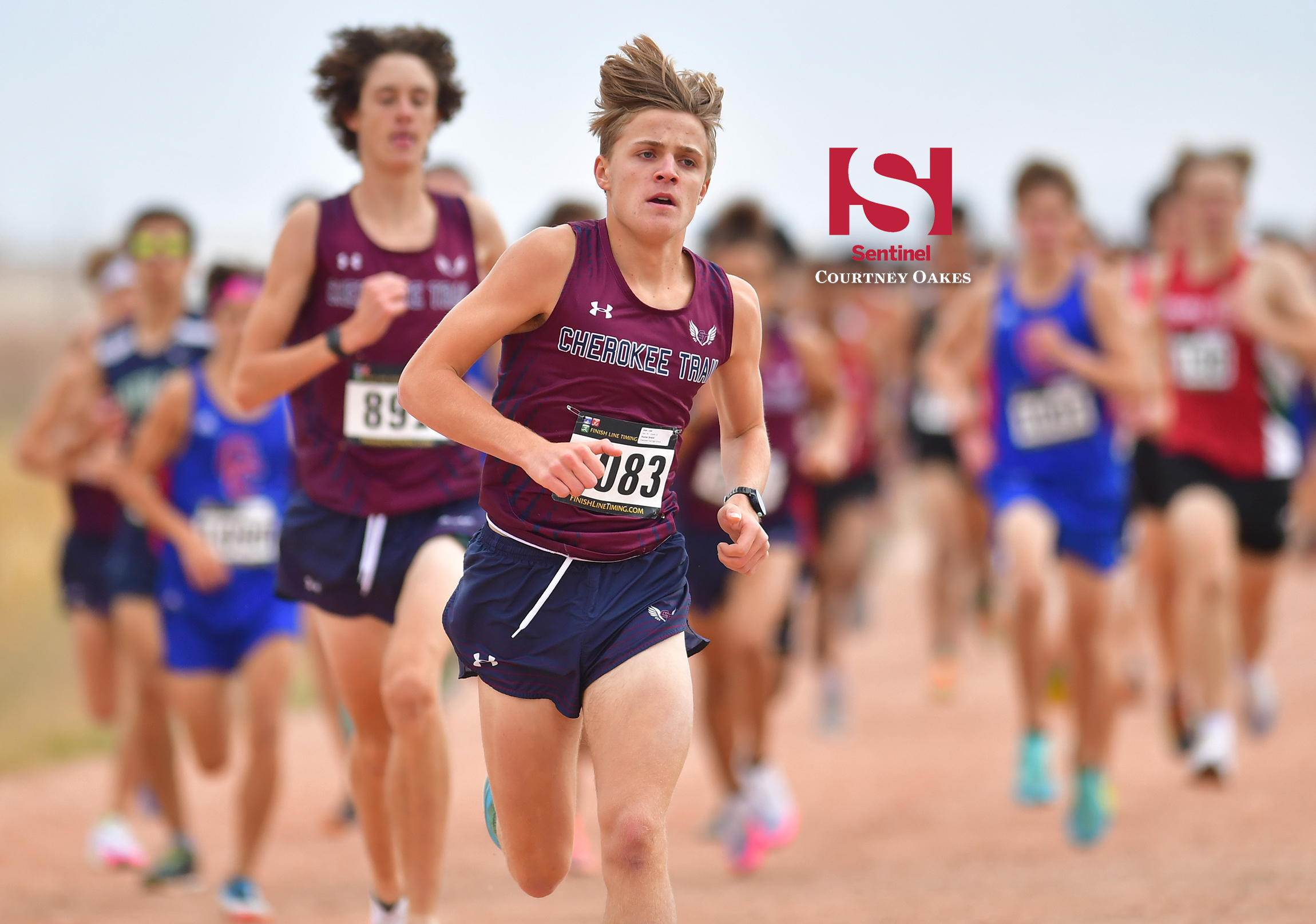 Not surprisingly, Cherokee Trail — the third-place team finisher at the Class 5A state meet at the Norris Penrose Events Center — dominates the city's top seven, taking four slots on the 2021 Sentinel Colorado All-Aurora Boys Cross Country Team.
All of the Cougars' All-Aurora accolades went to underclassmen in juniors Hunter Strand, Reuben Holness and Logan McGowan along with sophomore Brady Smith, while two of the remaining performers were also underclassmen in the Grandview duo of junior Andrew Fox and sophomore Owen Zitek to go with the lone senior, Nabil Hassan of Lotus School For Excellence.
Lotus — a small Aurora school with grades K-12 that offers only three high school varsity sports: cross country, boys soccer and girls volleyball — earned some name recognition in the sport in 2020 when Kidas Begashaw captured the Class 2A state championship, which overshadowed the performance in the same race of Hassan, who finished 31st after he had been 75th the previous season.
Hassan had goals to make another significant climb this season — shooting for a top 10 finish at state — and he did just that, though a sprained ankle derailed him for three weeks during the regular season.
He returned to training with renewed vigor and made up for lost time by performing his best in the final two races of the year when he turned in a PR of 17 minutes, 3.50 seconds, to finish third in the 2A Region 2 meet. He followed that up with a 17:17.20 — which he accomplished by running slow in the first mile, passing a number of runners in the second mile and holding off challengers in the third — that yielded 10th.
"The last stretch was tough, I was running like I was brainless, but I knew I was placing so it was just 'go, go, go,'" Hassan said. "I wasn't going to let anybody pass me. This is my last year, so I had to finish as hard as I could."
Strand sought a podium spot as well in the 5A race, but just missed out with a 12th-place finish that nonetheless gave coach Chris Faust's Cherokee Trail team a huge boost on its way to a third-place finish that marked the second-best result in program history.
Four times on the season, Strand finished first or second in a race, with the first of his three victories coming at the season-opening Aurora City Championship meet. He also posted back-to-back wins on the same Arapahoe County Fairgrounds course to claim the Centennial League championship followed by Region 1 title honors.
Strand — who set his PR of 15:30.20 at the Desert Twilight Festival in Arizona — missed out on the state meet a year ago, but qualified this time and proceeded to run a 16:26.20.
"This is the hardest course you are going to get in Colorado, you're going to get any tougher than this, so I'm happy to have run a 16:26 on it," Strand said. "I think we just went out a little slower than I expected and it got into my head a little bit. The last mile was challenging, so I just did my best to get where I could."
Holness was the second Cherokee Trail runner across the finish line as he had been for most of the season (including the Aurora City Championships, where he was the runner-up) and he earned the chance to run at the state meet for a second consecutive season after he finished third in the Region 1 race.
Holness made a significant climb from his 2020 state performance when he ran 17:39.60 to take 64th as he was 25th this time in 16:44.70. He had a closer pursuer at the state race in Smith, who ran the "race of his life" according to Faust.
Smith opened the season in fine fashion with a sixth-place result in the Aurora City Championship race, which was followed by winning the Steve Lohman Cherry Creek Invitational and finishing as the runner-up at the Liberty Bell Invitational in the Sweepstakes B race.
At state, he clocked a time of 16:49.40 that put him 27th. Smith was less than five seconds behind Holness, who finished 30 seconds in front of him at regionals.
"I would say this was the race of my life for now, but I know I'm going to be doing so much better in the future," Smith said. "I don't know what more to say, I was just having fun out there. It was a great course and it was just beautiful out there."
McGowan started the season with a fourth-place result at the Aurora City Championship meet, set his PR of 16:15.60 in the Cougars' trip to Arizona for the Desert Twilight Festival and won the open division of the Centennial League meet. A ninth-place regional result set him up for his third career state meet and he finished 45th (in 17:12.10), which was up from 73rd as a sophomore and way up from 142nd as a freshman.
Coach John Walsh's Grandview team graduated its top two runners from 2020 and Fox stepped up to set the pace for this year's group. Six times on the season he placed in the top seven of a race, beginning with a seventh-place result at the Aurora City Championships and topped by a runner-up finish at the Northfield Nighthawk Invitational.
Fox clocked a PR of 16:28.80 at the Dave Sanders Invitational and ran his second-fastest time of the season of 16:47.80 at the state meet, where he finished in 26th place in between the Cherokee Trail duo of Holness and Smith. Fox was 79th at the state meet in 2020.
Zitek finished 97th as a freshman at the 2020 state meet and made big strides this season, which included winning the 5A race at the Cheyenne Mountain Stampede race on the same state course. He ran a 17:16.70 that day and bettered that at the actual state meet with a time of 17:12.40 that put him 46th.
A 16:50.60 at the Liberty Bell Invitational marked a PR for Zitek.
Note: Cherokee Trail junior Josh Smith and senior Brendan McClure earned All-City first team honors at the Aurora City Championship meet by finishing third and fifth, respectively to join Strand (1st), Holness (2nd), McGowan (4th), Smith (6th) and Fox (7th) in the top seven. Regis Jesuit did not run in the city meet this year.
Courtney Oakes is Sentinel Colorado Sports Editor. Reach him at [email protected] Twitter: @aurorasports. IG: Sentinel Prep Sports
2021 SENTINEL COLORADO ALL-AURORA BOYS CROSS COUNTRY TEAM
First team: Andrew Fox, jr., Grandview; Nabil Hassan, sr., Lotus School For Excellence
Reuben Holness, jr., Cherokee Trail; Logan McGowan, jr., Cherokee Trail; Brady Smith, soph., Cherokee Trail; Hunter Strand, jr., Cherokee Trail; Owen Zitek, soph., Grandview
Honorable mention: Tyler Garfield, sr. (Grandview); Brendan McClure, sr. (Cherokee Trail); Josh Lewis, jr. (Cherokee Trail); Carson Scohera, sr. (Cherokee Trail); Jacob Blevins, sr. (Grandview); Lucas Blevins, jr. (Grandview); Owen Morgenegg, jr. (Eaglecrest); Danek Colson, soph. (Grandview); Joseph Peavy, sr. (Grandview), 19:39.10