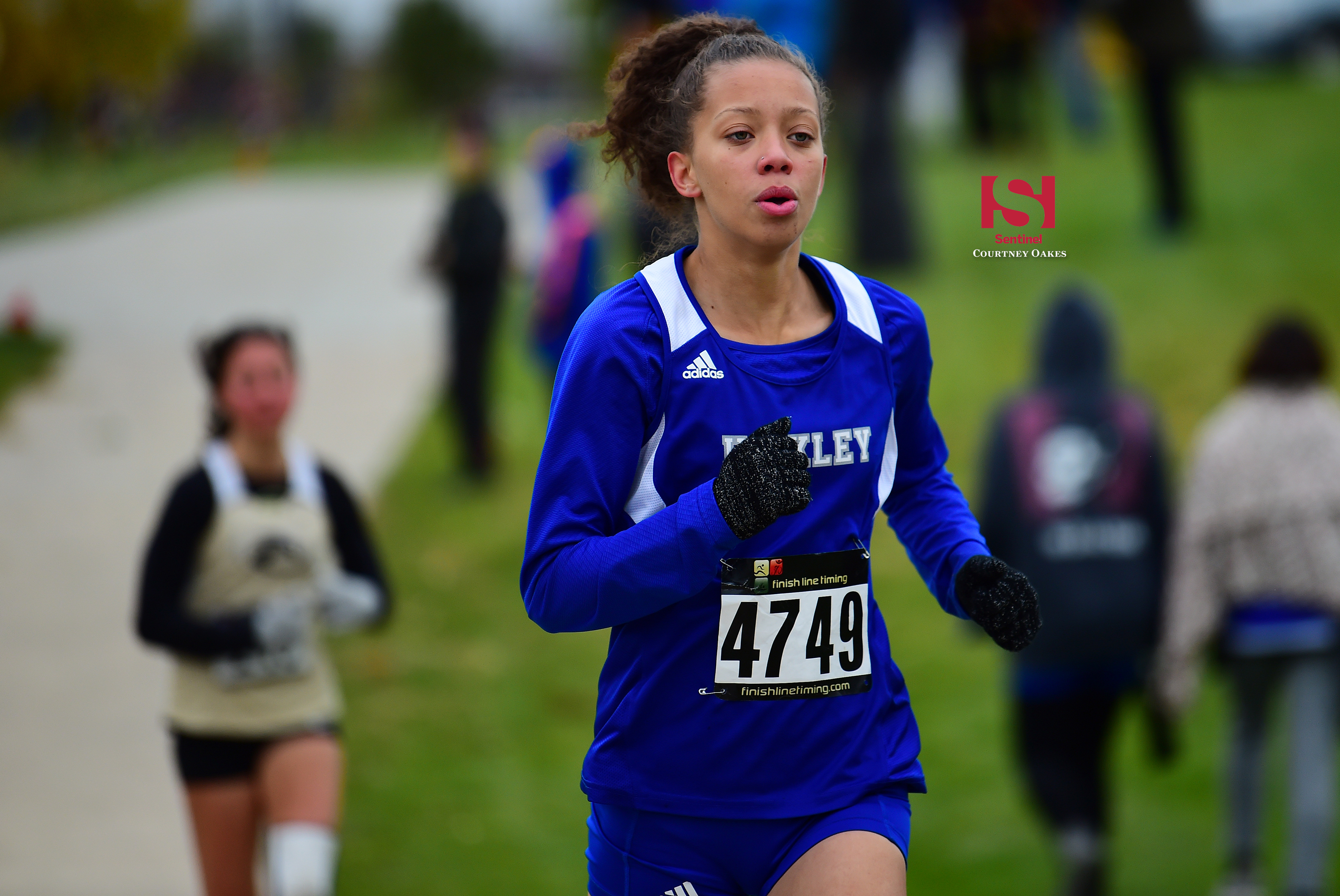 AURORA | With two top-10 finishers, Hinkley led the way among city programs in the EMAC Championship girls race run Wednesday at frigid Aurora Sports Park.
Senior Macenzie Clayton finished eighth and junior Paula Andrade checked in 10th as the Thunderbirds finished comfortably in third place behind winner Brighton and runner-up Prairie View, which combined for all of the top seven placers.
In a race that was 35 degrees at start time, Clayton crossed the finish line in 20 minutes, 58.30 seconds, to improve by 10 spots from the previous season and Andrade (who clocked a 21:07) climbed six spots to help Hinkley (86 points) move up a spot in the final standings from 2017.
Vista PEAK — which didn't have enough finishers to record a team score last season — came next in fourth place with freshman Eva Vargas Byrne's 15th-place individual finish leading the way to a score of 124.
Gateway (paced by junior Yessica Ramos in 26th overall) finished fifth with 132, while Rangeview (which had the only other top-15 finisher from the city with freshman Chloe Wetzel coming in 12th) ended up sixth.
Aurora Central ran four runners, with sophomore Vanessa Vazquez's 20th leading the way.
All five Aurora teams return to the Aurora Sports Park Oct. 18 to run in the 5A Region 1 girls race as they attempt to qualify individually or as a team for the 5A state meet.
Courtney Oakes is Sentinel Sports Editor. Reach him at 303-750-7555 or [email protected] Twitter: @aurorasports. FB: Sentinel Prep Sports
2018 EMAC GIRLS CROSS COUNTRY CHAMPIONSHIP MEET

Oct. 10 at Aurora Sports Park
Team scores: 1. Brighton 22 points; 2. Prairie View 44; 3. HINKLEY 86; 4. VISTA PEAK 124; 5. GATEWAY 132; 6. RANGEVIEW 146; 7. Northglenn 171; Adams City, AURORA CENTRAL and Westminster no score
Top 15 individuals: 1. Kiran Green (Brighton), 18 minutes, 39.70 seconds; 2. Abigail Read (Brighton), 19:22.10; 3. Kasia Poulson (Prairie View), 19:23.30; 4. McKenna Yates (Brighton), 19:32.90; 5. Mallorie Estes (Brighton), 20:19.70; 6. Sabrina Pawlak (Prairie View), 20:24; 7. Madelyn Schmidt (Prairie View), 20:26.20; 8. MACENZIE CLAYTON (HINKLEY), 20:58.30; 9. Marissa Martinez Suarez (Westminster), 21:00.40; 10. PAULA ANDRADE (HINKLEY), 21:07; 11. Chandler Hand (Brighton), 21:10.80; 12. CHLOE WETZEL (RANGEVIEW), 21:14.40; 13. Alexx McMillan (Prairie View), 21:15.20; 14. Jacqueline Rodriguez (Westminster), 21:28.70; 15. EVA VARGAS BYRNE (VISTA PEAK), 21:55.50
Aurora team-by-team results (in order of finish)
Hinkley (86): 8. Macenzie Clayton, 20:58.30; 10. Paula Andrade, 21:07; 19. Charity Baker, 22:04.20; 29. Rosa Ramirez, 23:08.80; 37. Adriana Lobatos, 24:25.30; 38. Abigail Giner, 24:26.40; 40. Katy Sarabia, 24:37.30; Vista PEAK (124): 15. Eva Vargas Byrne, 21:55.50; 16. Jordyn Stapleton, 21:57.60; 31. Hanna Dixon, 23:53.70; 41. Anna Dorny, 24:47.30; 43. Sabrina Thigpen, 24:54.10; Gateway (132): 26. Yessica Ramos, 22:40.60; 28. Jorja Whyte, 23:08.60; 34. Elisa Cardona, 24:12.60; 35. Hannah Thompson, 24:13; 39. Leslie Flores Guerrero, 24:36.40; 48. Celia Loya Banuelos, 25:49; 50. Valeria Canstenada, 25:53.60; Rangeview (146): 12. Chloe Wetzel (Rangeview), 21:14.40; 33. Mahayla Griggs, 24:01.20; 36. Sofia Alvarez, 24:18.50; 42. Sarah Bridgford, 24:52.70; 51. Amor Leigh Wilson, 26:58.90; 52. Jennifer Lopez, 27:04.20; Aurora Central (NS): 20. Vanessa Vazquez, 22:05.20; 25. Heiwot Woldeyes, 22:31.30; 45. Liliana Leyva, 25:14.80; 54. Ann Lorena Johnson, 27:55.20