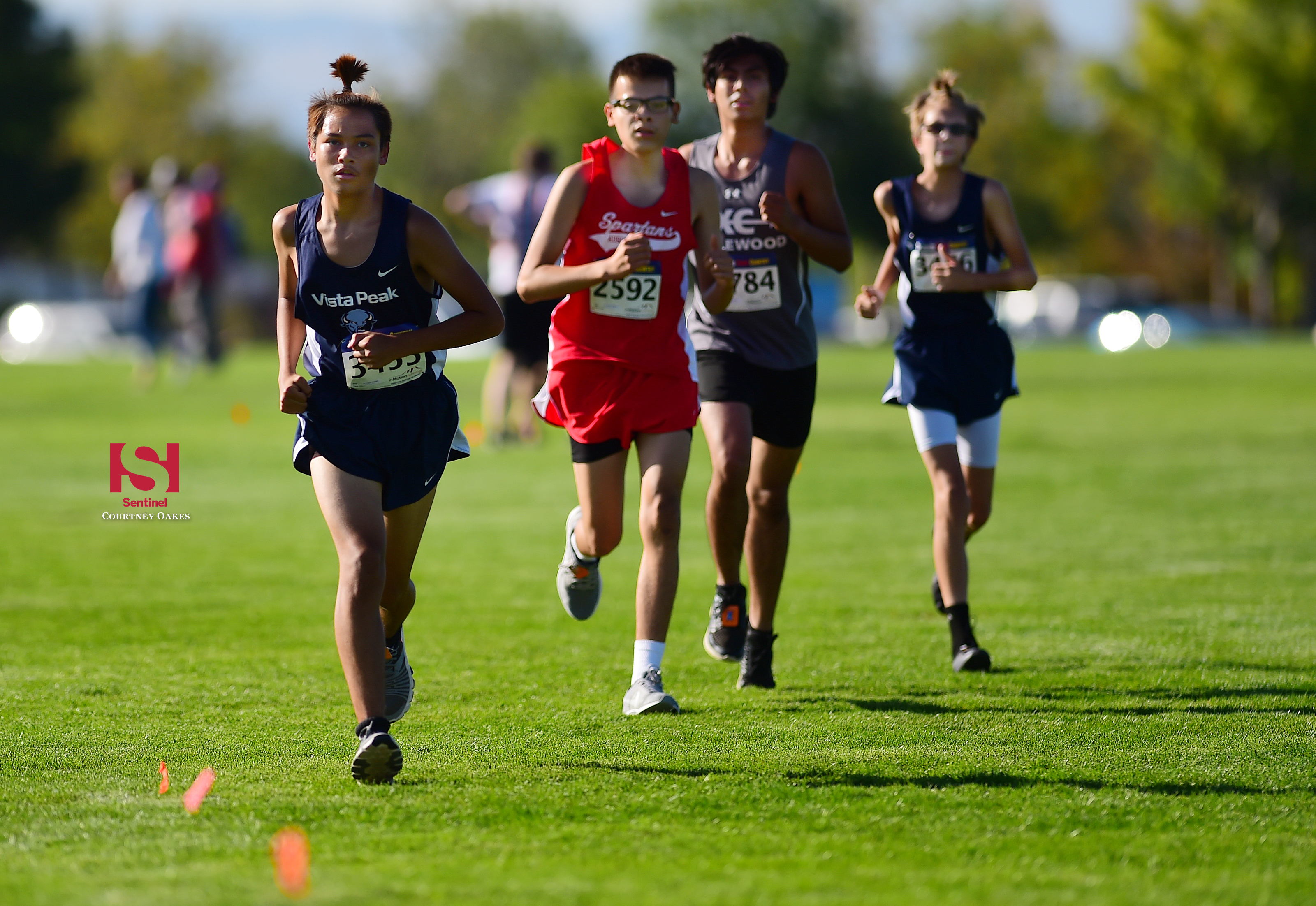 LITTLETON | Luke Sundberg didn't perform quite as well as he would have liked at Friday afternoon's Dave Sanders Invitational cross country meet, but the Rangeview junior did check something off his list.
The memory of Mountain Vista's Brody Dempsey outkicking him to the finish line at the Liberty Bell Invitational a couple of weeks earlier stuck in the Aurora city champion's mind and one of his goals when he lined up again with Dempsey in the Division 1 race at Clement Park was to not let it happen again.
To cap a busy week in which he'd won the Elizabeth Invitational and paced a junior varsity race, Sundberg had enough left to cross the finish line in front of Dempsey and 187 runners in the massive D1 race at at the annual race.
With a time of 16 minutes, 21 seconds, on a course that changed significantly from the season before, Sundberg claimed an Aurora-best sixth place (five places in front of Dempsey) and paced his Raiders to a 10th-place finish to come in ahead of Overland, Grandview and Regis Jesuit.
Behind Sundberg came Tesamichael Wolde in 26th place, followed by Ryan Slocum in 39th.
A slightly shorthanded Overland team came in 11th and was led by senior Isaiah Bradley, who crossed the finish line in 27th place.
The next-highest Aurora finisher behind Sundberg individually was Grandview sophomore Jake Sheykhet, who grabbed 17th place with a time of 16:47. The Wolves finished behind the Trailblazers in 12th.
Charley Sutherland paced Regis Jesuit to 16th place.
Cherokee Trail and Aurora Central had runners entered in the D1 race, but didn't have finishers to make a team score, while Hinkley and Vista PEAK ran in the D2 race.
Courtney Oakes is Sentinel Sports Editor. Reach him at 303-750-7555 or [email protected] Twitter: @auroarsports. FB: Sentinel Prep Sports
2018 DAVE SANDERS INVITATIONAL CROSS COUNTRY MEET
BOYS DIVISION 1 RESULTS
Team scores: 1. Dakota Ridge 34 points; 2. Mountain Vista 75; 3. Heritage 107; 4. Castle View 126; 5. Arapahoe 169; 6. Liberty 194; 7. Cherry Creek 207; 8. Arvada West 224; 9. Battle Mountain 230; 10. RANGEVIEW 235; 11. OVERLAND 273; 12. GRANDVIEW 306; 13. Highlands Ranch 334; 14. Lakewood 356; 15. Chatfield 397; 16. REGIS JESUIT 487; 17. Horizon 526; 18. Bear Creek 551; 19. Ralston Valley 506; 20. Mountain Range 597; 21. Columbine 634
Top 10 individuals: 1. Connor Ohlson (Dakota Ridge), 15 minute, 47 seconds; 2. Austin Vancil (Dakota Ridge), 15:48; 3. Parker Wolfe (Cherry Creek), 16:00; 4. Cole Nash (Chatfield), 16:11; 5. Ian Kelly (Heritage), 16:19; 6. LUKE SUNDBERG (RANGEVIEW), 16:21; 7. Jared Wright (Castle View), 16:22; 8. Jack O'Sullivan (Mountain Vista), 16:23; 9. Riley Abrashoff (Dakota Ridge), 16:23; 10. Benjamin Piegat (Dakota Ridge), 16:25
Aurora team-by-team results (in order of finish)
Rangeview (235): 6. Luke Sundberg, 16:21; 26. Tesamichael Wolde, 17:04; 39. Ryan Slocum, 17:19; 85. Aser Albachew, 18:11; 88. Nicholas Provancal, 18:13; 91. Alexander Woldetatyos, 18:14; 149. Nathan Berhe, 19:35; 166. Ricky Hurtado, 19:54; 174. Nick Pantuliano, 20:14;
Overland (273): 27. Isaiah Bradley, 17:04; 40. Kobe Jara, 17:23; 58. Grant Bradley, 17:36; 78. Rifat Emam, 18:03; 81. Jonael Cid Gonzalez, 18:08; 97. Jaime Gutierrez, 18:23; 165. Bahdon Abar, 19:50; 190. Kaleb Murrell, 22:16; 191. Paul Kim, 22:18; 192. Zion Emery, 22:50;
Grandview (306): 17. Jake Sheykhet, 16:47; 71. Nick Beckman, 17:57; 75. Peter Fox, 18:01; 76. Zeke Adler, 18:02; 83. Coleton Curtin, 18:11; 139. Noah Lease, 19:18; 140. Jocob Reintjes, 19:20; 153. Jackson Walton, 19:39;
Regis Jesuit (487): 96. Charley Sutherland, 18:23; 98. Ben Phillips, 18:24; 112. Spencer Hunt, 18:38; 121. Brian Fields, 18:59; 123. Michael Anselmi, 19:01; 155. David Burnham, 19:43; 173. Sajan Sundaram, 20:14; 183. Zach Dicosola, 20:35;
Cherokee Trail (NS): 53. Jordan Sisneros, 17:32; 147. Vinay Malik, 19:29;
Aurora Central (NS): 172. Werals Niyongabo, 20:12; 186. Nathan Rios, 21:04; 187. Ricardo Garcia, 21:05; 193. Zander Long, 25:54