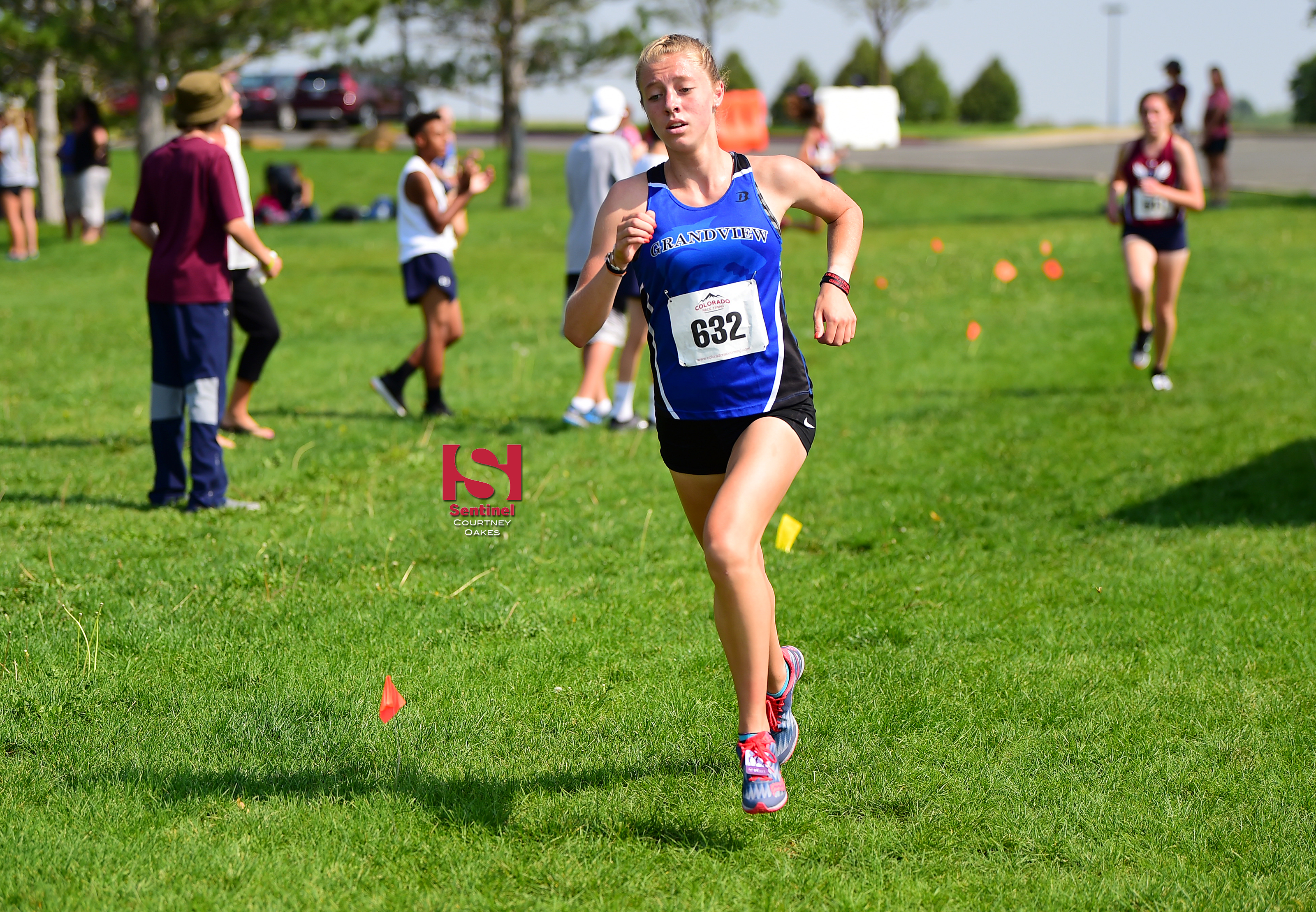 AURORA | At the top, Thursday's Aurora City Championship girls cross country race looked like nearly a carbon copy of the 2017 race.
Hot conditions slowed down times at bit at the Aurora Sports Park and only six of Aurora's 11 programs were represented, but the same individual champion (Kaitlyn Mercer of Grandview) and team champion (Cherokee Trail) were crowned at the end of the 38th annual gathering of locals.
Mercer had little trouble as she became the first repeat Aurora girls champion since Rangeview's Rikki Gonzales won three times in 2009, 2010 and 2011, while Cherokee Trail topped Grandview by 12 points — the same margin as the previous season — to be the first back-to-back winner in the girls race since Smoky Hill in 2009 and 2010.
"It feels pretty awesome; it feels good to win it back-to-back," Mercer said after she crossed the finish line with a winning time of 19 minutes, 33 seconds, which gave her a 21-second cushion over teammate Anna Swanson.
Heat definitely played a role in the result, as did health, as Cougars' senior Caitlin McConnell — who figured to Mercer's top competition individually — was slowed as she raced for the first time in two weeks as she tries to overcome shin splints.
2017 runner-up Amelia Johannes of Smoky Hill came out of the opening chute strong, but Mercer and McConnell quickly moved into the front and stayed that way for about the first mile until Mercer turned up the heat.
"I was trying to go out my first mile with Caitlin and then about the mile mark, I pulled away from her," said Mercer, who finished one spot in front of McConnell at last season's Class 5A state cross country meet to secure the last All-State position.
The gap quickly widened and Mercer had only herself to concentrate on the rest of the way. Mercer is Grandview's first repeat Aurora city champion and fourth all-time, joining Jamie Anderson (2008), Erin Norton (2013) and Brie Oakley (2016).
Swanson earned first team All-City honors last season with a seventh-place finish, but made a major step forward by navigating her way through a field of Cherokee Trail runners to earn runner-up honors.
With a time of 19:54 that was almost exactly a minute faster than the 20:53 she ran on the same course in 2017 — and accomplished in tougher conditions — Swanson saw her offseason training pay off in a big way.
"Improving by a minute was shocking," Swanson said. "Honestly the key for me was that I just changed my mindset a lot. I was a lot more positive and I was preparing myself so much over the summer and pushing myself to the extreme to try to be ahead of Kaitlyn Mercer. Some of our workouts I tried to be up with her for speed.
"Changing my mindset helped so much."
Following the Grandview pair across the finish line was a stream of Cherokee Trail runners, as the Cougars grabbed places 3-4-5-6-7-8 and 10 for an impressive score of 25 points.
Coach Josh Tate's group comfortably won the program's second straight and third overall city title despite the fact that two of its returning 5A state runners — Kyra Stevenson and Campbell Faust — didn't run in the team's scrimmage the previous week and had to run in the open race instead.
McConnell's freshman sister Cameron led the way for Cherokee Trail in third, followed by Tarikwa Woldemariam, Soonhee Han, Madison Gibson and Megan Hodges in the next four All-City first team (top seven) spots. Caitlin McConnell gutted out an eighth-place finish and was joined by Adeline Wilson (10th) on the All-City second team.
"This is by far the deepest team we've had," Cherokee Trail girls coach Josh Tate said.
"We did a time trial and had nine girls under 20 minutes. It's about getting them all to do it at the same time, when it matters…Today was good, but we were hoping for 1 and 4 and then a pack. But with Caitlin coming off shin splints, we wanted to make sure it doesn't turn into a stress fracture, so we didn't want to push it."
Cameron McConnell turned in a time of 20:18 in her first varsity race running on a course that her older sisters Amy and Caitlin have frequented. She accomplished her goal of a top-four finish and came away satisfied.
"I was kindof hurting with a cramp the whole time," she said. "I was trying to stay on Mercer, but she just took off, so I backed off a little.
"I like to really stay back for the first mile and then really kick it in the next two, but I kindof did the opposite in this race. I stayed at the same pace for the whole time."
The girls' efforts helped Cherokee Trail win the combined Aurora City Championship for the first time since 2015 and second time overall. The Cougars ran the varsity meet for the first time in 2004. (Full meet winners since 1981, here).
Eaglecrest edged Smoky Hill for third place for a second straight season, as the Raptors posted a score of 95 points to 98 for the Buffaloes.
Smoky Hill had the only All-City performer of the two teams, however, as Mahalia Thomas claimed 11th place.
Rangeview and Overland finished fifth and sixth, respectively.
Vista PEAK, Hinkley and Gateway were missing from last season's field, while Aurora Central and Regis Jesuit — which was originally the meet host — were also absent.
Courtney Oakes is Sentinel Sports Editor. Reach him at 303-750-7555 or [email protected] Twitter: @aurorasports. FB: Sentinel Prep Sports
2018 AURORA CITY CROSS COUNTRY CHAMPIONSHIP (GIRLS RESULTS)
Team scores: 1. Cherokee Trail 25 points; 2. Grandview 37; 3. Eaglecrest 95; 4. Smoky Hill 98; 5. Rangeview 162; 6. Overland 168
Top seven individuals (first team All-City): 1. Kaitlyn Mercer (Grandview), 19 minutes, 33 seconds; 2. Anna Swanson (Grandview), 19:54; 3. Cameron McConnell (Cherokee Trail), 20:18; 4. Tarikwa Woldemariam (Cherokee Trail), 20:25; 5. Soonhee Han (Cherokee Trail), 20:38; 6. Madison Gibson (Cherokee Trail), 20:47; 7. Megan Hodges (Cherokee Trail), 20:51; Placers 8-14 (second team All-City): 8. Caitlin McConnell (Cherokee Trail), 20:58; 9. Denika Hallin (Grandview), 21:05; 10. Adeline Wilson (Cherokee Trail), 21:05; 11. Mahalia Thomas (Smoky Hill), 21:23; 12. Chloe Inhelder (Grandview), 21:37; 13. Emily Martenson (Grandview), 22:17; 14. Megan Ericksen (Grandview), 22:26
Full 2018 Aurora City Championship girls race results, here