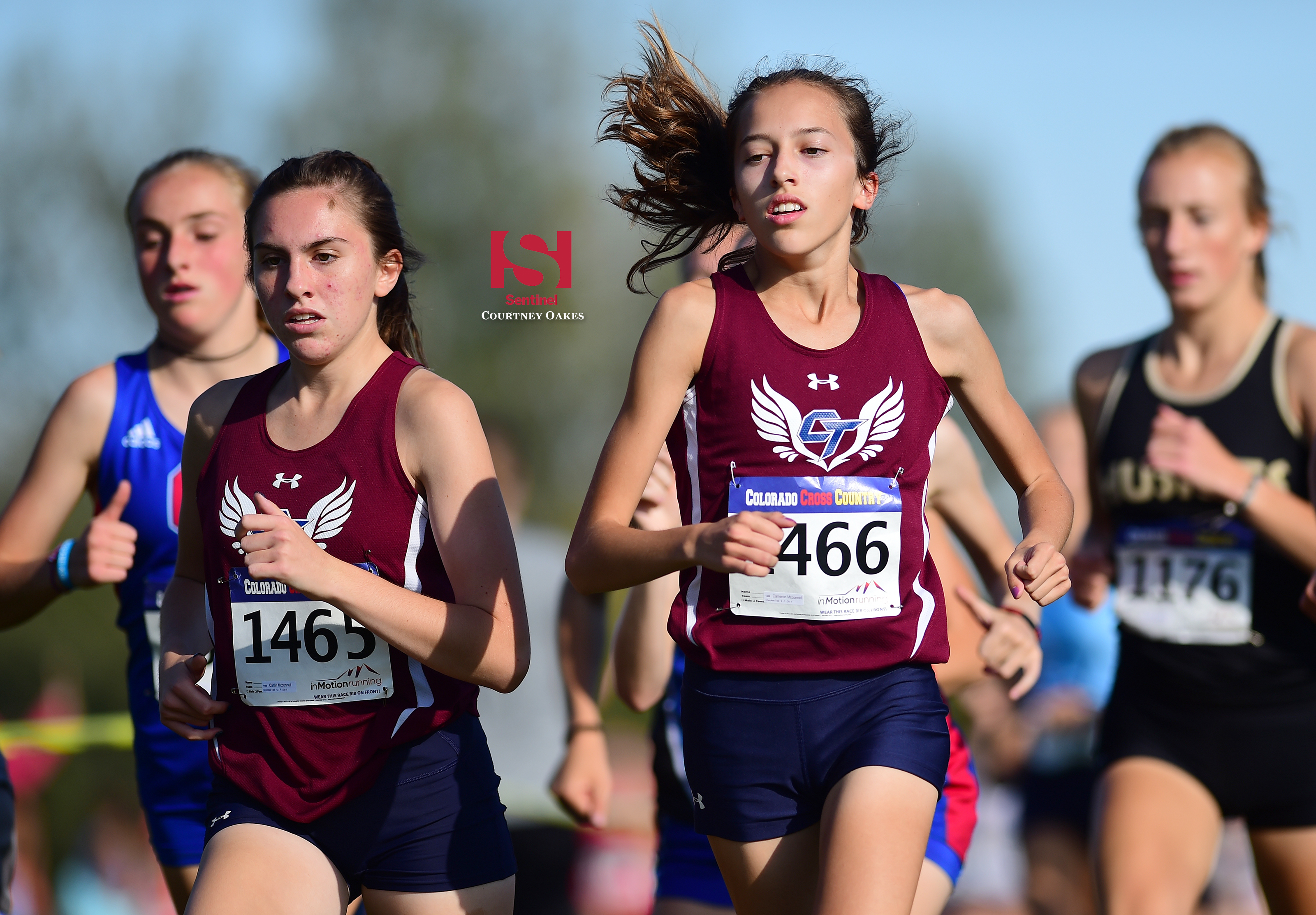 LITTLETON | The Cherokee Trail girls cross country team held its own in a showdown with powerhouse Mountain Vista at Friday afternoon's Dave Sanders Invitational Division 1 race.
Led by sisters Cameron and Caitlin McConnell — who finished second and fourth, respectively, in the 189-runner field — the Cougars finished just 17 points behind the defending state champions Golden Eagles and came away feeling good about their performance.
Cameron McConnell, a freshman, stayed with Mountain Vista's Jenna Fitzsimons — last season's 5A state champion — until the closing stretch and finished just four seconds behind with a final time of 17 minutes, 59 seconds, while senior Caitlin McConnell continues to rebound from an early injury to finish fourth in 18:23.
The presence of one non-5A team — 2017 4A state champion Battle Mountain — had some affect on the standings as the Huskies had three top-10 individuals, but Cherokee Trail had five top-20 finishers (including Soonhee Han in 12th, Tariwka Woldemariam in 16th and Campbell Faust is 18th), while Mountain Vista put eight in the top 20.
Cherokee Trail heads to Casa Grande, Arizona, for the Nike Desert Twilight Festival Sept. 28.
Grandview finished next among local teams in fifth place, led by junior Anna Swanson's 19th-place finish in a time of 19:29. Senior Kaitlyn Mercer, the Aurora city champion, stayed with the leaders for the first half of the race, but dropped back and finished in 30th place.
Regis Jesuit ran the D1 race without its varsity runners — including standout Isalina Colsman — and finished 17th, with Makayla Smith posting the Raiders' top result in 107th.
Overland and Rangeview finished 21st and 22nd in the team standings, while Aurora Central didn't have enough finishers to record a team score.
Hinkley and Vista PEAK ran in the D2 race.
Courtney Oakes is Sentinel Sports Editor. Reach him at 303-750-7555 or [email protected] Twitter: @aurorasports. FB: Sentinel Prep Sports
2018 DAVE SANDERS INVITATIONAL CROSS COUNTRY MEET
GIRLS DIVISION 1 RESULTS
Team scores: 1. Mountain Vista 35 points; 2. CHEROKEE TRAIL 52; 3. Battle Mountain 71; 4. Cherry Creek 101; 5. GRANDVIEW 204; 6. Heritage 205; 7. Arvada West 246; 8. Columbine 266; 9. Arapahoe 281; 10. Chatfield 295; 11. Lakewood 325; 12. Dakota Ridge 326; 13. Horizon 347; 14. Ralston Valley 357; 15. Mountain Range 419; 16. Liberty 484; 17. REGIS JESUIT 551; 18. Castle View 551; 19. Highlands Ranch 560; 20. Bear Creek 576; 21. OVERLAND 650; 22. RANGEVIEW 682
Top 10 individuals: 1. Jenna Fitzsimmons (Mountain Vista), 17 minutes, 55 seconds; 2. CAMERON MCCONNELL (CHEROKEE TRAIL), 17:59; 3. Riley Stewart (Cherry Creek), 18:13; 4. CAITLIN MCCONNELL (CHEROKEE TRAIL), 18:23; 5. Caroline Eck (Mountain Vista), 18:35; 6. Shantell Hafner (Mountain Vista), 18:45; 7. Naomi Harding (Battle Mountain), 18:47; 8. Lizzy Harding (Battle Mountain), 18:52; 9. Grace Johnson (Battle Mountain), 18:56; 10. Nina St. John (Mountain Vista), 19:13
Aurora team-by-team results (in order of finish)
Cherokee Trail (52): 2. Cameron McConnell, 17:59; 4. Caitlin McConnell, 18:23; 12. Soonhee Han, 19:17; 16. Tarikwa Woldemariam, 19:22; 18. Campbell Faust, 19:25; 21. Madison Gibson, 19:34; 28. Megan Hodges, 20:02; 36. Adeline Wilson, 20:20; 40. Kyra Stevenson, 20:26; 49. Abby Snogren, 20:38
Grandview (204): 19. Anna Swanson, 19:29; 30. Kaitlyn Mercer, 20:08; 44. Chloe Inhelder, 20:31; 59. Denika Hallin, 20:58; 73. Megan Ericksen, 21:20; 79. Emily Martenson, 21:28; 87. Mandy Brockamp, 21:46; 96. Emma Thomure, 22:01; 122. Lindsey Torgerson, 22:51; 168. Erin Tillman, 25:57
Regis Jesuit (217): 107. Mikayla Smith, 22:28; 127. Cameron Collins, 23:04; 137. Deanna Landry, 23:26; 141. Paige Augustine, 23:34; 142. Madison Munger, 23:34; 147. Sophia Tognetti, 23:52; 151. Hannah Willer, 24:13
Overland (650): 150. Virginia Edwards, 24:08; 156. Patricia Lopez, 24:22; 157. Hillary Moreno, 24:24; 162. Natalie Lyon, 25:15; 166. Liyanos Abate, 25:30; 171. Yara Ahmed, 26:14; 179. Priyanka Sharma, 27:19; 180. Carla Guardado, 27:20; 182. Anastasia Markovich, 27:52; 186. Caiyan Bass, 28:45
Rangeview (682): 124. Chloe Wenzel, 23:02; 167. Sofia Alvarez, 25:45; 177. Mahayla Griggs, 26:44; 185. Sarah Bridgford, 28:23; 187. Caitlin Frazier, 29:02; 188. Jennifer Lopez, 29:12; 189. Amor Leigh Wilson, 29:26
Aurora Central (NS): 154. Heiwot Woldeyes, 24:16; 159. Vanessa Vasquez, 24:51; 183. Liliana Lyvea, 27:53