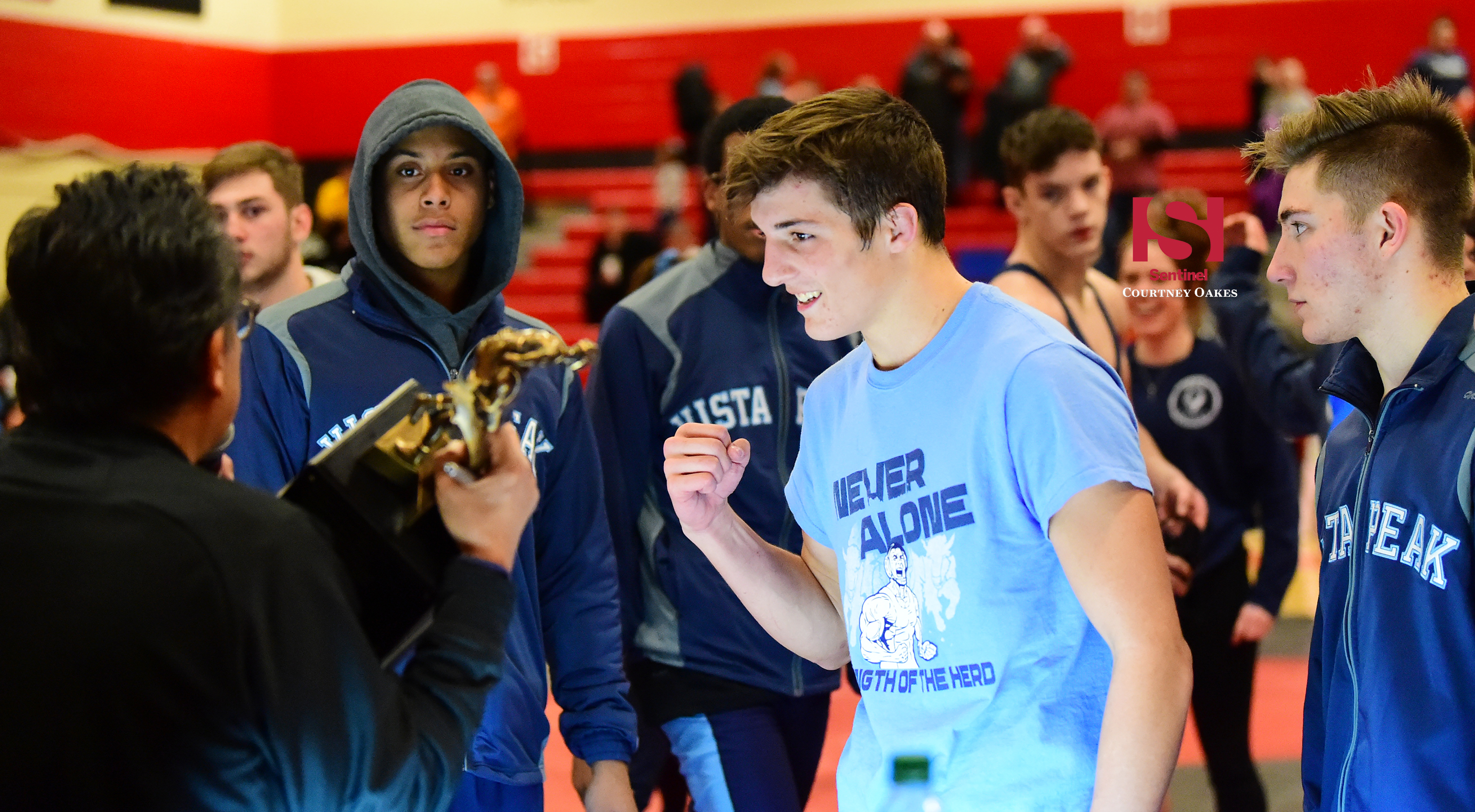 AURORA | Much has changed this season for the Vista PEAK wrestling team, from almost an entirely new lineup to a new wrestling room.
What hasn't changed is the Bison's grip on the Ray McGuire traveling trophy that goes to the best Aurora Public Schools dual team, which they secured with Wednesday's 48-33 victory at Rangeview in a hotly-contested match.
Vista PEAK won five of the nine contested matches, including wins by fall from 160-pounder Marvin Arrieta and 182-pounder Isaac Renas in two of the final three matches to rally from a late three-point deficit.
Juniors Karstin Wells (106) and Antonio Clark Anderson (113) and senior Kameron DiPentino (138) also recorded pins for coach David Benedict, whose team swept Aurora Central, Gateway, Hinkley and Rangeview in dual competition to win the McGuire trophy for a second consecutive season.
Coach Ruben Medina's Raiders won four matches, including pins from Rudy Cortez (120), Spencer Ohu (145) and Eric Holt (220), plus a decision from 132-pounder Romeo Cortez and led by three points with three matches remaining.
The only match of the night that wasn't decided by fall came at 132 pounds, where Rangeview's Romeo Cortez took on Vista PEAK's Tarrent Thompson, who  recently returned from injury.
Cortez had a 9-0 lead and was on track for a major decision, but Thompson came off the bottom for a reversal near the end of the third period to make it a seven-point victory and keep the Raiders from grabbing an extra team point.
Rangeview has had the McGuire trophy three times (2012-13, 2013-14 and 2016-17), as has Aurora Central (2011-12, 2014-15, 2015-16) since the prize debuted eight seasons ago.
Courtney Oakes is Sentinel Sports Editor. Reach him at 303-750-7555 or [email protected] Twitter: @aurorasports. FB: Sentinel Prep Sports
VISTA PEAK 48, RANGEVIEW 33
195 pounds — Donavon Jarmon (Vista PEAK) won by forfeit; 220 pounds — Eric Holt (Rangeview) pinned Justin Leadons (Vista PEAK), 1:56; 285 pounds — Kai Iwatsu (Rangeview) won by forfeit; 106 pounds — Karstin Wells (Vista PEAK) pinned Brandon Hackworth (Rangeview), 3:58; 113 pounds — Antonio Clark Anderson (Vista PEAK) pinned Owen Shultz (Rangeview), 1:54; 120 pounds — Rudy Cortez (Rangeview) pinned Elisa Abeyta (Vista PEAK), 3:07; 126 pounds — Elias Rodriguez (Rangeview) won by forfeit; 132 pounds — Romeo Cortez (Rangeview) dec. Tarrent Thompson (Vista PEAK), 9-2; 138 pounds — Kameron DiPentino (Vista PEAK) pinned Nick Olguin (Rangeview), 5:08; 145 pounds — Spencer Ohu (Rangeview) pinned Russell Anderson (Rangeview), 1:44; 152 pounds — Dillon Hutchison (Rangeview) won by forfeit; 160 pounds — Marvin Arrieta (Vista PEAK) pinned Nicholas Green (Rangeview), 3:10; 170 pounds — Huston Rendell (Vista PEAK) won by forfeit; 182 pounds — Isaac Renas (Vista PEAK) pinned Ian Kersten (Ranegview), 1:33