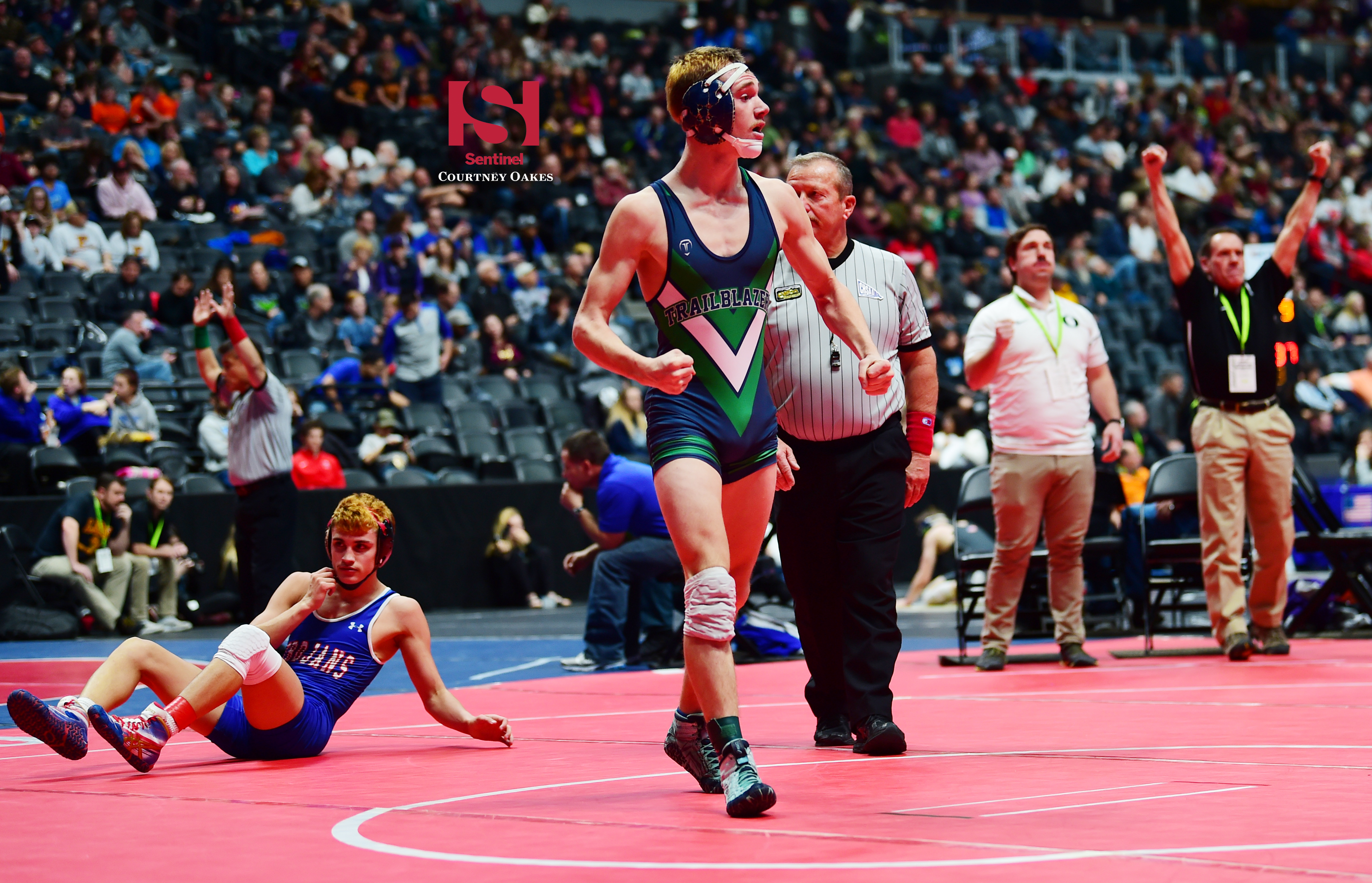 DENVER | Through the first two championship rounds of the Class 5A state wrestling tournament, 10 wrestlers from Aurora program remain standing with title hopes.
Four wrestlers from Grandview, two apiece from Eaglecrest and Overland plus one each from Cherokee Trail and Regis Jesuit prevailed in Friday afternoon matches to earn spots in the semifinals slated to begin at 6:45 p.m. at Pepsi Center.
Grandview entered the second round with six wrestlers still alive and in second place in the 5A team standings and the Wolves remained positioned behind leader Pomona four semifinalists in junior Alex Santillan (126 pounds), senior Fabian Santillan (138 pounds), senior Dylan Ranieri (152 pounds) and junior Joe Renner (195 pounds).
Eaglecrest's two semifinals came in the upper weights as seniors Micah Sterling (195 pounds) and Osman Yigit Topuz (220 pounds) both recorded second round victories nearly simultaneously on mats next to each other.
Overland took just three wrestlers to the state tournament but two of them emerged among the final four at their respective weights in senior Isaiah Bradley at 126 pounds and senior 132-pounder Miguel Mendoza III, who made it to the semifinals in his first and only state tournament appearance.
Aurora's other two semifinalist are sophomores in Regis Jesuit's Antonio Segura (145 pounds) and Cherokee Trail's Sam Hart (220 pounds).
Segura prevented Grandview from having a fifth semifinalist when he downed Matthew Frye 8-6 in an all-Aurora second round match, while Hart had a larger margin for comfort in his match as he advanced with a 10-0 major decision.
All the wrestlers that advanced to the semifinals are guaranteed to appear on the medal podium in the top six.
Semifinal winners advance to the championship matches scheduled to begin at 6:30 p.m. Saturday, while semifinal losers drop into the consolation semifinals (with a chance to earn a trip to the third-place match) in the Saturday morning session that begins at 10 a.m.
Quarterfinal losers — which included Cherokee Trail's Andrew Chilton and David Rivera, Eaglecrest's Caeleb Knoll and Tyler Maccagnan, Grandview's Frye and Brice Hartzheim, Hinkley's Emery Bemis and Smoky Hill's David Hoage — had consolation matches to stay alive Friday night. Each would need two wins to make the placing round at their respective weights.
Courtney Oakes is Sentinel Sports Editor. Reach him at 303-750-7555 or [email protected] Twitter: @aurorasports. FB: Sentinel Prep Sports
AURORA CLASS 5A STATE SEMIFINAL MATCHUPS
6:45 p.m. Feb. 22 at Pepsi Center
126 pounds: Upper bracket — ALEX SANTILLAN, JR., GRANDVIEW (32-9) vs. Wyatt Yapoujian, jr., Pomona (23-4); Lower bracket — ISAIAH BRADLEY, SR., OVERLAND (33-4) vs. Mosha Schwartz, sr., Ponderosa (41-6)
132 pounds: Lower bracket — MIGUEL MENDOZA III, SR., OVERLAND (39-5) vs. Randy Myers, soph., Castle View (18-5)
138 pounds: Upper bracket — FABIAN SANTILLAN, SR. GRANDVIEW (46-3) vs. Kade Syddall, jr., Legend (28-5)
145 pounds: Upper bracket — ANTONIO SEGURA, SOPH., REGIS JESUIT (34-8) vs. Theorius Robison, sr., Pomona (21-1)
152 pounds: Upper bracket — DYLAN RANIERI, SR., GRANDVIEW (36-8) vs. Austin McFadden, sr., Prairie View (41-4)
195 pounds: Upper bracket — MICAH STERLING, SR., EAGLECREST (30-14) VS. Alec Hargreaves, jr., Rocky Mountain (34-3); Lower bracket — JOE RENNER, JR., GRANDVIEW (34-8) vs. Keegan Bailey, sr., Fruita Monument (46-3)
220 pounds: Upper bracket — OSMAN YIGIT TOPUZ, SR., EAGLECREST (33-8) vs. Hunter Tobiasson, sr., Grand Junction (40-0); Lower bracket — Carlos Flores, sr., Northglenn (31-6) vs. SAM HART, SOPH., CHEROKEE TRAIL (38-6)
AURORA 5A QUARTERFINAL RESULTS
113 pounds: Upper bracket — Jacob Judd (Pomona) dec. ANDREW CHILTON (CHEROKEE TRAIL), 1-0
120 pounds: Lower bracket — Justin McCoy (Brighton) dec. CAELEB KNOLL (EAGLECREST), 9-3
126 pounds: Upper bracket — ALEX SANTILLAN (GRANDVIEW) dec. Dean Noble (Poudre), 11-4; Lower bracket — ISAIAH BRADLEY (OVERLAND) dec. Taylor Vasquez (Fountain-Fort Carson), 7-5
132 pounds: Lower bracket — MIGUEL MENDOZA III (OVERLAND) pinned Antonio Guerrero (Brighton), 3:49
138 pounds: Upper bracket — FABIAN SANTILLAN (GRANDVIEW) pinned Brayden Roman (Pine Creek), 0:55
145 pounds: Upper bracket — ANTONIO SEGURA (REGIS JESUIT) dec. MATTHEW FRYE (GRANDVIEW), 8-6; Lower bracket — Cody Ginther (Fossil Ridge) dec. DAVID RIVERA (CHEROKEE TRAIL), 6-4
152 pounds: Upper bracket — DYLAN RANIERI (GRANDVIEW) pinned Jack Howell (Valor Christian), 1:17; Lower bracket — Tyson Beauperthuy (Doherty) pinned TYLER MACCAGNAN (EAGLECREST), 4:43
170 pounds: Upper bracket — Kai Blake (Cherry Creek) tech. fall EMERY BEMIS (HINKLEY), 15-0; Lower bracket — Jay Skalecki (Grand Junction) maj. dec. BRICE HARTZHEIM (GRANDVIEW), 16-5
195 pounds: Upper bracket — MICAH STERLING (EAGLECREST) pinned Ed Delva (Columbine), 5:45; Lower bracket — JOE RENNER (GRANDVIEW) pinned Jack Smith (Castle View), 1:18
220 pounds: Upper bracket — OSMAN YIGIT TOPUZ (EAGLECREST) dec. Will Ponder (Monarch), 8-6; Hunter Tobiasson (Grand Junction) dec. DAVID HOAGE (SMOKY HILL), 10-4; Lower bracket — SAM HART (CHEROKEE TRAIL) maj. dec. Santana Solano (Brighton), 10-0