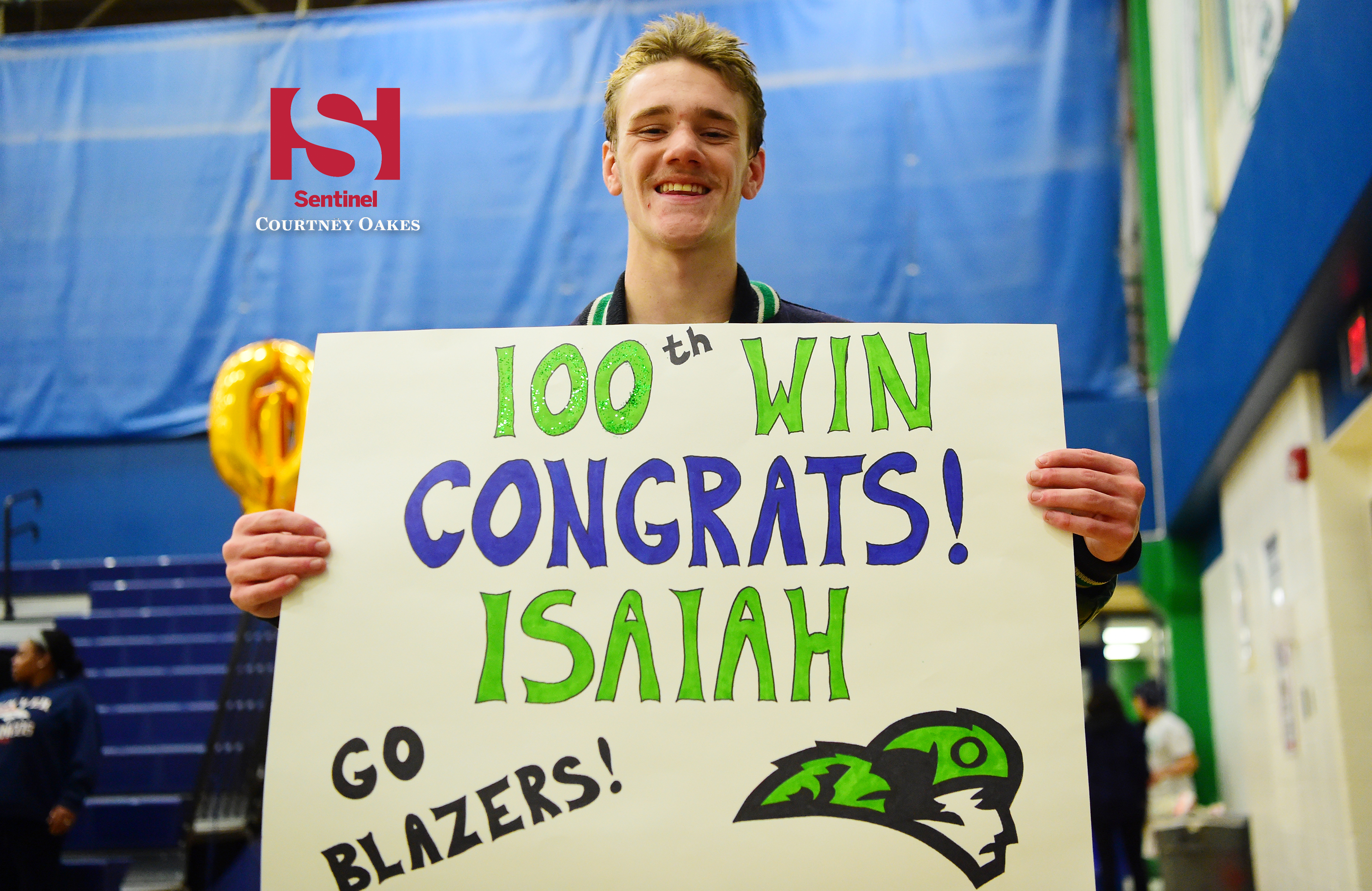 Isaiah Bradley never thought he'd get to 100 career victories on the wrestling mat.
But now that he has done just that — becoming the first wrestler to reach the milestone in Overland history — the Trailblazers' senior doesn't plan to stop.
Bradley came into the season ranked No. 3 in Class 5A at 126 pounds and with expereince and increased confidence plans to do more significant things on the mat.
"As a freshman, I really didn't even understand the concept of wrestling varsity," Bradley said after the 11-1 major decision over Eaglecrest's Kyle Maccagnan Nov. 28 that got him to 100 wins.
"I got 32 wins that season and I thought 'Ok, that's pretty good.' I knew I just needed to improve every year. Never in my mind did I think I was going to go out and win the large percentage of my matches."
Yet that's what has happened for Bradley, whose milestone win put him at 100-25 for his career. He added three more wins at the Broomfield Duals Dec. 1.
The victory that stands out most to him in the 100 came last season, when he overcame a banged head and late deficit to a quality opponent from the 3A ranks to have his hand raised.
A two-time state qualifier who has never made the medal podium before at the Pepsi Center, Bradley is hoping to make the ultimate leap to the top.
Though his very ambitious goal of not getting taken down during the entire season went away in a 5-1 loss to Discovery Canyon's Patrick Allis — the No. 1-ranked 126-pounder in 4A — at the Broomfield Duals, his lofty expectations remain.
Bradley gets to work with two partners in particular in Overland's wrestling room that should help tune him up for state success.
One of them is his younger brother, Grant, who came into the season ranked fourth in 5A at 120 pounds — and placed fourth at 113 pounds at last season's 5A state meet — and the other is senior Mikey Mendoza, the preseason No. 9 132-pounder.
"Mikey's been my biggest practice partner; he's made me ridiculously good over the years and I've made him ridiculously good," Bradley said. "We know each other backwards and forwards. And then I can wrestle Grant when he needs to wrestle up. It feels great to have guys like that in the room to help push me and I can push them."
The Overland trio is just part of a cadre of Aurora wrestlers seeking winning endings at the 5A state tournament Feb. 21-23 at the Pepsi Center.
Grandview has plenty of wrestlers with big goals as well, including four returning placers that have the Wolves ranked No. 2 in On The Mat's 5A preseason rankings.
While On the Mat still considers the Pomona juggernaut to have too much power to overcome, coach Ryan Budd has plenty of firepower on his roster to give it a shot.
Leading the way is senior Fabian Santillan, who won a state championship at 126 pounds last season and committed to Stanford in the offseason.
After he missed the state tournament as a sophomore due to knee injury, Santillan has been virtually unstoppable. He won 44 matches last season and is 3-0 on the new season with two pins and a technical fall to his credit.
Junior Alex Santillan, third at 113 pounds last season, senior Dylan Ranieri — fifth at 145 pounds in 2017 — and junior Joe Renner, fourth at 195 pounds last season, all bolster the Wolves' lineup, in addition to a number of returning state qualifiers and others with experience.
The Wolves feature six of Aurora's 14 returning state qualifiers, while there are several others hoping to make it back to the Pepsi Center to see if they make it onto the podium.
Eaglecrest junior Caeleb Knoll finished with 44 wins last season, but fell shy of earning a state place. He enters the season ranked No. 6 in 5A at 113 pounds by On The Mat and showed himself deserving of the ranking with his performance at the Arapahoe Warrior Invitational, which he won with a performance that included minute-pins in the semifinals and finals.
Seniors Tyler Maccagnan and Micah Sterling give coach Javier Quintana's Raptors three returning state qualifiers in the room.
Cherokee Trail has back seniors Abel Ambriz and David Rivera plus junior Andrew Chilton on a team that excites coach Jeff Buck with its untapped potential. Sophomore Sam Hart, who had injury problems last season, is ranked No. 5 at 195 pounds.
Smoky Hill coach T.J. Loyd is also optimistic about his group, which includes senior 220-pounder David Hoage, who is ranked No. 4 in 5A.
Regis Jesuit sophomore Antonio Segura, Hinkley junior Emery Bemis and Rangeview junior Spencer Ohu are also returning state qualifiers.
Courtney Oakes is Sentinel Sports Editor. Reach him at 303-750-7555 or [email protected] Twitter: @aurorasports. FB: Sentinel Prep Sports