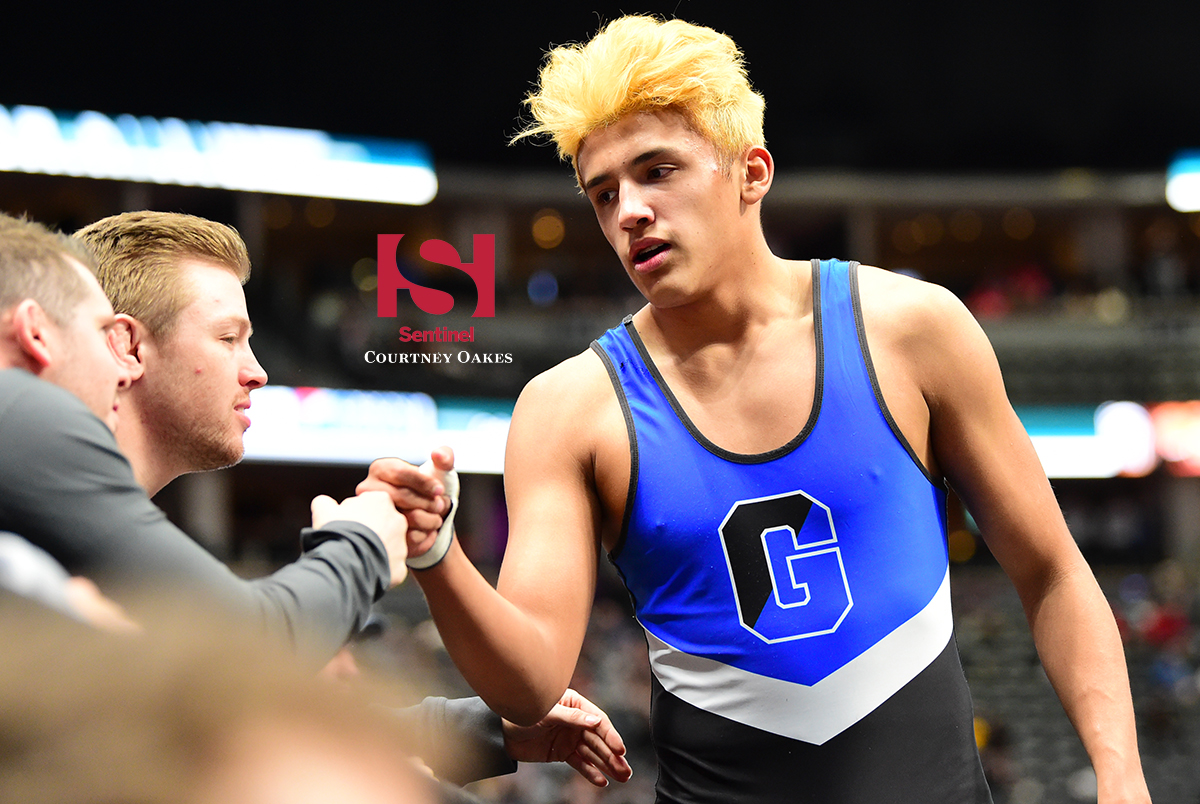 The Grandview wrestling team had its sites set on matching or bettering the best performance at the Class 5A state wrestling tournament, but fell just short Feb. 23.
In its quest to better its all-time high finish of third place, coach Ryan Budd's team got off to a great start on the opening day of the tournament at the Pepsi Center when six of the team's nine state qualifiers won their opening round matches.
The fast start put the Wolves in second place behind Pomona, the same spot they held after the quarterfinal round in which four wrestlers advanced to the semifinals. But only one of those semifinalists — eventual 145-pound state champion Fabian Santillan — advanced and both Ponderosa and Grand Junction (which each had multiple state champions) ended up getting past them in the final standings. The Wolves finished with 84 points, while third-place Grand Junction had 88.
"I don't believe in bad breaks and I think you make your own luck, but a lot of things were stacked against us this time," Budd said. "We lost a lot of close matches we really needed. But we had four placers and it's our fourth straight year in the top 10, so it's been a successful season."
Behind Santillan came junior Alex Santillan (fourth at 126 pounds), senior Dylan Ranieri (fifth at 152 pounds) and junior Joe Renner (fifth at 195 pounds). All four placed for the second year in a row.
Senior Matt Frye won two matches, but finished a win shy of the placing round at 145 pounds, senior Brice Hartzheim posted a 1-2 record at 170 pounds and sophomore 106-pounder Frankie Sanchez went 1-2 to contribute to Grandview's point total.
Junior Isaac Smith (182 pounds) and freshman Angelo Falise (285 pounds) each dropped both of their state matches for the Wolves.
Courtney Oakes is Sentinel Colorado Sports Editor. Reach him at 303-750-7555 or [email protected] Twitter: @aurorasports. IG: Sentinel Prep Sports
2019 CLASS 5A STATE WRESTLING TOURNAMENT
Final team scores: 1. Pomona 166.5 points; 2. Ponderosa 103.5; 3. Grand Junction 88; 4. GRANDVIEW 84; 5. Douglas County 68.5; T6. Legacy 67; T6. Poudre 67; 8. Rocky Mountain 61; 9. Pine Creek 59.5; 10. Brighton 56; 11. Fruita Monument 55; T12. EAGLECREST 52; T12. Monarch 52; 14. Castle View 50.5; 15. Valor Christian 50; 16. Adams City 48.5; 17. CHEROKEE TRAIL 44; T18. Doherty 41; T18. Legend 41; 20. Columbine 36; 21. Cherry Creek 32; 22. Horizon 31.5; 23. Arapahoe 28; 24. OVERLAND 25.5; 25. Prairie View 24.5; 26. REGIS JESUIT 24; 27. Denver East 23; 28. Boulder 22; T29. Chaparral 21; T29. Fountain-Fort Carson 21; 31. Arvada West 20; T32. SMOKY HILL 18; T32. ThunderRidge 18; T34. Chatfield 16; T34. Northglenn 16; 36. Fossil Ridge 15; 37. Ralston Valley 14; 38. Rampart 10; 39. Mountain Vista 9; T40. HINKLEY 7; T40. Bear Creek 7; 42. Mountain Range 6; 43. Fairview 5; 44. Westminster 3; 45. Far Northeast 2; T46. Fort Collins 1; T46. Rock Canyon 1; AURORA CENTRAL, Centaurus, Highlands Ranch and Thornton no score