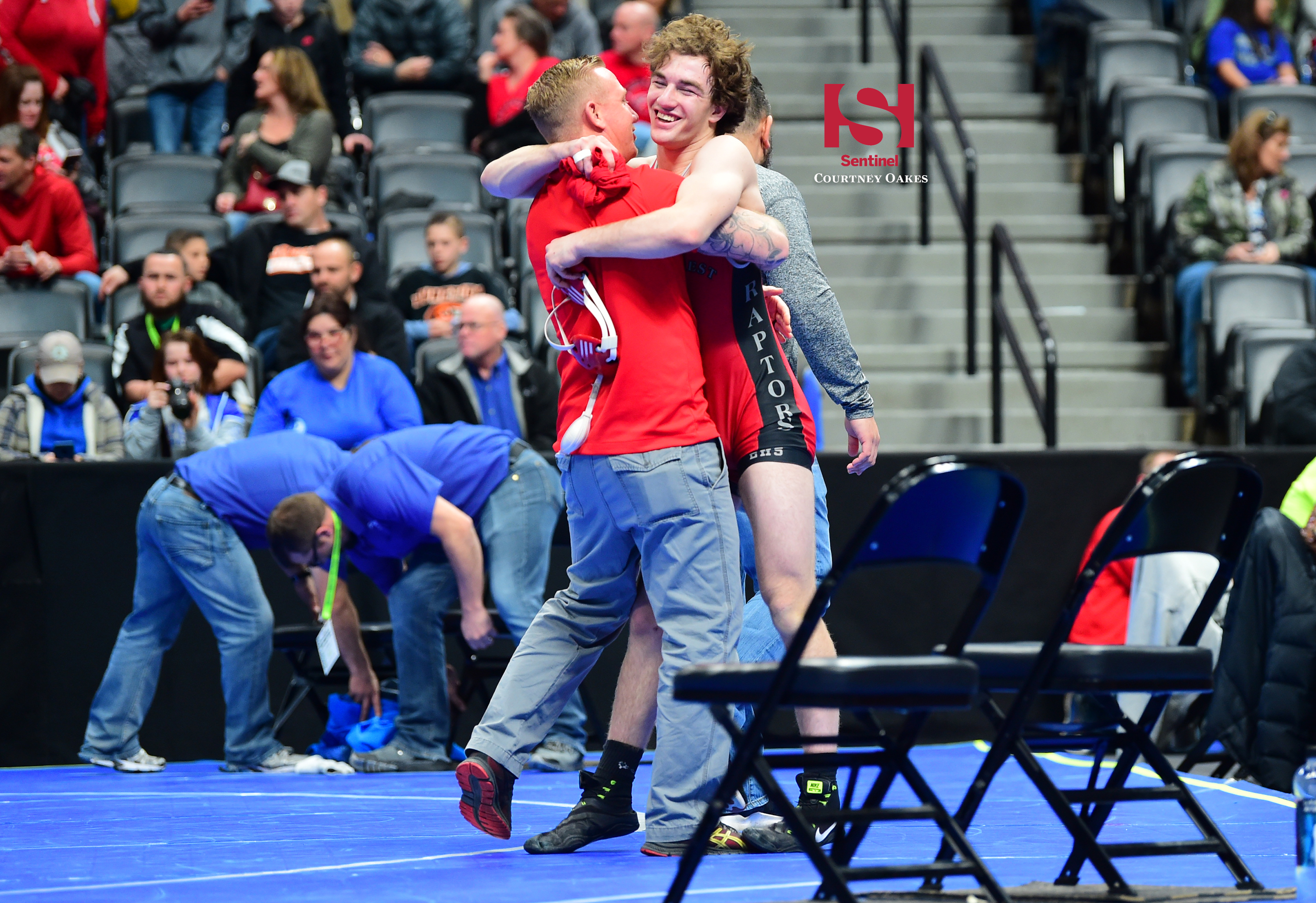 Twenty-nine Aurora wrestlers qualified for the Class 5A state wrestling tournament and almost half of them earned their way onto the medal podium Feb. 23 at the Pepsi Center in Denver.
Leading the way for the city were the championship-winning due of Grandview senior Fabian Santillan at 138 pounds and Regis Jesuit sophomore Antonio Segura at 145 pounds, along with Cherokee Trail sophomore Sam Hart, who finished as the 220-pound runner-up.
But several other Aurora wrestlers did work in the consolation portion of the bracket to earn their way into the one of the coveted six placers spots per weight class at the state tournament.
Grandview led the way with four placers in all, headed by state champion Santillan, while Alex Santillan (fourth at 126 pounds), senior Dylan Ranieri (fifth at 152 pounds) and junior Joe Renner (fifth at 195 pounds) also made the podium. All four placed in 2018 as well.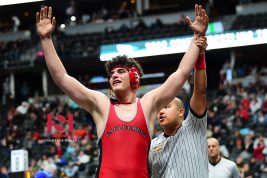 Eaglecrest had a trio of placers, all seniors, in Tyler Maccagnan (third place at 152 pounds), Micah Sterling (fourth place at 195 pounds) and Osman Yigit Topuz, who took fifth at 220 pounds.
It was a big jump for coach Javier Quintana's team, which scored 52 points to finish in a tie for 12th among 46 scoring teams a year after the Raptors had no state placers and finished with just five points.
Five Eaglecrest wrestlers qualified for state this time and four of them — including 120-pounder Caeleb Knoll, who finished one win shy of placing — won at least two matches.
"Friday morning wasn't my best wrestling, but Friday evening and all day today, it kicked in that these were the last matches of my career and I decided to go out and wrestle and just see what happens," said Maccagnan, who rebounded from a quarterfinal loss to Doherty's Tyson Beauperthuy to win four straight matches on the backside of the bracket.
In a stark contrast to last season when he also lost in the quarterfinals and then lost in the first round of consolations, Maccagnan dug in and dominated three of his four matches on his way to the podium. Along the way, he gained a measure of revenge against Ranieri with a 5-4 win in the consolation quarterfinals, which came after Ranieri won an 8-6 decision in their league meeting.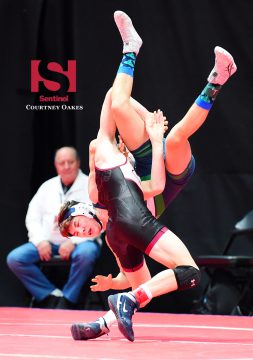 Sterling lost both of his state matches at last season's state tournament, but he finished 3-2 this time and placed fourth. He lost in the semifinals to eventual state champion Alec Hargreaves of Rocky Mountain.
Topuz made it onto the medal podium in his only career trip to the state tournament as he rebounded from a semifinal loss to undefeated and eventual state champion Hunter Tobiasson of Grand Junction with a 5-4 win over Carlos Flores in the fifth-place match.
Coach Trevor Griffin's Overland team took three wrestlers to the state tournament and two of them — both seniors — earned places in Isaiah Bradley at 126 pounds and Miguel Mendoza III at 132 pounds.
Both Trailblazers made it to the semifinals of their respective brackets before suffering their first losses. Mendoza III — making his state tournament debut — rebounded from a tight 2-1 loss in the semifinals with a win in the consolation semifinals before he lost in the third-place match.
Bradley, who earned his 100th career victory early in the season, placed sixth in his third state tournament trip. His brother, Grant, placed fourth at 113 pounds in 2018, but went 1-2 and finished off the medal podium this season.
Cherokee Trail senior David Rivera finally earned a place on the medal podium in his fourth career trip to the state tournament.
Favored by On The Mat to make it to the state championship match at 145 pounds, Rivera dropped a 6-4 decision to Fossil Ridge's Cody Ginther in the quarterfinals, then bounced back with three wins in his last four matches to take fifth.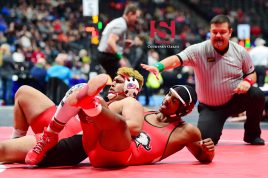 Hart had a chance to become the first state champion for coach Jeff Buck's Cougars, but lost by fall in the 220-pound final to state champion Hunter Tobiasson of Grand Junction.
Smoky Hill's David Hoage, a football player who just took up wrestling two years ago, ended up on the medal podium in his second trip to state.
The Northern Colorado football recruit was the only wrestler to not get pinned by Tobiasson with a 10-4 quarterfinal loss, then earned his way into the third place match before he lost a three-point decision to Brighton's Santana Solano.
Hinkley broke a drought without a state placer when junior Emery Bemis earned sixth place at 170 pounds. The Thunderbirds last had a wrestler on the medal podium in 2016 when Ben Rhoton took sixth at 106 pounds.
Courtney Oakes is Sentinel Colorado Sports Editor. Reach him at 303-750-7555 or [email protected] Twitter: @aurorasports. FB: Sentinel Prep Sports
AURORA CLASS 5A STATE WRESTLING PLACING MATCH RESULTS

Feb. 23 at Pepsi Center
CHAMPIONSHIP MATCHES
138 pounds — FABIAN SANTILLAN (GRANDVIEW) maj. dec. Joshua Deaguero (Adams City), 11-2; 145 pounds — ANTONIO SEGURA (REGIS JESUIT) dec. Joey Joiner (Legacy), 2-1; 220 pounds — Hunter Tobiasson (Grand Junction) pinned SAM HART (CHEROKEE TRAIL), 2:45
THIRD-PLACE MATCHES
126 pounds — Dean Noble (Poudre) dec. ALEX SANTILLAN (GRANDVIEW), 8-7; 132 pounds — Traevin Osborn (Ponderosa) dec. MIGUEL MENDOZA III (OVERLAND), 8-4; 152 pounds — TYLER MACCAGNAN (EAGLECREST) dec. Gage Bernall (Pomona), 7-2; 195 pounds — Elijah Olson (Arvada West) pinned MICAH STERLING (EAGLECREST), 3:25; 220 pounds — Santana Solano (Brighton) dec. DAVID HOAGE (SMOKY HILL), 10-7
FIFTH-PLACE MATCHES
126 pounds — Taylor Vasquez (Fountain-Fort Carson) pinned ISAIAH BRADLEY (OVERLAND), 2:16; 145 pounds — DAVID RIVERA (CHEROKEE TRAIL) maj. dec. Colton Frost-Bryant (Ralston Valley), 9-0; 152 pounds — DYLAN RANIERI (GRANDVIEW) maj. dec. Jack Howell (Valor Christian), 9-1; 170 pounds — Jack Forbes (Columbine) dec. EMERY BEMIS (HINKLEY), 11-4; 195 pounds — JOE RENNER (GRANDVIEW) pinned Charlie Fetterly (Arapahoe), 2:42; 220 pounds — OSMAN YIGIT TOPUZ (EAGLECREST) dec. Carlos Flores (Northglenn), 5-4