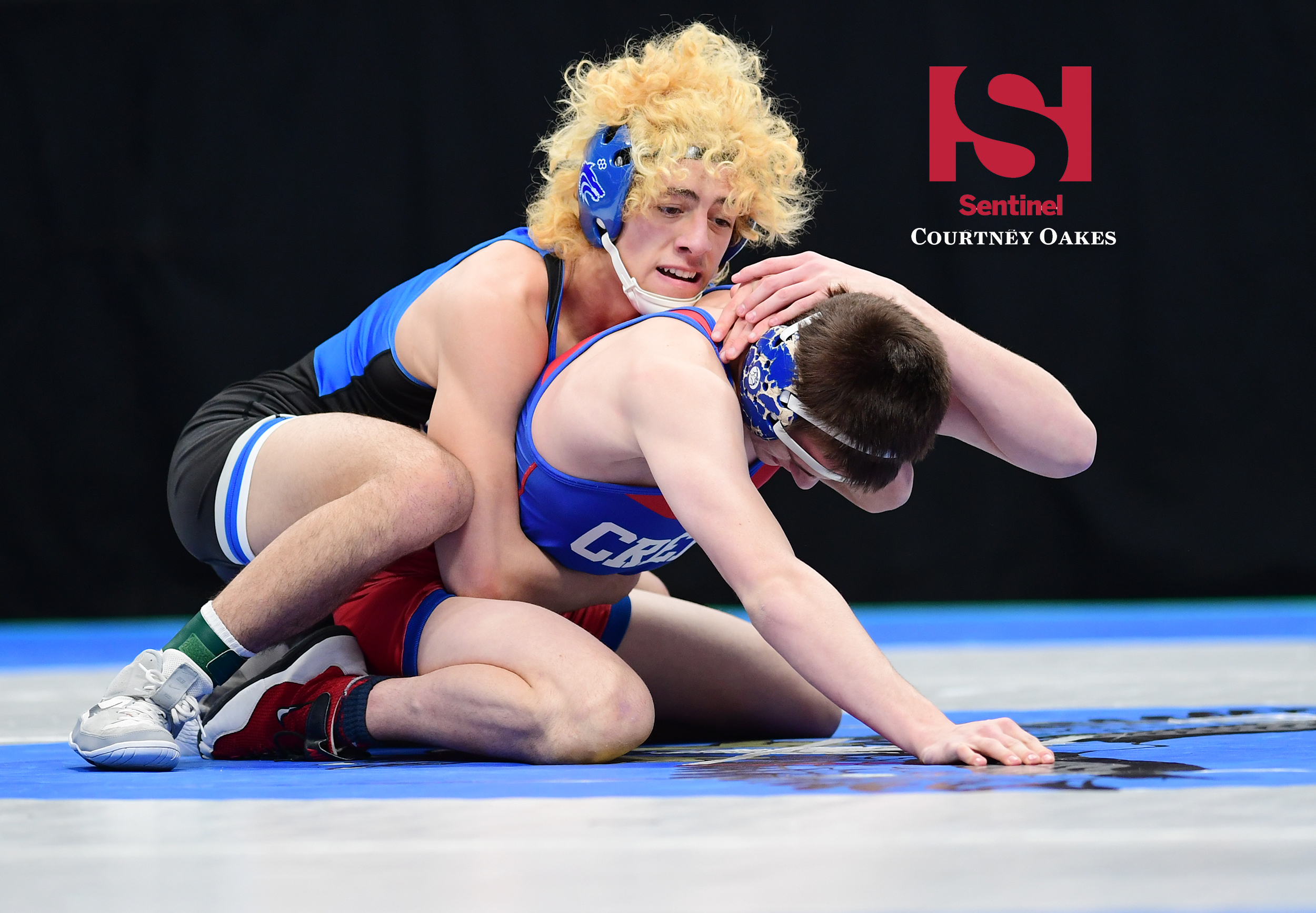 DENVER | Individual results for each of the 33 Aurora wrestlers who competed at the Class 5A and 4A state wrestling tournament Feb. 20-22, 2020, at the Pepsi Center with their record at the state tournament final season record:
Courtney Oakes is Sentinel Colorado Sports Editor. Reach him at 303-750-7555 or [email protected]: @aurorasports. FB: Sentinel Prep Sports

AURORA WRESTLERS AT 2020 5A/4A STATE WRESTLING TOURNAMENTS
5A 106 POUNDS
DEREK GLENN JR., SOPH., CHEROKEE TRAIL (4-0, 38-6) (STATE CHAMPION); 1st round — pinned Fort Collins' Sam Nosler, 3 minutes, 26 seconds; Quarterfinals — won by 10-0 major decision over ThunderRidge's Nick Vicic; Semifinals — won by 11-7 decision over Rocky Mountain's Lance Johnson; Championship — won by 4-2 decision over Grandview's Frankie Sanchez Jr.
FRANKIE SANCHEZ JR., JR., GRANDVIEW (3-1, 39-5) (SECOND PLACE): 1st round — won by 15-0 tech. fall over Fruita Monument's Geno Gallegos; Quarterfinals — won 6-5 decision over Pomona's Vincent Cabral; Semifinals — Won 10-4 decision over Prairie View's Ane'e Vigil; Championship — Lost 4-2 decision to Cherokee Trail's Derek Glenn Jr.
TIMOTHY HERRERA, FR., AURORA CENTRAL (0-2, 16-16): 1st round — pinned by Rocky Mountain's Lance Johnson, 36 seconds; 1st round consolation — lost by 9-3 decision to Doherty's Mateo Arce
5A 113 POUNDS
ALIAS QUINONES, JR., EAGLECREST (1-2, 32-15): 1st round — pinned by Brighton's Kenny Sailas, 3 minutes, 9 seconds; 1st round consolation — won 8-0 major decision over Grandview's Sean Arnett; 2nd round consolation — pinned by Ponderosa's Jacob Bostelman, 1:33
RUDY CORTEZ, SR., RANGEVIEW (0-2, 19-15): 1st round — pinned by Horizon's Alec Beltran, 4 minutes, 31 seconds; 1st round consolation — pinned by ThunderRidge's Kyler Pilgrim, 2:11
SEAN ARNETT, FR., GRANDVIEW (0-2, 16-17): 1st round — lost 16-3 major decision to Monarch's Dillon Roman; 1st round consolation — lost 8-0 major decision to Eaglecrest's Alias Quinones
5A 120 POUNDS
ANDREW CHILTON, SR., CHEROKEE TRAIL (2-2, 21-7): 1st round — won 6-5 by Ultimate Tiebreaker over Douglas County's Justin Kelchen; Quarterfinals — lost 8-0 major decision to Prairie View's Josiah Alvarado; 2nd round consolation — won 5-2 decision over Rampart's Andrew Peltier; 3rd round consolation — pinned by Pomona's Elijah Olguin, 2:57
CAELEB KNOLL, SR., EAGLECREST (1-2, 37-11): 1st round — pinned Ralston Valley's Josiah Trujillo, 2 minutes, 58 seconds; Quarterfinals — lost 11-9 decision to Mountain Rangeview's Kyle Lewis; 2nd round consolations — pinned by Douglas County's Justin Kelchen, 2:55
5A 126 POUNDS
SONNY QUINTANA, SOPH., GRANDVIEW (3-2, 24-11) (5TH PLACE): 1st round — pinned Poudre's Jaden Coleman, 5 minutes; Quarterfinals — won 11-9 decision over Arapahoe's Carsen Trujillo; Semifinals — lost 17-1 tech. fall to Monarch's Vince Cornella; Consolation semifinals — lost 17-1 tech. fall to Douglas County's Max Black; Fifth-place match — pinned Rocky Mountain's Spencer Bowman, 0:56
AUSTIN KAMMERER, SR., CHEROKEE TRAIL (1-2, 22-10): 1st round — lost 10-8 decision in overtime to Rock Canyon's Sammy Mobly; 1st round consolation — won 4-3 decision over Fort Collins' Andrew Nosler; 2nd round consolation — lost 2-1 decision to ThunderRidge's Aiden Okamura
KORY ANDERSON, JR., EAGLECREST (0-2, 35-16): 1st round — pinned by Adams City's Levi Deaguero, 4 minutes; 1st round consolation — lost 5-2 decision to Rocky Mountain's Spencer Bowman
5A 132 POUNDS
ALEX SANTILLAN, SR., GRANDVIEW (3-3, 32-10) (6TH PLACE): 1st round — won by 17-2 tech. fall over Legacy's Kaeden Rasmussen; Quarterfinals — lost 8-6 decision to Cherry Creek's Max Franz; 2nd round consolation — won 8-0 major decision over Adams City's Jace Long; 3rd round consolation — won 10-6 decision over Horizon's Travis Guzman; Consolation semifinal — lost 9-4 decision to Douglas County's Victor Madrid; Fifth-place match — lost 4-2 in overtime to Cherry Creek's Max Franz
ROMEO CORTEZ, JR., RANGEVIEW (0-2, 39-7): 1st round — pinned by Rocky Mountain's Christian Herrera, 3 minutes, 25 seconds; 1st round consolation — pinned by Adams City's Jace Long, 4:57
5A 138 POUNDS
JORGE FELIX, SR., CHEROKEE TRAIL (1-2, 31-14): 1st round — pinned by Valor Christian's Caden Moster, 39 seconds; 1st round consolation — won 6-0 decision over Rampart's Marcus Tolman; 2nd round consolation — pinned by Legend's Kade Syddall, 4:56
KYLE MACCAGNAN, JR., EAGLECREST (0-2, 35-11): 1st round — lost by injury default to Douglas County's Ivan Morris, 3 minutes, 37 seconds; 1st round consolation — forfeited due to injury to Fort Collins' Joe Connor
5A 145 POUNDS
ANTONIO SEGURA, JR., REGIS JESUIT (4-0, 47-5) (STATE CHAMPION): 1st round — won 16-1 tech. fall over Overland's Ryan Hensley; Quarterfinals — won 23-8 tech. fall over Rocky Mountain's Rider Anderson; Semifinals — won 8-7 decision over Adams City's Joshua Deaguero; Championship — won 10-7 decision over Legacy's Joey Joiner
RYAN HENSLEY, SOPH., OVERLAND (1-2, 29-8): 1st round — lost 16-1 tech. fall to Regis Jesuit's Antonio Segura; 1st round consolation — won 2-1 decision over Douglas County's Drew Warner; 2nd round consolation — lost 14-5 major decision to Ponderosa's Traevin Osborn
5A 152 POUNDS
BROCK LABONDE, SR., CHEROKEE TRAIL (1-2, 37-11): 1st round — won 13-1 major decision over Arapahoe's Blaise Jay; Quarterfinals — lost 7-1 decision to Fort Collins' Hudson Cropp; 2nd round consolation — lost 2-0 decision to Pine Creek's Billy Hudson III
DANE ABEYTA, SR., GRANDVIEW (1-2, 22-15): 1st round — lost 17-8 major decision to Fort Collins' Hudson Cropp; 1st round consolation — pinned Arapahoe's Blaise Jay, 3 minutes, 15 seconds; 2nd round consolation — pinned by Arvada West's Dallas Porter, 1:54
5A 160 POUNDS
CONNOR DAVIS, SR., CHEROKEE TRAIL (2-2, 36-9): 1st round — lost 11-7 decision to Mountain Vista's Adam Holton; 1st round consolation — pinned Rocky Mountain's Cole Griffin in 2 minutes, 16 seconds; 2nd round consolation — pinned Fossil Ridge's Ben Parker, 0:38; 3rd round consolation — pinned by Pine Creek's Jace Graves, 1:37
GREGORY BROOKS, FR., RANGEVIEW (1-2, 32-7): 1st round — lost 2-1 decision to Rampart's Chris Carr; 1st round consolation — won 7-0 decision over Bear Creek's Nathan St. Bernard; 2nd round consolation — lost 12-2 major decision to Pine Creek's Jace Graves
5A 170 POUNDS
ZAVIER CARROLL, SOPH., REGIS JESUIT (1-2, 19-12): 1st round — pinned by Doherty's Tyson Beauperthuy, 1 minutes, 22 seconds; 1st round consolation — won 3-2 decision over Heritage's Grason Randall; 2nd round consolation — lost 3-1 decision over Valor Christian's Eli Hamilton
5A 182 POUNDS
JOE RENNER, SR., GRANDVIEW (3-1, 36-3) (2ND PLACE): 1st round — pinned Cherry Creek's Matthew Soderborg, 2 minutes, 46 seconds; Quarterfinals — won 8-4 decision over Rocky Mountain's Matt Kinnerson; Semifinals — pinned Legacy's Grady Funk, 2:58; Championship — lost 13-8 decision to Columbine's Jack Forbes
GAVIN YOUNG, SR., CHEROKEE TRAIL (1-2, 27-12): 1st round — lost 14-3 major decision to Castle View's Corbin Zimmer; 1st round consolation — pinned Monarch's Alexx Tapia, 2 minutes, 6 seconds; 2nd round consolation — lost 7-2 decision to Rocky Mountain's Matt Kinerson
4A 182 POUNDS
ISAAC RENAS, SR., VISTA PEAK (2-2, 33-10): 1st round — won 7-0 decision over Skyline's Caden Silva; Quarterfinals — lost 10-2 major decision to Broomfield's Antonio Welch-Soto; 2nd round consolation — won 5-4 decision over Durango's Austin Albrecht; 3rd round consolation — lost 6-1 decision to Roosevelt's Diego Leal
5A 195 POUNDS
ANTONIO SANDORA, SR., REGIS JESUIT (1-2, 24-13): 1st round — won 5-2 decision over Brighton's Cody Nelsen; Quarterfinals — lost 13-3 major decision to ThunderRidge's Brock Schilling; 2nd round consolation — lost 2-1 2OT decision to Prairie View's Daniel Jimenez
AUSTIN JANDIK, SR., CHEROKEE TRAIL (0-2, 23-12): 1st round — lost 6-2 decision to Douglas County's Phillip Wandruff; 1st round consolation — lost 2-1 decision to Prairie View's Daniel Jimenez
OBIE SANNI, SR., SMOKY HILL (0-2, 10-6): 1st round — pinned by ThunderRidge's Brock Schilling, 3 minutes, 43 seconds; 1st round consolation — lost 9-3 decision to Brighton's Cody Nelsen
5A 220 POUNDS
SAM HART, JR., CHEROKEE TRAIL (4-0, 38-0) (STATE CHAMPION): 1st round — pinned Fruita Monument's Zach Fowler, 43 seconds; Quarterfinals — pinned Northglenn's Elias Pineda, 1:52; Semifinals — pinned Highlands Ranch's Kyle Hanson, 1:29; Championship — won 4-2 decision over Brighton's Dylan BravoPacker
4A 220 POUNDS
DONOVAN JARMON, JR., VISTA PEAK (0-2, 32-10): 1st round — pinned by Cheyenne Mountain's Jake Boley, 3 minutes, 54 seconds; 1st round consolation — lost 4-3 decision to Evergreen's Noah Henderson
5A 285 POUNDS
JULIAN WILLIAMS, SR., CHEROKEE TRAIL (3-1, 31-6) (2ND PLACE): 1st round — pinned Adams City's Alberto Alvarado, 42 seconds; Quarterfinals — won 13-8 decision over Douglas County's Ryan Aguiar; Semifinals — won 6-5 decision over Smoky Hill's Alex Angeles; Championship — lost 5-2 decision to Columbine's Zach Schraeder
ALEX ANGELES, JR., SMOKY HILL (2-3, 22-9) (6TH PLACE): 1st round — pinned Chaparral's Jonah Rubadue, 3 minutes, 33 seconds; Quarterfinals — won 4-1 decision over Thornton's Diego Paredes; Semifinals — lost 6-5 decision to Cherokee Trail's Julian Williams; Consolation semifinal — lost 5-1 decision to Pomona's Christian Buchholz; Fifth-place match — lost 5-2 decision to Legend's Luke Sandy
CAYDEN BIRD, FR., GRANDVIEW (1-2, 20-13): 1st round — pinned by Pomona's Christian Buchholz, 2 minutes, 44 seconds; 1st round consolation — pinned Valor Christian's Kaiden Parrish, 3:22; 2nd round consolation — lost 4-0 decision to Thornton's Diego Paredes