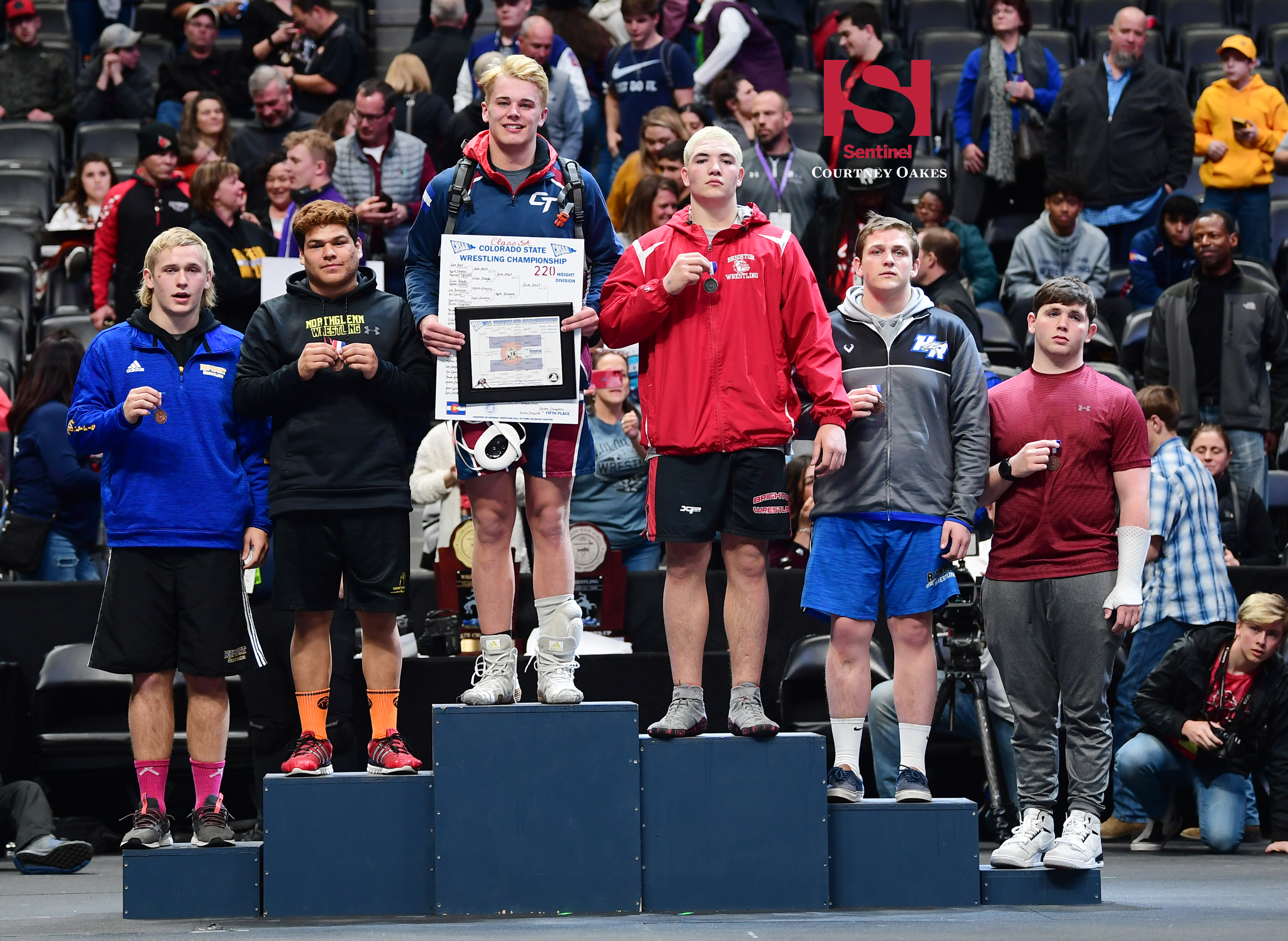 The wrestling season proved quite memorable for Aurora, even moreso because it was one of the winter sports that completed its season before the coronavirus pandemic.
The Sentinel Colorado 2019-20 All-Aurora Wrestling Team — which is based primarily on results from the Class 5A and 4A state tournaments in February at the Pepsi Center — reflect one of the best overall mat seasons for the city in quite some time at the top end, which saw five locals wrestle for state titles.
The season Cherokee Trail coach Jeff Buck had been waiting for since the early days of the program finally arrived and it brought with it a Centennial League championship, the first two state championships in program history (from sophomore Derek Glenn Jr. and junior Sam Hart) and the second time three wrestlers made the finals in the same season.
The Cougars landed six spots on the All-Aurora team, which also includes four wrestlers from Grandview — including finalists Frankie Sanchez Jr. and Joe Renner — all three state qualifiers from Regis Jesuit, headed by state champion Antonio Segura, plus two from Eaglecrest.
Here's a look at the All-Aurora team by weight class:
106 POUNDS — Derek Glenn Jr., soph. (Cherokee Trail) and Frankie Sanchez Jr., jr. (Grandview): The first all-Aurora state championship match in five seasons — since Regis Jesuit's Grant Neal topped Smoky Hill's Dexter Bess in the 5A 220-pound final in 2014 — pitted Sanchez Jr. against Glenn Jr. in a rematch on a Centennial League match from early January. Sanchez Jr. (39-5) (who held On The Mat's No. 1 ranking for the entire season) won a 3-1 decision in that meeting, but Glenn Jr. (38-6) took the championship bout 4-2 to become the first state winner in his school's history. The two Aurora wrestlers shared All-Centennial League first team honors, while Glenn Jr. was selected Lower weight wrestler of the year.
113 POUNDS — Alias Quinones, jr. (Eaglecrest): Quinones earned All-Centennial League first team honors at his weight and also earned a bid to the Pepsi Center for the first time for coach Javier Quintana's Raptors. Quinones (32-15) finished 1-2 at state, with his opening round loss coming to eventual state champion Kenny Sailas of Brighton and his consolation loss came to fourth-place finisher Jacob Bostelman of Ponderosa.
120 POUNDS — Caeleb Knoll, sr. (Eaglecrest): Knoll qualified for the state tournament for the third straight season and did so in style with a regional championship win over Pomona's Elijah Olguin, who went on to place fourth at state. Knoll (also known as Chalupa) finished 37-11 and shared All-Centennial League first team honors with Mullen's Noah Linares.
126 POUNDS — Sonny Quintana, soph. (Grandview): Quintana's trip to the medal podium at the 5A state tournament might have been a surprise to some, but not to Grandview coach Ryan Budd, who knew his potential. The sophomore suffered two losses by tech fall at state — to state champion Vince Cornella of Monarch and third-place Max Black of Douglas County — but won his other three matches, including a win by pin in the fifth-place match. Quintana (24-11) finished as the Centennial League's lower weight newcomer of the year.
132 POUNDS — Alex Santillan, sr. (Grandview): Santillan spent the most time of any Aurora wrestler on the mat at the state tournament as he wrestled six matches and went 3-3 to earn his third state place in the last three seasons. Santillan (32-10), placed third the previous two seasons, but finished sixth this time after two close two-point losses to Cherry Creek's Max Franz, who edged him for All-Centennial League first team honors.
138 POUNDS — Jorge Felix, sr. (Cherokee Trail): The All-Centennial League first teamer at his weight earned his way to the state tournament for the first time and recovered from a quick loss in his opener to win in the consolation round. He was poised to win again before getting pinned late in his second round consolation match to finish 1-2 at state and 31-14 on the season.
145 POUNDS — Antonio Segura, jr. (Regis Jesuit): With a target on his back that wasn't there before last season when he became a 5A state champion for the first time, Segura and his coaches embraced a schedule that was filled with the top competition he could face in and out of Colorado and at a variety of different weight classes. The result was a season in which Segura placed at the prestigious Doc Buchanan Invitational in California and won all of his matches against Colorado wrestlers, including a decision over Legacy's Joey Joiner in the second meeting of the two in the state title match. Segura — voted Continental League Wrestler of the Year by coaches — led Aurora in wins with 47 against just five losses.
152 POUNDS — Brock Labonde, sr. (Cherokee Trail): Labonde racked up a 37-11 record in his senior season and garnered All-Centennial League second team honors and a return trip to the state tournament. He finished 1-2 at state with his losses coming to eventual state champion Hudson Cropp of Fort Collins in the quarterfinals and to sixth-place finisher Billy Hudson III of Pine Creek in consolations.
160 POUNDS — Connor Davis, sr. (Cherokee Trail): Davis earned All-Centennial League first team honors and finished 36-9 on the season, which included a 2-2 performance at the state tournament. He rebounded from an opening round loss with two straight consolation victories by fall and was stopped a win shy of making it onto the medal podium.
170 POUNDS — Zavier Carroll, soph. (Regis Jesuit): Carroll was the lone Aurora wrestler to advance to the state tournament at 170 pounds, where he ended up after wrestling the first portion of the season at 182 pounds. Carroll made it to state as the fourth-place finisher from Region 4, which pitted him against undefeated Tyson Beauperthy of Doherty in the opening round. Beauperthy won by fall on his way to the state title and a perfect season, but Carroll responded with a consolation win over Heritage's Grason Randall, who had beaten him two weeks earlier and then lost to sixth-place finisher Eli Hamilton of Valor Christian to finish 19-12. He was a second team All-Continental League selection in the 182-pound weight class.
182 POUNDS — Joe Renner, sr. (Grandview): Renner's talent had gotten him on the medal podium the past two seasons, but his extra dedication as a senior gave him his best chance for a coveted state championship. Renner's regular season included just one loss to a Colorado opponent — Arapahoe's TJ LaFrancis, who edged him for All-Centennial League first team honors — and a championship at the prestigious Top of the Rockies Invitational. In the state final, Renner (36-3) faced Columbine's Jack Forbes —who he'd pinned twice during the season — but he came up short in 13-8 decision.
195 POUNDS — Antonio Sandora, sr. (Regis Jesuit): In his second trip to the state tournament, Sandora was the only one of Aurora's three state qualifiers at 195 pounds to win a match. Sandora (24-13) won his opener before losing to third-place finisher Brock Schilling of ThunderRidge in the quarterfinals and sixth-place finisher Daniel Jimenez of Prairie View in overtime.
220 POUNDS — Sam Hart, jr. (Cherokee Trail): After coming up short in last season's state championship match, Hart set a goal to return to the final, win it and finish and undefeated season. Though teammate Glenn Jr. beat him to the punch of becoming the program's first state winner, Hart (38-0) — an Ohio State football commitment — accomplished those goals with a state tournament that included three pins and a 4-2 win over Brighton's Dylan BravoPacker in the final.
285 POUNDS — Julian Williams, sr. (Cherokee Trail): Coming off an outstanding football season, Williams returned to the wrestling mat for the first time since his freshman year and advanced all the way to the state championship match. Giving away weight in most heavyweight matches, strength and agility earned Williams (31-6) All-Centennial League first team honors (plus Upper weight newcomer of the year) and into the state final before Columbine's Zach Schraeder had the combination of size and strength that proved too much for him to overcome in a 5-2 loss.
Courtney Oakes is Sentinel Colorado Sports Editor. Reach him at 303-750-7555 or [email protected] Twitter: @aurorasports. IG: Sentinel Prep Sports
2019-20 SENTINEL COLORADO ALL-AURORA WRESTLING TEAM
106 pounds: Derek Glenn Jr., soph., Cherokee Trail*/Frankie Sanchez Jr., jr. Grandview
113 pounds: Alias Quinones, jr., Eaglecrest
120 pounds: Caeleb Knoll, sr., Eaglecrest
126 pounds: Sonny Quintana, soph., Grandview
132 pounds: Alex Santillan, sr., Grandview
138 pounds: Jorge Felix, sr., Cherokee Trail
145 pounds: Antonio Segura, jr., Regis Jesuit*
152 pounds: Brock Labonde, sr., Cherokee Trail
160 pounds: Connor Davis, sr., Cherokee Trail
170 pounds: Zavier Carroll, soph., Regis Jesuit
182 pounds: Joe Renner, sr., Grandview
195 pounds: Antonio Sandora, sr., Regis Jesuit
220 pounds: Sam Hart, jr., Cherokee Trail*
285 pounds: Julian Williams, sr., Cherokee Trail
* — Class 5A state champion
HONORABLE MENTION: Dane Abeyta, sr., Grandview (152 pounds); Kory Anderson, jr., Eaglecrest (126 pounds); Alex Angeles, jr., Smoky Hill (285 pounds, 6th place); Sean Arnett, fr., Grandview (113 pounds); Cayden Bird, fr., Grandview (285 pounds); Gregory Brooks, fr., Rangeview (160 pounds); Andrew Chilton, sr., Cherokee Trail (120 pounds); Romeo Cortez, jr., Rangeview (132 pounds); Rudy Cortez, sr., Rangeview (113 pounds); Ryan Hensley, soph., Overland (145 pounds); Timothy Herrera, fr., Aurora Central (106 pounds); Austin Jandik, sr., Cherokee Trail (195 pounds); Donovan Jarmon, jr., Vista PEAK (220 pounds); Austin Kammerer, sr., Cherokee Trail (126 pounds); Kyle Maccagnan, jr., Eaglecrest (138 pounds); Isaac Renas, sr., Vista PEAK (182 pounds); Obie Sanni, sr., Smoky Hill (195 pounds); Gavin Young, sr., Cherokee Trail (182 pounds)