Grandview had an outstanding season that ended with a sixth-place team finish at the Class 5A state wrestling tournament at the Pepsi Center.
Coach Ryan Budd's Wolves — who won both the Centennial League and Region 4 championships — had five of Aurora's nine state placers in the 5A & 4A state meets, including the only state champion in junior 126-pounder Fabian Santillan.
Not surprisingly, the 2017-18 Sentinel All-Aurora Wrestling Team — which is based on the the city's top finishes in each of the 14 weight classes from the 5A & 4A state tournaments — is heavy with Grandview representation.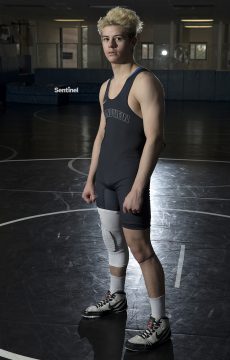 The Wolves had a state champion for the second straight season, as Santillan — who became the sixth state winner in program history — followed last season's heavyweight winner Gabriel Baumgartner to the top of the medal podium.
Santillan earned redemption for his sophomore season that was lost to injury with a dominating performance that ended with a 4-1 victory over Adams City's Nicholas Gonzales in the state title match. He had split decisions with Gonzales during the regular season, but dictated the rubber match from the earlygoing.
"Last year was a little bit unfortunate, but what defines us as people is being able to bounce back and I did," Santillan said. "Now, it's time to keep training and move on to the next goal. It doesn't stop here."
Santillan earned All-American status for the second straight season, was selected the Centennial League's most outstanding wrestler in the lower weights and posted 44 wins. His win total — which was matched by teammate Dylan Ranieri — is tied for second-most behind the 50 recorded by older brother Armando (now at the Northern Colorado) last season.
The youngest Santillan, sophomore Alex, won an all-city third-place match against Overland's Grant Bradley to claim the All-Aurora spot at 113 pounds to cap a 31-11 season, while three-time state qualifier Giovani Federico placed for a second time with a career-best third-place finish at 120 pounds.
Federico — who wrestled the best he ever had in his final state tournament — finished 4-1 at the state tournament and 33-10 overall.
Sophomore Joe Renner missed out on the state tournament last year due to a broken jaw he suffered just prior to regionals, but flourished in his return. Renner opened the season at 182 pounds, but bumped up to 195 and found a lot of success there.
He battled back from a quarterfinal loss to win three straight matches to get to the third-place match, which he lost by fall to end a 39-14 season.
Ranieri placed for a second straight season as he took fifth at 145 pounds, with a pin of Rocky Mountain's Tate Martinez — who pinned him in the quarterfinals — giving him his 44th win of the season.
Senior Grady Colgan (152 pounds) and junior Brice Hartzheim (170) missed the medal podium, but combined for three state victories and went 34-16 and 35-14, respectively, while senior Giovanny Beague — who finished 24-15 — was the lone Aurora heavyweight to make the state tournament.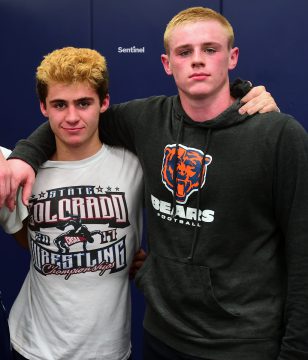 Vista PEAK had its most successful overall season with four 4A state qualifiers and senior Jayden Smith became the program's highest-ever state placer with his fourth-place result at 195 pounds.
Ranked in the top three at his weight for most of the season by On The Mat, Smith made the semifinals before suffering his first loss and won three times in all to finish 33-7. He earned his 100th career win at the state tournament and teammate Tristan Curtis passed the same milestone during the regular season.
Curtis (30-8) posted Aurora's top state performance at 138 pounds with a 2-2 4A state showing and lost a 2-0 decision in a consolation match with a spot in the placing round on the line.
Eaglecrest (sophomore 106-pounder Caeleb Knoll), Regis Jesuit (freshman 132-pounder Antonio Segura), Overland (senior 160-pounder Brandon Gustafson), Rangeview (senior 182-pounder Matthew Shriver) and Cherokee Trail (senior 220-pounder Davione Marshall) have one All-Aurora representative apiece.
Marshall got on the medal podium with his fourth-place finish in a satisfying result after suffering he suffered a torn ACL, MCL and meniscus in a state tournament match last year.
Benefiting from work with the Cougars' strong group of upper weight wrestlers — including 2016-17 5A runners-up Max Gonzales and Zeke Silva — Marshall blossomed during a 39-8 season that saw him lose only to the second- and third-place finishers at state. He was picked as the most outstanding wrestler in the Centennial League in the upper weights.
"Sophomore year was my first year wrestling and to make Max and Zeke, Seth Bogulski and Michael Thelen pushing me to a whole other level, it made me improve," said Marshall, who hopes to wrestle at Adams State next year.
"To keep up with them in practice, I had to do something to keep getting better," he added. "I think coming back from my injury and everything, the season went pretty well."
Knoll (aka Chalupa) finally got up to weight after a rough freshman season size-wise and had an outstanding season at 106 pounds, as he tied for the most wins in Aurora with 44. His 44th victory came in the opening round of the state tournament over Cherokee Trail's Andrew Chilton, who beat Knoll in the first match of the season.
Raptors coach Javier Quintana believes a state championship is a real possibility for Knoll in the next two seasons and the
"It was really scary, but also really cool," Knoll said. "Five years ago, I was coming down to state with my dad and I said 'I'm going to get down there.' I got down there."
Segura had a strong debut season and won twice at state to finish 35-7, while Gustafson posted a win at 160 pounds in his one and only state tournament to finish 27-14.
Two of Gustafson's teammates — 113-pounder Grant Bradley and 195-pound Kaelin Chin — made the medal podium to help the Trailblazers to 18th place as a team.
Shriver lost both of his state matches, but finished 30-9 and beat Aurora's only other 182-pound state qualifier — Eaglecrest's Micah Sterling — in the regular season.
Courtney Oakes is Sentinel Sports Editor. Reach him at 303-750-7555 or [email protected] Twitter: @aurorasports. FB: Sentinel Prep Sports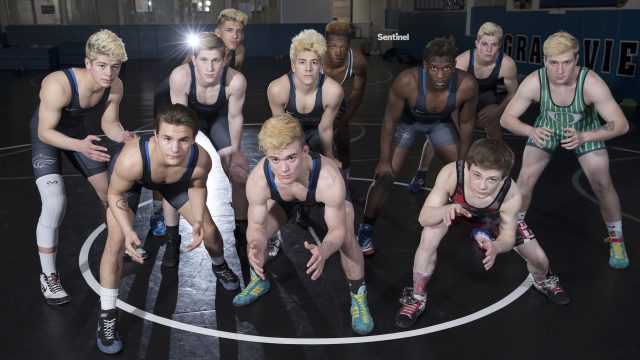 2017-18 SENTINEL ALL-AURORA WRESTLING TEAM
106 pounds: Caeleb Knoll, Eaglecrest, soph. (44-7); 113 pounds: Alex Santillan, Grandview, soph. (31-11, 3rd place 5A); 120 pounds: Giovani Federico, Grandview, sr. (33-10, 3rd place 5A); 126 pounds: Fabian Santillan, Grandview, jr. (44-4, State champion 5A); 132 pounds: Antonio Segura, Regis Jesuit, fr. (35-7); 138 pounds: Tristan Curtis, Vista PEAK, sr. (30-8); 145 pounds: Dylan Ranieri, Grandview, jr. (44-11, 5th place 5A); 152 pounds: Grady Colgan, Grandview, sr. (34-16); 160 pounds: Brandon Gustafson, Overland, sr. (27-14); 170 pounds: Brice Hartzheim, Grandview, jr. (35-14); 182 pounds: Matthew Shriver, Rangeview, sr. (30-9); 195 pounds: Joe Renner, Grandview, soph. (39-14, 4th place 5A) & Jayden Smith, Vista PEAK, sr. (33-7, 4th place 4A); 220 pounds: Davione Marshall, Cherokee Trail, sr. (39-8, 4th place 5A); 285 pounds: Giovanny Beague, Grandview, sr. (24-15)
Honorable mention: Abel Ambriz, Cherokee Trail, jr. (152 pounds); Emery Bemis, Hinkley, soph. (170 pounds); Julius Boimah, Cherokee Trail, jr. (160 pounds); Grant Bradley, Overland, soph. (4th place, 5A 113 pounds); Isaiah Bradley, Overland, jr. (126 pounds); Andrew Chilton, Cherokee Trail, soph. (106 pounds); Kaelin Chin, Overland, sr. (5th place, 5A 195 pounds); Drake Davis, Cherokee Trail, sr. (126 pounds); Bryan Fierro, Rangeview, sr. (120 pounds); Matthew Frye, Grandview, jr. (138 pounds); David Hoage, Smoky Hill, jr. (220 pounds); Tony Lozano, Vista PEAK, sr. (4A 126 pounds); Tyler Maccagnan, Eaglecrest, jr. (152 pounds); Dechlyn Miller, Vista PEAK, sr. (4A 220 pounds); Spencer Ohu, Rangeview, soph. (145 pounds); David Rivera, Cherokee Trail, jr. (132 pounds); Micah Sterling, Eaglecrest, jr. (182 pounds); William Wikowky, Grandview, sr. (220 pounds)